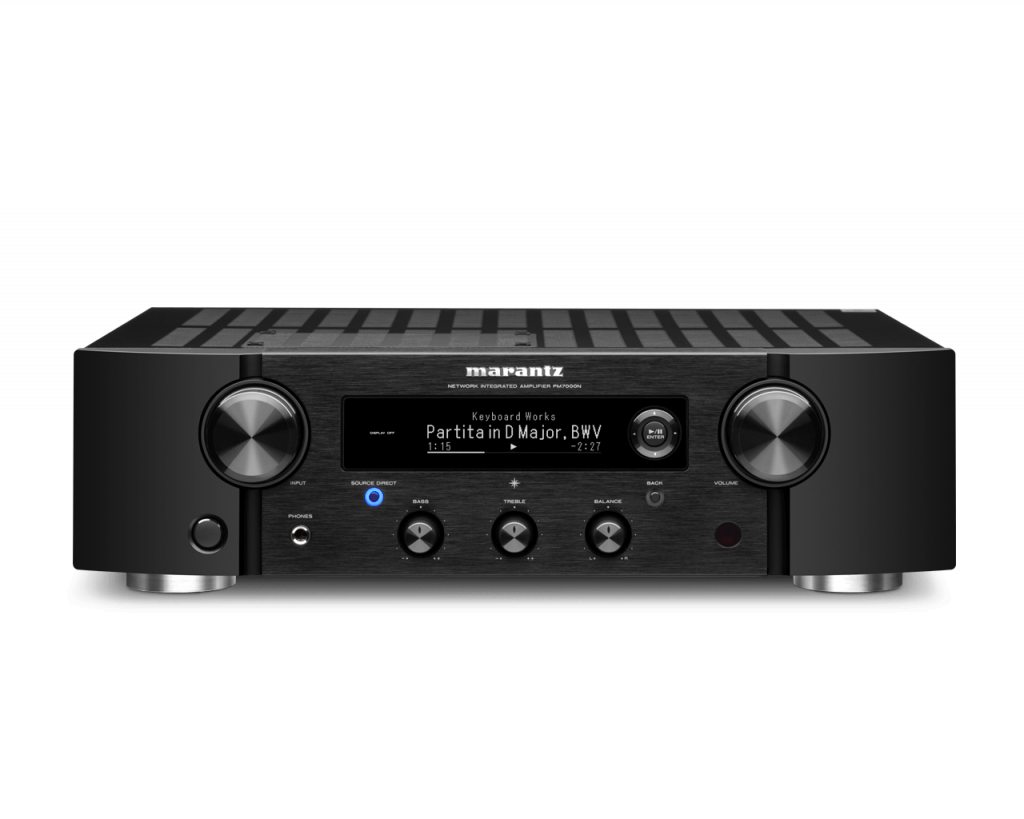 Currently, many manufacturers are rushing to incorporate a comprehensive range of streaming options into their amplifiers, without sacrificing on audio quality or skyrocketing the price tag.
Enter Marantz's latest integrated stereo streamer, the PM7000N, which could be the answer to all of our problems. Having recently won the What Hifi? award for the best Hi-Fi system under £1000, the unit found its way into our store, where we got to see what all the fuss was about for ourselves.
Built to incorporate their signature curved-front design, the unit is unmistakably Marantz, and packs in a huge range of features. It has 60W of amplification per channel, as well as support for a comprehensive list of audio streaming services.
The PM7000N has four analogue inputs (including a phono preamp), and four digitals, which are USB, digital coaxial and two optical inputs. In addition, you have a subwoofer output, record out and the front-facing 6.3mm headphone port.
The on-board DAC is an upgrade on that used in the previous PM6006 and PM5005 models, and will support up to 24-bit/192kHz streaming across all digital inputs, so your Hi Res collection is in capable hands. In addition, the Pure Mode listening option allows you to bypass the digital inputs and circuitry, dedicating the amplifier's efforts to pure analog audio if required.
As for network streaming, the PM7000N has you covered. It comes fully equipped with the HEOS multi-room platform, and allows access to Spotify, Tidal, Deezer and Amazon Music via the wired or wireless connections. In addition, the unit features Bluetooth, Apple Airplay 2 and support for Google Assistant, Siri and Alexa.
We set the Marantz up in our demo room and paired it up with the Monitor Audio Silver 200s, and were astounded by the effortless dynamics and insightful performance it had to offer. It proved more than capable of handling whichever track we threw at it, extracting detail and reproducing dynamics across all audio formats.
Streaming from Tidal, we started with Andrew Bird's Sisyphus, and the 7000N soared, with the subtle acoustic guitar strums holding their own against thunderous snare hits, and the bass cutting through the mix clearly and solidly.
We then stuck Orbital's Monsters Exist on vinyl through a Project Debut Carbon to test out the phono stage. The complex arrangements were no problem for the Marantz, with a solid, dynamic performance even at lower volumes. Switching to the Pure Mode gave a new level of excitement to the sound, delivering tracks with greater efficiency and ease.
At its price point, the PM7000N is a fantastic bit of kit, and it's no wonder it was voted the best in its class. The build quality is excellent, but with the same plastic dials as those on the PM6006, (now a third of the price) we thought some slightly nicer knobs could have been used. And featuring a single set of speaker terminals was a slight disappointment, but overall the compromises are more than redeemed in its sonic performance. You're invited to your local Richer Sounds to give it a try.
Learn more about the Marantz PM7000N network stereo amplifier.
Author: Max, Bristol store