French-Canadian Jacques Greene aka Philippe Audin-Dionne is back with his second studio album. With its mysterious collaborators and co-producers what will Dawn Chorus sound like?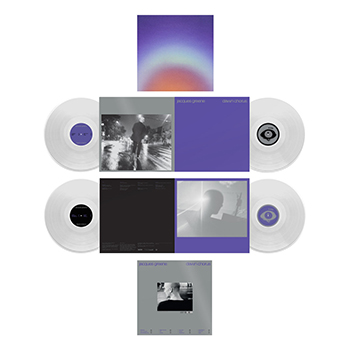 His debut album Feel Infinite was released on the world famous LuckyMe label, based in Glasgow, but Greene has also released with Night Slugs and co-owns Vase Records. For an artist who was introduced to many during the 'bloghouse' era, he has surpassed many of his classmates and gone on to work with an impressive list of talent. As well as producing for Katy B, Tinashe and How To Dress Well, he has also remixed Radiohead, Ciara, Flume and Shlomo. Audin-Dionne, a former art director transitioned from guitar-based music to the electronic world after his high school history teacher introduced him to Aphex Twin, leading him to realise that "music doesn't have to be angry white men over a guitar". He went on to throw parties called Turbo Crunk for a few years around 2010, with Lunice and a handful of others regularly playing.
After appearing on the scene during a time of great innovation, where labels like Night Slugs were pushing boundaries with every release, some may say he got too comfortable. Since finding his feet musically his style has remained fairly similar, but on Dawn Chorus he begins to switch it up a little, especially with regard to his drum tracks, with less traditional house beats and the occasional sampled drum break. His overall sound has always been inspired by many areas, one being trip-hop artists such as Portishead and Massive Attack. Last year's Fever Focus EP however, was always destined for club DJ sets. His early work, like many producers at the time relied heavily on sampling R&B artists like Brandy, on this album however there are both sampled voices and original recordings. Some were recorded in Los Angeles at Hudson Mowhawke's studio, as were many of the tracks. Maybe this new environment has impacted his style, trying out unfamiliar studio gear instead of staying within his comfort zone.
The initial moments of the opening track "Serenity" feature some fuzzy, fairly inaudible spoken words; with the word serenity standing out. Its drum track does not fit the usual Jacques Green template, and instead is reminiscent of DJ Shadow's Endtroducting. One thing that has remained is his penchant for a melancholic vibe (especially on the stunning Clams Casino co-produced "Drop Location"). Clams Casino's sonics are all over this one, with it's half time beat and moody atmosphere. "Do It Without You" has an intro that suggests classic 2010-era house, with a repetitive vocal hook and simple steel drum melody. Instead another explosive breakbeat appears and the clever track progresses into one of the album's highlights. "Let Go" has a seriously nostalgic vibe, and has similarities with some of Maribou State's first EP's.
Even if this track is not pushing boundaries, it has an infectiously catchy vocal, and will undoubtedly be a favourite for many. Not every track is as exciting though, with decent pieces like "Sibling" and "Sel" coming across a little bland in comparison. With UK garage having a real revival recently, in both the underground and the charts, it is unsurprising that we hear its influence on the choppy track "Whenever". Even though the beat is undeniably influenced by 2-step, it avoids the cheesiness that is sometimes associated with the genre; making for a perfect track for the dying hours of an after party. The album's progression is executed well, and the following track shares a similarly broken vibe. Towards the end of the album, "Understand" and "Influence" have a glimmer of Burial's style, capturing that bittersweet, deeply sad yet somehow uplifting energy.
You can imagine this album being a firm favourite for the drive home from the club, it is intimate, emotional and introspective, but not to the point that your driver would fall asleep. The embers of the club are still burning, but Dawn Chorus holds its own as an album to listen to any time. Part of Jacques Greene's charm has always been in his ability to display contrast. These tracks are both shiny and dull, and as they swell and swirl around each other you cannot help but pay attention. Harsher critics may say that he has stuck to his guns too much, but fairer ones will see that he has purely honed in on his sound. There is something special about this one, we recommend that you take a listen on a rainy day…