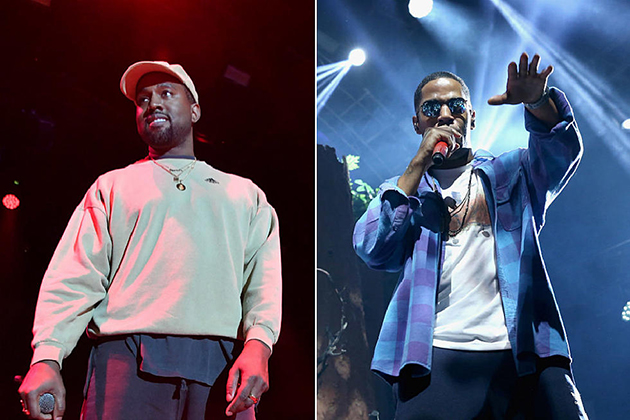 Whilst Kanye's fans are still recovering from the drop of his solo album earlier this month, his next collaborative project hits the stores. Kids See Ghosts is the team effort of both Kanye West and Kid Cudi, will it impress more than West's mediocre solo release?
As a producer and musician Kid Cudi can create some golden experimental music and together with West's production wisdom, the album sounds top class. It comes as West's 3rd album in one month, if you count his production on Pusha T's Daytona, and at 41 years old he appears to be seeking attention more than ever. He would like to be known as a straight talker, instead he is more known for speaking egotistical nonsense. However his massive self-importance may well be justified, with even his worst album yet, Ye, proving popular with listeners (if not so much with critics). Either people are listening to the hurried, worryingly honest album out of some sort of morbid fascination for his demise; or worse, they may genuinely like the songs!
This album is almost equally as raw, and at times is possibly just as stripped back. There is more of an unfinished charm about this release in comparison, with the broken pieces making slightly more sense together. Less rushed than Ye, and overall less of a jumble, this project still shares a similar melancholy. There are more empty and distant tracks than bright and triumphant ones, but both artists' manic sides shine through. The pair definitely have some synergy in the studio, improving each other's weaknesses and building on their strengths. The outcome is twisted and frayed, and somewhat confused, still struggling to find its own lane.
The album tells of failure and dead ends, before exploring the experience of being reborn. Both artists' hearts beat proudly across the particularly short 23 minutes, opening up about their personal recovery. With questions over both West and Cudi's mental health over the years, it is unsurprising that themes of depression are visited regularly over the seven tracks. In some ways Cudi's voice is a calming presence, acting as a helping hand. They even used recently discovered samples of songs from Kurt Cobain, another artist with a troubled mind. As well as being emotionally honest, the album features some tough-to-swallow lyrical content. As if Ye's loose ramblings were not enough, the distracting musings continue here, for example, when he chooses to name drop Alice Johnson, the woman who Trump pardoned this month after a meeting with Kim Kardashian. At other times such as on "Reborn", West's former talent reappears for a moment.
On the album's opening piece, you can literally hear the shards of West's brain fragmenting. After Pusha T's verse Kanye shouts an insane rendition of drum fills, whooping and hollering through auto-tune. The following track "Fire" struggles to really get moving, but the production is unique, utilising some quirky samples and a 4 x 4 beat. Sampling of very old recordings continues, and on "4th Dimension" featuring Louis Prima, some unlikely vocals are reworked alongside a sinister choir; not too dissimilar to West's mega-hit "Jesus Walks". "Freeee (Ghost Town Pt. 2)" featuring Ty Dolla $ign channels the duo's inner rock star, proving unfortunately that it should be left to the professionals. The high profile features do not stop there, as Yasiin Bey (fka Mos Def) turns up on the titular "Kids See Ghosts". There is something Gorillaz-esque about the penultimate track, and each vocalist sounds on point over the spookily progressive production.
This release has some hopeful moments, and is musically diverse and complete when compared to Ye. During the depressing, embarrassing, enthralling journey you can't help but worry for their sanity; 'I want all the pain / Lord shine your light on me / save me please' is just one of many more worrying statements from West on "Cudi Montage", but there is a less pessimistic vibe to the album's final piece; as the 'stay strong' hook repeats in the outro West pleads for redemption.
It is hard to ignore West's never-ending introspection, and even though the album was designed to provoke, sometimes listeners may want to just enjoy the arrangements instead.
Why not visit your local Richer Sounds store to decide for yourself on one of our stellar hi-fi systems?