Meiko makes a triumphant return with In Your Dreams…
American singer-songwriter Meiko isn't an artist that you may be familiar with, but the chances are that you've already heard some of her music already. Grey's Anatomy, One Tree Hill and Pretty Little Liars are but a few of the TV dramas that have used her music on their soundtracks. Now on her fifth album of original material, the Georgia State native has been a regular fixture of mellow acoustic pop music for over 10 years now. After taking some time out to start a family in 2016, In Your Dreams sees 9 new tracks brought to the table by Meiko and recorded in Nashville with producer Justin Glasco.
Any fans of Meiko will easily recognise her signature breathy and soft vocals from the word go as "She Knows" kicks off the album in a wistful manner. The simplicity of the accompanying percussion, subtle synths and guitar means that the track gently washes over your ears in a relaxing campside-fire type of way. It's very representative of Meiko herself and her understated career. It's also a template that is used to great effect on the rest of the album as is evidenced on the track "My Brain is a Computer". The light and airy ukulele skips along happily whilst the unobtrusive backing sits underneath everything.
This isn't just a collection of "unplugged" tracks though, single "Gimme Gimme" is a more up-tempo radio friendly tune that shakes you from the cosy, lullaby-esque nature of the slower tracks and gets your feet tapping. Before her 2016 release Moving Day, there were usually a few tracks of inner turmoil or emotional discontent on her albums but marriage and children have evidently had a more calming effect these recent years and nurtured a mature and centred space for her. This wholesomeness means that you can't help but smile when listening to In Your Dreams as it just invokes the contented happiness that Meiko has. Even on "Name That Tune" where she laments the loss of people from her life, there's an acceptance and inner peace that shines through.
That's In Your Dreams in a nutshell; whatever the subject matter it's tackled with a respect and maturity that's either accepted it and moved on or a joy that celebrates the experience. Meiko is undoubtedly a master at perfectly entwining organic, human songs with little bit of electronics thrown in like a sprinkling of chocolate. It's a great way of stripping things back enough to make the emotional content the focus, whilst adding texture and body to make sure not every song sounds the same (as can happen with some acoustic-based music).
At 9 tracks, it's not the longest listen and it may have benefitted from a touch more variety but that's just me finding something to pick at. Introspective, happy, confessional, humble, subtle and meaningful, this is a collection of poignant and heartfelt songs. The perfect album to listen to in summer evenings, relaxing inside or out of the house letting the warm current of Meiko's dulcet tones wash over you.
Favourite tracks: "Name That Tune", "More".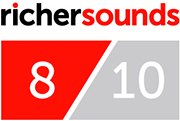 Author: Steve, Bristol store