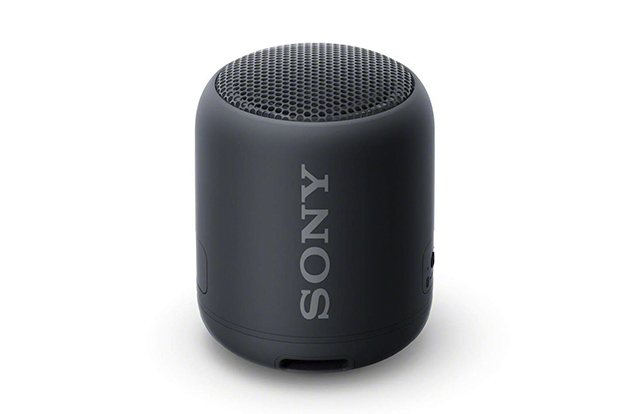 Looking for great sound in a portable package? Sony has the answer with the SRSXB12 portable Bluetooth speaker.
Everyone loves hours spent lounging in the outdoors with friends or family. However, trying to add a little music to those long summer days can prove a challenge with no power supplies to hand and proper audio equipment being bulky to say the least. Enter the Sony SRSXB12, a portable Bluetooth speaker no bigger than a can of soda. So, can this little portable speaker pack enough punch to satisfy? Join us to find out…
Sony have designed the SRSXB12 with one thing in mind: portability. In this regard it's onto a winner. The XB12 fits snugly in the palm of the hand and easily stows away in even the smallest bag. Even if you don't have a bag to fit it in Sony have provided a very handy detachable strap for hooking the speaker onto a belt hook for walking or hanging from a branch out of the way. It's certainly a very flexible device.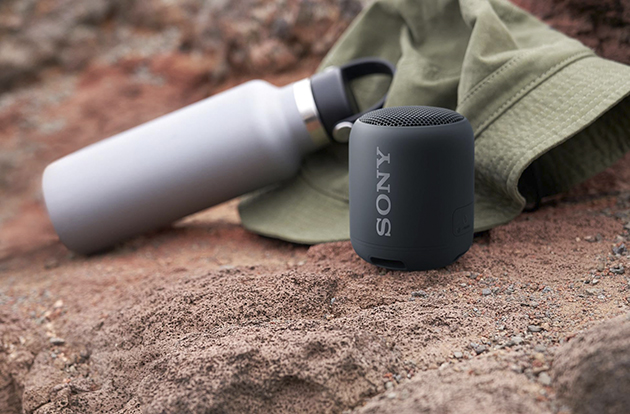 Once we get our hands on a fresh XB12, we set about having a listen. The device itself is about the size of a soda can and has Sony embossed on the leading edge of the spherical design. Looking from that angle on the right-hand side is a row of buttons for control. From left to right: power on/off, volume down, volume up, play/pause and "add" for stereo pairing. On the opposite side is a stereo line in for connecting another device such as a phone and the micro USB charging port.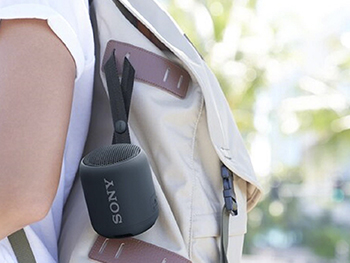 This leads us on to the XB12's durability. It's certainly feels well made in the hand with a soft touch rubber exterior protecting a very sturdy speaker underneath. The XB12 is even IP67 water and dust resistant, meaning wherever you take it you shouldn't have any problems. A little light rain won't spoil your BBQ with this speaker! While this sort of rugged build is becoming more and more common in the smartphone world it's still a nice touch for a portable Bluetooth speaker. Of course, no portable speaker could go far without a decent battery and we're happy to say the Sony XB12 comes equipped with a sizeable 16-hour battery life. You can go all day on a single charge and not have to worry about plugging in. It's certainly an impressive figure for such a smaller speaker considering the audio performance and it stood up to our overnight test happily enough.
The sound itself comes from a 46mm monoaural driver and a matching passive radiator underneath. This gives an extra sense of scale and bass to the small device and provides for Sony's EXTRA BASS marketing. It's a good rounded sound for such a small speaker with no problems on indie pop like You Me At Six and The Vaccines. Treble is detailed for its size and bass has a punch commendable for this price point. The sound gets even better if you invest in a stereo pair like we tested. By adding a second speaker, each can specialise to provide genuine stereo sound. It's a fantastic improvement and we only wish more speakers allowed you to do the same.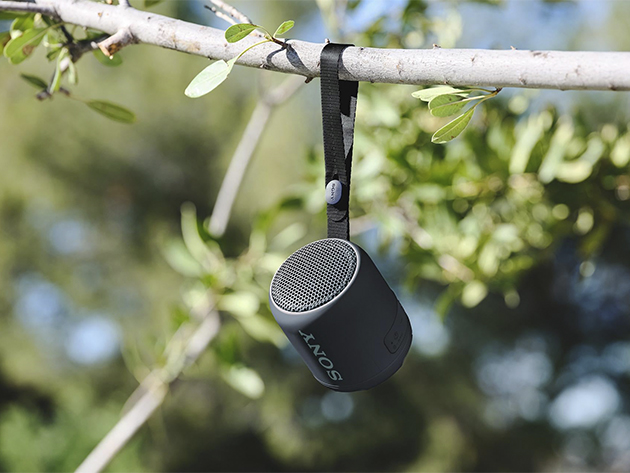 When it comes down to it, the Sony SRSXB12 does everything right for it's target audience. It provides good quality sound on a budget and does so in a durable hard-wearing body. There's no stress about it catching a light rain shower on a classic British summer day or going caput in dusty festival field thanks to the IP67 rating. All in all, we think it would be an excellent addition to most people's lives and think it's certainly worth an audition if you get a chance. Why not pop into your local Richer Sounds today to try for yourself?
Click to find out more about the Sony SRSXB12 portable Bluetooth speaker.
Author: Robert, Brighton store