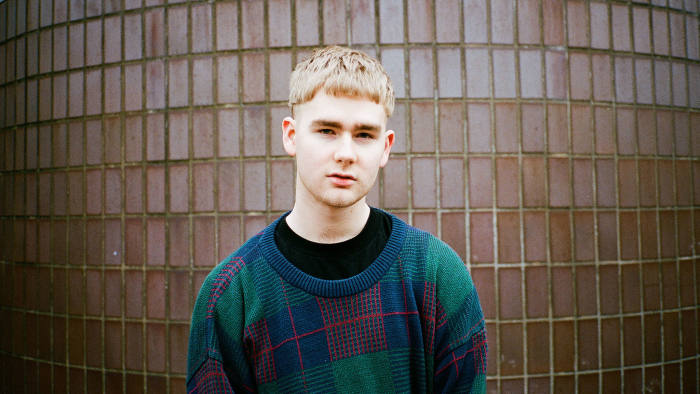 Mura Masa's second album R.Y.C (Raw Youth Collage) shows a very different side to the London based artist, opting for a mainly guitar based sound, leaving much of his shiny electronic style behind.
Born in Guernsey, now based in London, Alex Crossan's alias Mura Masa is already a very well known name. Love$ick from his debut self-titled was arguably his biggest hit to date, with its outrageously catchy steel drums and high pitched vocal samples. There does not appear to be such a clear winner this time around, instead the album is more about the concept as a whole. Themes of teen angst permeate the project, which is full of playful nostalgia. His broad musical palette has given him the ability to borrow bits and pieces from across the musical spectrum. From pop-punk acts such as Blink 182, or emo bands, all the way through to synth-pop, electro and french-house. This may sound like an oddly eclectic mix, and at times these influences push and pull against each other, but often he manages to find a middle ground. For example the synthesised lead and grime-esque drum pattern on In My Mind would have fitted on his 2017 album, and the auto-tuned vocals with almost drum and bass style drum programming on No Hope Generation, somehow work in contrast with the track's guitar riffs.
R.Y.C is an incredibly brave step for a follow up album, not only due to its stylistic u-turn, but also for its unapologetically proud Britishness. One of the first things you hear is his strong English accent, but the album is patriotic to its core. Inspired by post-punk, brit-pop, rave culture and everything in between, the album flirts with ideas that are sometimes predictable, but can still catch you off guard completely. This achingly nostalgic-yet-futuristic vibe is one that resonates with many Gen Z creatives, it has a recklessly juvenile attitude that is perfect for the internet generation. It is an emotional roller-coaster, and Crossan is far from shy when it comes to his feelings (check out a meeting at an oak tree, a heartfelt spoken word story about his teenage sweetheart), this new sound of his is both bold and reckless. Many of the tracks could be described as gritty, but there is often a kind of glowing brightness that saves them from becoming too depressing. Live Like We're Dancing is probably one of the album's strongest tracks, but does an uplifting pop piece with disco vibes and a touch of Basement Jaxx or Daft Punk's style really belong on this release?
The first album from Mura Masa featured Charli XCX, A$AP Rocky, Desiigner, Jamie Lidell and more, instead this one has fewer superstars and more up and coming, independent locals. One of R.Y.C's highlights come from an unlikely collaboration with UK rap madman Slowthai. Deal Wiv It seems like a modern interpretation of Blur's Park life, and shares similarities with a recent release from Fatboy Slim and Ocean Wisdom (both feature similarly comical accompanying visuals as well). Speaking of Blur, Crossan follows in the footsteps of Damon Alborn by having a hand in most of what you hear; as well as producing each track, his vocals, live drumming, guitar and bass also appear throughout. Don't be fooled by the childish nature of this self-proclaimed video game obsessed, cartoon loving, breakfast cereal fanatic, he is also a fiercely talented multi-instrumentalist.
This hybrid, crossover sound is subtle at times, for example I Don't Think I Can Do This Again begins with heavily distorted vocals and guitars, before transitioning to a more radio friendly chorus, and eventually sweeping into a glitchy, digital outro. On the more retro than modern vicarious living anthem, he chooses a purposefully sloppy title with only lower case lettering, this laid back attitude is reflected in the guitar playing which is reminiscent of The Libertines. Crossan really hits his stride on Today, although there is nothing particularly groundbreaking here, there are  some very attractive guitar tones and chord progressions; as well as some of the albums lushest vocals courtesy of Tirzah. (nocturne for strings and a conversation) features similarly pretty guitar plucks and is a surprisingly calm outro for the album.
Mura Masa fans may not know how to react to this one, as he turns a page, moving in a different direction, he may gain as many new fans and he could lose. R.Y.C is at times naïve, most likely aimed at teens and fellow products of the digital era. It is far from perfect, and at times a little selfish, but it is hard to knock a guy for doing his own thing. We recommend having a listen even if purely out of curiosity, you might surprise yourself.