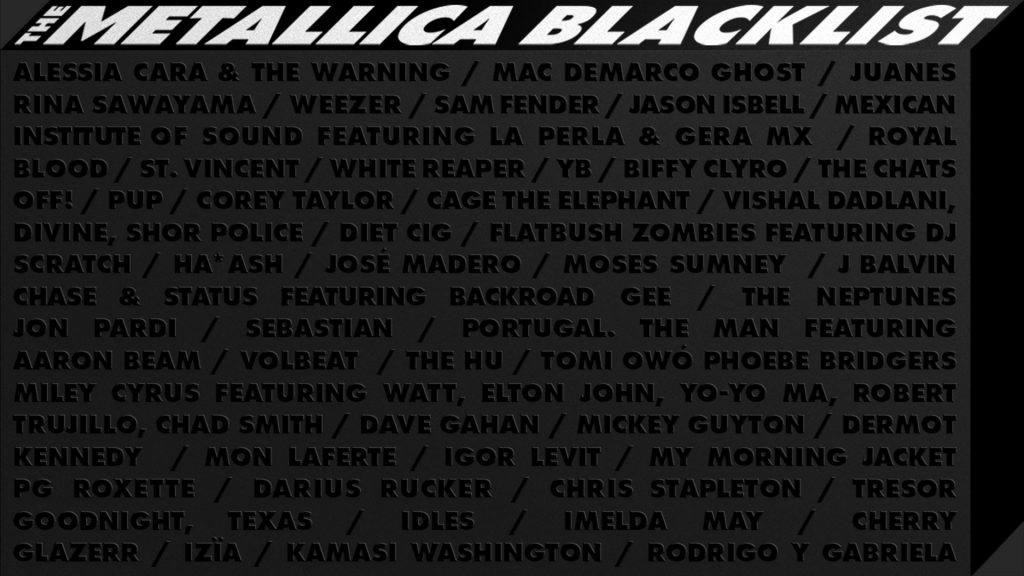 Four hours, fifty-three tracks, and even more artists – buckle in, as The Metallica Blacklist is an absolute odyssey. 
Outside of the track listing itself, Metallica has very little presence on the album, outside of somehow being a featured artist…on their own tracks. What there is, is a veritable battle royale of different artists duking it out over select hits from the metal icon's back catalogue.
To avoid an encyclopaedic run-down of this monster, I've picked one version of each track featured.
Fittingly, Enter Sandman, perhaps the most instantly recognisable Metallica track is the opening track of the cover album. Who better than Weezer, already kings of covers such as Africa, to take up the mantle.
The high gain, power chord riff remains mostly unchanged with only a slightly bassier edge that signifies Weezer's own tone similar to their own track, Hash Pipe. River Cuomo's far more dulcet tones are an interesting change over from the gravel James Hetfield – and the solo somehow loses some fire over Kirk's usual screeching. That's right up until they drop in a refrain from their poppier song Buddy Holly. It absolutely shouldn't work, but it somehow does.
As the choice for the second track on the ballots, it's Sad But True. Whilst you're presented with obvious choices such as Royal Blood – this reviewer opted for former Polyphonic Spree member, St. Vincent.
The almost jazzy edge sadly fails to cut through the sludgier side of the source material however, with Annie Clark's voice feeling a little muted amongst even the quieted pounding of drums and stabbing guitar blasts. It fails to hold attention.
Thankfully, the same can't be said for the choice I made for Holier Than Thou. From one iconic metal band to another, Slipknot and Stone Sour's Corey Taylor is a fine choice for the above track. Corey brings a more frenetic and Slipknot-esque energy to the track, with vocals that help underpin the more galloping pace. He feels equally at home with the material of others, still easily a master within his realm of metal.
To follow this pace, The Unforgiven is the next choice presented to the listener. Opening with picked strings and far softer vocals, Cage the Elephant was the choice for this cover. Whilst the bluesy tones manage to hold the iconic and soft guitar melody together, and accurately holds the tone of the solo, the vocals are once again what seem to lose clarity – and at the point it starts to make you question the production on some of the covers.
One cover track where Metallica are actually noted as a featured artist is in Chase and Status' (feat. BackRoad Gee) version of Wherever I May Roam. You may be thinking that the dubstep and jungle tones don't turn their hand to metal, covers or not – and unfortunately you'd be right. You may however think that the production value Chase and Status bring to their work might save it – you'd be wrong. The track feels lost between trying to remix something, and rework it, leaving it homeless between the club and a gig.
That said, I accidentally rolled into The Neptunes' cover of the same track and was pleasantly surprised with their more electronic version – so do with that what you will.
Volbeat, if you're not familiar with the Danish hard-rockers are already clearly influenced by Metallica. As such, their cover of Don't Tread On Me feels like they finally got their chance to record a song that likely brought them altogether – and it feels as polished and perfected as you'd expect. Melodic vocals and clean riffs – it's a welcome refrain from some of the confused tracks previously.
To avoid spoiling a surprise track on the album, I'm simply going to drop it here and suggest a listen, even if you opt to ignore the album. The HU's version of Through the Never – in full Mongolian – is well worth a listen.
Perhaps one of the biggest asks, and as such, risks on the listing is Nothing Else Matters. As such, can Miley Cyrus, Elton John and a host of respected others hold it together?
Just to fight the former Disney star's corner – if you've largely ignored the southern belle's career since the infamy of Wrecking Ball, you're missing out on a fantastic vocalist with a commanding, husky voice who is already well established as a collaborator with Stevie Nicks, Billie Idol and more. The track is pinned down by Cyrus' voice, and instrumentally undercut by some industry greats – and truly holds up.
The final track on the album is The Struggle Within, by spectacular guitar duo Rodrigo Y Gabriela. Having already covered Stairway to Heaven with their lyric-less duelling style, they approach this track with the same fluid grace and ease.
The final track however, represents my thoughts on the album. It's huge, with a massive amount of choice, but requires work to find tracks that genuinely hold up on their own and don't warrant skipping to a better version or indeed the original.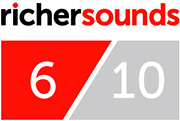 Author: Steve, Cardiff store