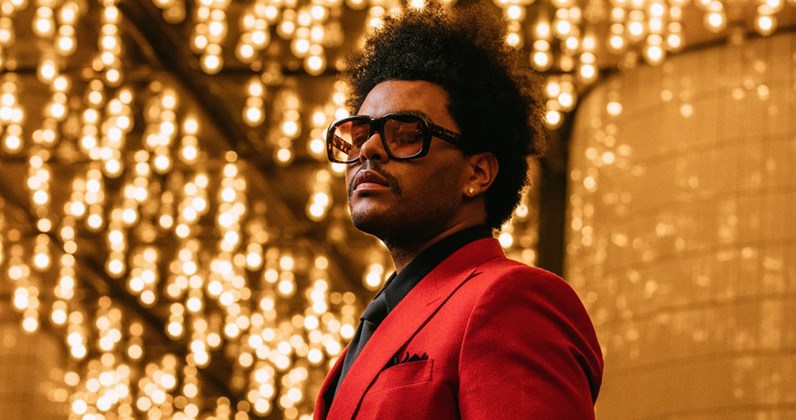 Abel Makkonen Tesfaye aka The Weeknd is an artist who needs little introduction, and the enigmatic singer is on top form for his latest album, After Hours.
This Canadian born singer, songwriter, actor and producer has been sharing his music with the world for a decade now, but it was his 2015 release, Beauty Behind The Madness, that propelled him into the star boy he is today. Someone who has come a long way indeed, since his drug fuelled, petty-theft riddled teenage years. As well as his following projects Starboy and My Dear Melancholy, Tesfaye has also bagged vocal, writing or production credits on tracks from Kanye West, Beyonce, Daft Punk, Kendrick Lamar, Future, Gucci Mane, Lil Zui Vert, Lana Del Rey…the list goes on.
After Hours has been teased by previous collaborator Gasaffelstein, since January last year. In spring they dropped Power Is Power with SZA and Travis Scott, then in November the album's lead single Blinding Lights was announced; via a German Mercedes Benz television advert. This was followed up by his fourth number one single Heartless, and In Your Eyes. After much anticipation to hear the project in full, the wait is finally over, here we go!
We get off to a smooth, skilful start, Alone Again is dreamy, with top class production. Tesfaye's writing has matured even further it seems, and it feels as if this album will be a true experience. This one is not as pop-friendly as you might expect for an opener, instead it is a bold, sci-fi inspired, cinematic masterpiece. During the next few tracks, we see a wide range of musical influences; especially within the beats. Starting with Too Late, a left field garage/dubstep-tinged track, with synths that would fit on the Stranger Things soundtrack (and drums that could be lifted from Burial or Synkro). The album continues opening up like a good book, and Hardest To Love's weird, skippy Etherwood-style drum'n'bass vibe is a calming one. It evokes feelings of springtime, but here Tesfaye's vocal's sound reserved, and at worst, a little bit Disney. Next up we dive into Scared to Live, with its church organ and 80's rom-com snare. It sounds like a rainy scene from a soppy movie, or a power ballad; that even Elton John would be proud of. His lyrics are upfront and personal, referencing familiar sentiments of self doubt "scared to live again", "I ain't nothing that I used to be". This throwback style is revisited later, but in a far more fun way. If you were relaxing on the sofa to the last one, you may find yourself dancing around the kitchen to Blinding Lights. We stay within the digital 80's realm for the couple of tracks that follow, but they are much less exciting (leaning towards cheesy even.)
Where this project really hits a home run, is pretty much slap bang in the middle; so if you only have time for a few then we suggest you begin with Snowchild. This is ambient, contemporary R&B at its finest, featuring worryingly suicidal lyrics from the off, and the album's best arrangement yet. There is nowhere to hide, Tesfaye's upfront vocals tell a tale which is easier to follow; as well as being much easier to listen to as a song, compared to the epic tales before it. It feels more like a pop song, instead of a theatrical piece that could be more suited to a soundtrack. His words are once again, introspective and personal "20 mil mansion, never lived in it, zero edge pool, never dipped in it". This depth is matched by the production, ensuring that you want to keep listening; and as the album develops, the anticipation only increases. It is followed by another fairly similar song, with unique drum sounds and stunning vocals, but so far nothing quite stands out like The Hills, and we are yet to hear something as radio friendly as I Can't Feel My Face. However this is likely to be something that Tesfaye has considered, and maybe After Hours is more of a concept piece than a collection of hit singles?
We may have spoken too soon though, because at track 7, Heartless comes correct. Here everything is sharper, the words more heartfelt and genuine. Tesfaye's charisma is undeniable, as he sings of his apparent distaste for the music industry "seven years I've been swimming with the sharks now". Tesfaye is an agile vocalist who seems to be able to find his feet anywhere musically, but we are struggling to overlook this song's resemblance to Kanye West's track of the same name. There is some truly depressing content on much of the album, already he has admitted that he can't be alone again, that he is scared to live again, and then on Faith he tells us "I lost my way, I'm losing my religion everyday". Even the album art is designed to make you feel uncomfortable, showing Tesfaye with a mouth full of blood (is this all for show or could he be struggling with the pressures of fame?).
As the album draws to a close, its titular and penultimate piece is more modern, with a kick drum that might lead you to believe that your speakers have broken. Then for the finale, just before the curtains close, lush pads, snail-paced drums, lay the foundation for and an awesome lead synth. This haziness is joined by washed out, almost hopeful vocals "I don't even wanna get high anymore, I just want it out of my life".
Lets hope that The Weeknd is on the road to recovery, but these themes of isolation and loneliness are a perfect match for this time of distancing.