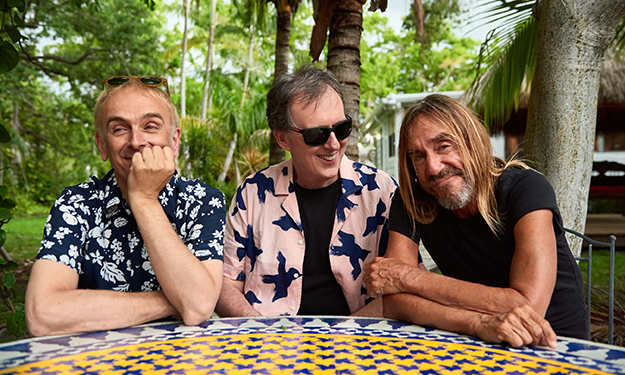 In a 'we've got one shot at this' frame of mind Underworld set up half of their recording studio in a London hotel room, presented Iggy with 30 finished pieces of music and suggested the collaboration. How could Iggy say no?
Iggy and Underworld first moved in the same circles on the seminal 'Trainspotting' soundtrack ('Lust for Life' and 'Born Slippy (Nuxx)'). This opportunistic EP was partly recorded at the Savoy Hotel at a meeting between Underworld and Iggy to discuss music for 'T2 Trainspotting' – film producer Danny Boyle was present via Skype.


The first fruits were presented back in May and the EP was announced shortly afterwards. 'Bells and Circles' was premiered on the web and played live by the band as they headlined BBC's 'Biggest Weekend' festival in Belfast at the tail end of May. Over a trademark beat heavy techno backing, Iggy recounts a tale from the golden age of air travel when you could smoke on the plane – "Everybody did it." as well as snort drugs from the drop-down table and hit on the stewardess without, it seems, any fear of repercussions. Castro's in there too along with a Karl Hyde 'sunlight on my wings' mantra. The message is tinged with sadness that you can't do that anymore, only a vengeful God would not allow smoking on the airplane – now we know.

The second of the four tracks 'Trapped' slides in a keyboard squall, before the beat kicks in with an actual Iggy vocal. There are bits of spoken word as well, and the song laments the trappings of domesticity. It's not as engaging as 'Bells and Circles' though it sounds more like what we would have expected from this collaboration as characteristics from both acts' past recordings fuse together seamlessly. 'I'll See Big' is a more reflective number, Underworld's gentler side is to the fore and Iggy ditches tales of rock'n'roll excess to reflect on friendships made and lost over the years. It's a move that works, Underworld could make a fine ambient electro album if they wanted to and Iggy is more sympathetic as he regrets how his own personality has possibly cost him friendships over the years and how at the same time he has attracted hangers on as friends. You actually end up feeling a little sorry for him.

'Get Your Shirt' is another banger and it closes this short, bittersweet collaboration. It laments flirts, jerks, bad decisions and being ripped off over a pulsing synth led track with a pretty female vocal melody, and that's it, this brief partnership is over. There's a sense of what could have been here, a full album conceived and delivered with due planning could've been spectacular, but then it may have lacked the spontaneity of this finished product. Having said this, there's plenty here for fans of both artists, and if you're a fan of either then what's not to like?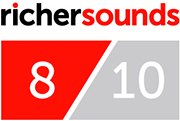 Author: Ian, Romford store