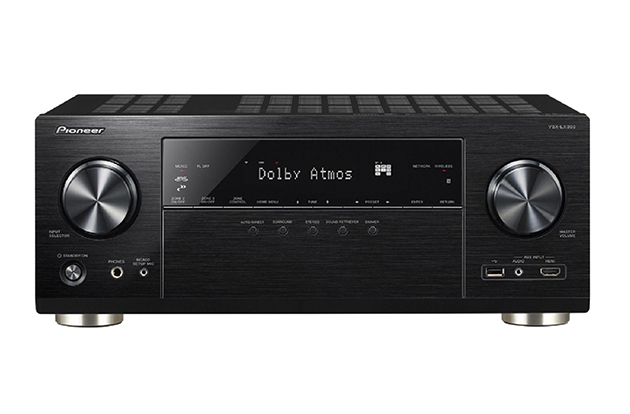 Today's cinephiles have some of the widest choices ever available when it comes to equipment and maximising the sound from their favourite movies. In particular the price point for the latest standards of Dolby Atmos and DTS:X audio encoding has tumbled over recent years. Today we're looking at the new VSX LX303 from Pioneer, an AV receiver giving you a wealth of cinema options without breaking the bank.
The new VSX LX303 may lack a catchy name but it more than makes up for it with the features that have been packed into the chassis. Pioneer have included nine channels of power amplification which are configurable in a number of different ways to suit your requirements. There is the option for two pairs of height speakers to take full advantage of Dolby Atmos and DTS:X encoding or you can even send audio to speakers in two further rooms. All these options are backed up by a weighty 170w per channel giving you plenty of power to get the most out of even the toughest speakers.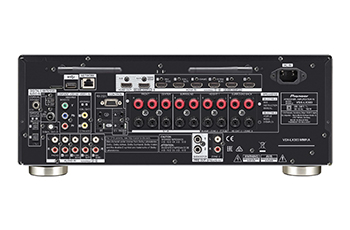 Pioneer has included 6 HDMI inputs on the rear of the device and 1 output to connect to a TV or projector giving you plenty of room to grow. All these HDMI ports are HDCP 2.2 compatible meaning you won't run into any compatibility issues no matter when you throw at it. For those wishing to indulge in their favourite tracks there is also a wide range of audio inputs, including a phono stage and 4 line ins. Additionally, Pioneer has included 3 digital audio connects, in the form of 2 optical and 1 coaxial inputs, plus a USB port for plugging in a hard drive. There is even Bluetooth for those who need it.
Fans of Spotify and its ilk will not be disappointed either with the inclusion of both the DTS Play Fi streaming system for multiroom audio (with compatible devices) and Google Chromecast integration for access to hundreds of audio applications wherever you listen to your music. When using a mobile device, you can also take control of the LX303 with Pioneer's remote application meaning you don't have to reach for the remote just to change input. For those with a Google Assistant speaker there is voice control enabled on this amplifier to make things as easy as possible to integrate into a home system.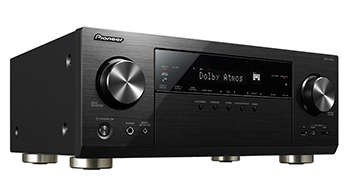 On the visual side of things, Pioneer have provided plenty of support for HDR formats including HDR10, HLG and even Dolby Vision. Plus if the content you are watching is not Ultra HD, the LX303 will upscale the picture for you.
Setting up the LX303 was a breeze with a simple start up process which guided us through all the usual configuration options with no problems at all. There is an included microphone for measuring the layout of the room and the LX303 will adapt accordingly, or if you're of a more manual persuasion you can take things into your own hands and adjust from there. We found the system did a good job of calibrating for our demonstration room when hooked up to a set of Cambridge Audio Min22 speakers and X301 subwoofer. Audio was clear and well distributed around the room.
We sat down to get our bearing with the LX303 and popped in a copy of Star Wars: The Last Jedi to get a sense of what the unit was capable of. The opening battle scene really blew us away and showed just how much power this unit has under the hood. The Min22 speakers sounded excellent with great surround effects and worked especially hard to create three-dimensional sound through speakers we placed facing upwards. The Dolby Atmos encoding was excellent and really drew us into the scene.
The Pioneer VSX LX303 certainly comes packed with features and the power to back up it's extensive range of speaker options. For those looking to take the leap into the newest three-dimensional sound formats this is a great starting point. All you need to add is a good set of speakers with support for height channels and you've got a great home cinema experience. Don't just take our word for it though, call or come in to your local Richer Sounds store today and come and test it out for yourself today!
Click here to learn more about the Pioneer VSX LX303 AV receiver
Author: Robert, Brighton store