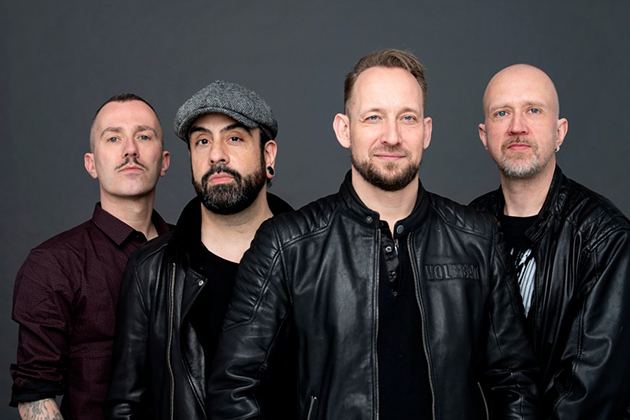 Danish heavy rockers Volbeat are still on the rock and roll rise to superstardom with their seventh studio album release "Rewind, Replay, Rebound".
Formed in 2001 in Copenhagen, Volbeat took a little while to get their feet off the ground, but after a steady flow of successful studio albums from 2005, their popularity began to spike. As well as their esteemed studio work, Volbeat have become festival favourites by appearing many times at the UK's Download Festival, landing excellent supporting roles on big name tours (Metallica, Alter Bridge, Slipknot) and drawing sell out headline shows to academy sized venues across the UK.
Volbeat are continuing their trademark mix of heavy metal, rock and roll and rockabilly with their latest album, but still managing to keep things fresh by adding in various guest appearances (Neil Fallon from co-heavy rockers Clutch and Gary Holt from current Slayer and Exodus allegiance). Guest appearances are only part of the glory here, as lead-singer/guitarist Michael Poulsen and co-shredder Rob Caggiano's excellent song writing massively contribute to the enjoyment of this record as their musical prowess matures and takes centre stage.
Over the course of this record you will never find yourself fighting the urge to tap the skip button, the variety of tempo, style and mood keeps your ears on alert the entire time. Initial outing "Last Day Under the Sun" brings a lovable chorus that would quite easily fit into most summertime playlists ringing out in back-gardens nationwide. Following this, the explosive 'heavy metal Elvis' track "Pelvis on Fire" picks up the pace and brings a beaming smile to any fan of rock and roll. From here on out it's a mixed bag of riff-heavy bruisers, singalong choruses and a few ballad inspired tracks to complete the whole rock package. Singles "Leviathan" and "Cheapside Sloggers" are going to be clear fan favourites and are sure to be live setlist main-stayers for a while to come. "Die to Live" offers a joyful surprise with guest vocals from Neil Fallon of Clutch (fellow heavy riff acolytes – check out 2018's Book of Bad Decisions) and a tasteful inclusion of a saxophone.
Whether you spend your time head banging to Metallica, brooding with Johnny Cash or singing along to the party atmosphere of 80's acts such as Def Leppard, Motley Crue and Van Halen, you are sure to find a home with "Rewind, Replay, Rebound". After Michael Poulsen's stint with death metal band Dominus (1991-2001), it might seem strange to some the direction he took with Volbeat, but on the Dominus release "Vol.Beat" (where of course the name Volbeat came from) you could easily start to see the groove elements that feature so prominently in Volbeat's music today. Some may have questioned the move at the time, but almost 20-years later on there are certainly no nay-sayers now. You can find Volbeat merchandise at almost all popular rock concerts with fans adorning t-shirts and sew-on patches (which usually find their way nestled between the likes of AC/DC and KISS – which is more than likely a sign of future glories!).
"Rewind, Replay, Rebound" in all its grandeur is an excellent addition to the band's catalogue, but they could have one or two more ground-breaking tracks that could ascend the album to the heavens. It might take them one more album, but Volbeat are on the cusp of modern heavy music royalty. If you fancy a taste of the band, why not check them out on their upcoming September/October UK headline tour with Baroness and Danko Jones.
If live music is not quite your thing, then we have the answer! All you need to do is pop down to your local Richer Sounds and ask one of our colleagues to put the album on in our demo room and hear the album in all its glory. You will be able to hear the album like you never have before, with incredible detail, clarity and impact on our state of the art hi-fi equipment. We look forward to rocking out with you soon!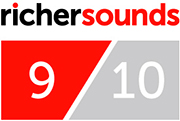 Author: Matt, Solihull store