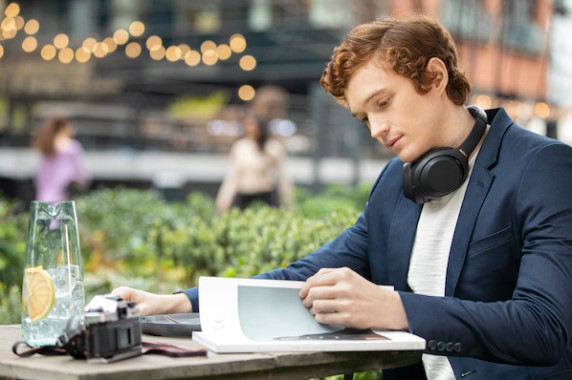 Anyone reading this article is likely to have a pair or two of headphones in their home. Maybe it's a cherished old pair that's plugged into your stereo, or a cheap pair of earbuds that came with your last smartphone tangled up in a ball in a drawer somewhere.
Headphone technology has remained largely unchanged for decades. It's fairly simple – sound travels up a cable from your source, to speakers placed on (or inside) your ears. The biggest development in recent years has been the addition of Bluetooth technology to allow wireless transmission, allowing you to hear your music without the hassle of wires. We've put together this wireless headphone guide to help you understand a few key features and options that come with this exciting advancement!
So how do they work? Put simply, sound is transmitted from a source–your smartphone, laptop, TV, etc.–via Bluetooth and picked up by your headphones (for more in-depth information about how Bluetooth works, see our guide here). This allows you to move freely without being tethered to your source with a range of about 10m. What's more, wireless headphones allow you to control things like volume, skip tracks and start/stop the music all from the headphones themselves with the press of a few buttons. The best part? Most wireless headphones transmit music in CD quality or near-CD quality, so you don't have to sacrifice great sound for convenience. That's a win-win!
Design-wise, wireless headphones look almost exactly the same, with larger models that go over your ears while smaller earbud style models fit snuggly in your ear. Some in-ear wireless headphones have a cable that sends audio between the two buds, often with a small piece that houses the microphone and controls playback. Other in-ear designs have no connecting cable, and the earbuds connect to each other wirelessly. This style is called 'true wireless'.
While all wireless headphones function in basically the same manner, there are a few additional features that some wireless headphones have that can make your listening experience even better:
Microphone: the vast majority of wireless headphones now have a built-in microphone, but it's worth a check if you want to be able to take phone calls without disconnecting your headphones.
Waterproof/sweat-proof: This is an essential feature to look for if you're planning on using your headphones while exercising.
Noise-cancelling: This is a great option when you need to silence outside noise to concentrate or zone out.
Voice Assistant: Some headphones will work with the Voice Assistant in your smart phone, allowing you to perform many functions without removing your phone from your pocket or bag.
Wireless headphones come in a variety of styles, sizes and price-points. We pride ourselves on having a wide selection and we definitely have something that will fit your needs. Why not give your local Richer Sounds store a call today and let one of our friendly and knowledgeable staff help you choose the perfect pair?
Click to take a look at our full wireless headphone range.