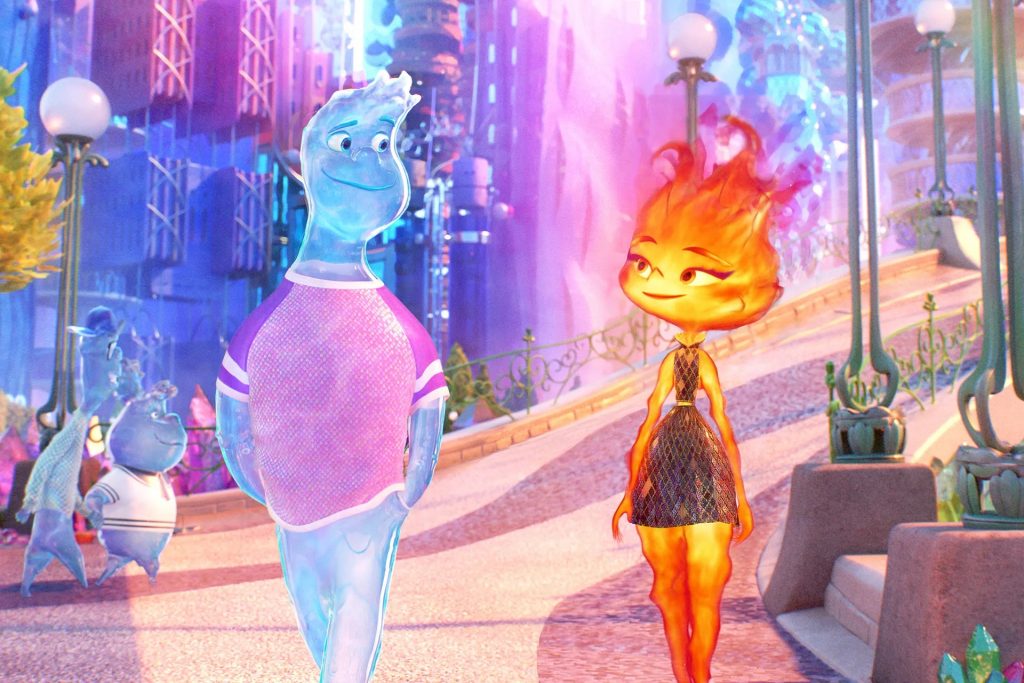 Element City is home to Earth, Air, Water and now Fire. But will opposites Ember and Wade be able to look past their differences and form a hot and steamy relationship?
New from Walt Disney Pictures and Pixar Animation Studios comes a visually stunning film created around the four known elements. Directed by Peter Sohn, who originally gave us 'The Good Dinosaur' in 2015, he is also a voice actor who starred as 'Emile' in the much-loved Ratatouille and 'Sox' the robot cat in Lightyear. He is now helming a very colourful film that is loosely based on his own parents' childhood as young immigrants from Korea.
Set in Element City, we are in a world of opposing types, who generally speaking cannot mix without potentially catastrophic results. Here, we are introduced to a hot and fiery Ember (Leah Lewis 'The Half Of it'), in both temperament and type, as a loving yet only daughter of Cinder (Sheila Vosough) and Bernie Lumen (Ronnie del Carmen). Desperate to make her family proud she grows up knowing she may one day take over her father's business of selling fire related products in a badly built shop held together with love and damaged pipes. And this is where we meet Wade (voiced by Mamoudo Athie – from series, 'Sorry For Your Loss') who quite literally bursts in and falls in love with Ember after one of her fiery outbursts, whilst at the same time condemning her father's business premises.
Absolutely packed with funny visual gags, such as 'Garden Central Station' as the hub of the city, and 'Tide & Prejudice' a film Ember and Wade go to see. The film immerses us in a joyous explosion of colour and word play that is arguably greater than the romantic story itself. There are so many elements (pun intended) – too many to mention here, such as Ember's ability to reheat broken glass to recreate a counter front shattered by her hot temper, through to Wade's 'Mexican wave' made of an actual wave of water, you can see the sheer delight the script writers had in building this world. With art director, Laura Meyer who actually invented her own hand drawn typefaces for shop and street signs to bring this whole vibrant world more alive.
With immigration being central to the reason 'fire' came to reside in Element City, we can see air, earth and water getting along in a mostly harmonious fashion, but where is the angst of the story in that? Wade's drippy, watery nature is secretly deep down looking for the fire Ember can give him. Even though his family have never had to deal with this before, they welcome her with arms more open than her own untrusting fiery father indeed does with the watery outsider as he feeds him red hot coals for a taste test.
With a healthy budget of $200m the initial release has been slow to come to the boil with initial disappointing takings around the $30m, but now exceeding $315m this film amazingly is still not considered a success. The issues being the sway towards the political with regards to the elements or 'races' who can either mix or not as the case may be. The film should have focused more heavily on the fun 'child' based story lines that this colourful world so richly deserves. The animation is stunning with the burnt fiery colours of Firetown through to the lovely translucent animation of Waterville which is where we meet Wade's architect mother Brook Ripple (Catherine O'Hara – Home Alone). The overall presentation of the story works well yet the underlying message takes away rather than adds to the overall film.
The mostly solid Disney stable has had a bumpy back catalogue with lows of the recent misunderstood 'Lightyear' through the highs of the amazing 'Coco'. The voice acting from a non 'A-list' cast on the whole, works extremely well but is let down by the story line that is safe and therefore ultimately forgettable. Elemental unfortunately falls into a dangerous middle ground of not knowing its true audience, whilst at the same time being an absolute treat for the eyes.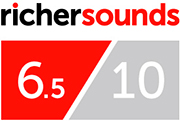 Author: Piers, Maidstone Store