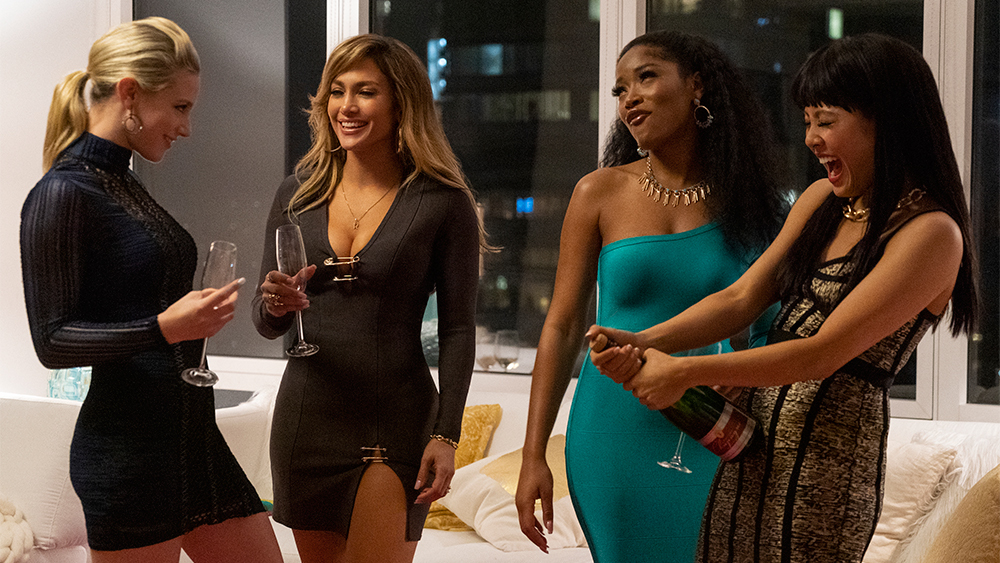 Destiny (Constance Wu) works as a stripper and struggles to make ends meet, until she falls under the wing of the club's highest earning member, Ramona (Jennifer Lopez). After a spell of success and wealth, the 2008 financial crash removes their wealthy clientele, threatening the wellbeing of their families and careers. Together with fellow strippers Annabelle (Lili Reinhart) and Mercedes (Kiki Palmer), the group devise a morally dubious plan to stay afloat.
When I first saw the trailer for Hustlers, I had a feeling that it would be a surprise sleeper hit. The story seemed intriguing, the cinematography looked varied and engaging, and it carried with it a knowing comedic wink to help sell the premise of this 'true story' based off of a magazine article. There was only one aspect of which I was unsure, that being Jennifer Lopez as the co-lead. Not that I have anything particularly against Lopez as an actress; having seen a surprising number of her movies, she's always fine enough . . . but just a bit flat. Then I saw the reviews. My initial feeling about the film being a surprise hit was proven right, but it went a step further. Critics wrote about an unexpected emotional depth, and most impressive of all? Lopez herself, who is being tipped with early Oscar buzz. My girlfriend and I both decided we had to see Hustlers.
One inescapable aspect of the film as a whole is how it has exposed some interesting public reactions. Without a doubt, your mileage may vary on the basis of how far you can relate to characters who do increasingly amoral actions. As a result, this movie makes an absolutely perfect companion piece to a film it shares so many similarities with, yet it operates on the total opposite side of the unclean coin: Martin Scorsese's 2013 smash hit The Wolf of Wall Street. Hustlers director Lorene Scafaria's work here has been compared to Scorsese's in how the pair uphold a dramedy with emotional depth, and her use of pop songs and moody yet colourful cinematography is decidedly akin to Scorsese. However, Scafaria makes this her own territory, and this simple comparison feels inattentive. Hustlers represents the side of the working women so nonchalantly present in Wolf's world, showing how they could stand to benefit from the kind of swindling that Wall Street wolves Leonardo DiCaprio and Jonah Hill committed gleefully to an invisible public. Watching Lopez's Ramona and co get their own back on an assortment of 'legal' hustlers, those they saw responsible for the 2008 crash, is undeniably satisfying, creating that hook necessary to challenge an audience when the gang inevitably go too far. How people react to watching the men of Wolf gleefully commit their crimes, versus how they perceive the women of Hustlers, will make for a fascinating comparison. It is one that could display a lot about how we acknowledge what men can get away with compared to women, in film or in reality.
What helps to sell this is the intelligent way in which Scafaria portrays the strip club as a business and its women as employees, rather than the easy approach of leering into the usual 'seedy underbelly' outlook on such a profession. What's more, for a film about strippers and crime and all the drama that comes with it, it is unusually (yet beneficially) measured in its pacing. It holds on emotional moments and plot aspects for longer than I anticipated, allowing the gravity of their circumstances to settle in, meaning you can understand why they reach for darker solutions. The cast navigates each of these situations with confidence, switching between the impressively athletic performances in the strip club to dramatic scenes in between with aplomb. Wu is her usual brilliant self and makes for a strong emotional guide through the story, as are Reinhart and Palmer endearing comic presences (speaking of which, look out for Cardi B and Lizzo who have brief but riotous appearances). Ramona Vega is a fascinating creation and Jennifer Lopez deserves all the praise she is getting for her performance. The 'mother/mentor/queen' figure is a well-established one, and yet Lopez makes her consistently compelling – she's a dominating physical and intellectual presence with an inner-city wit and motherly charm that makes her equal parts cunning and caring. With Ramona clearly wanting companions in her life, she expresses the film's secondary theme of female friendship, and watching this conflict with her vengeful sense of social justice is captivating. She is the perfect choice for the role, and like many of the medium's best characters, I can't imagine her being played by anyone else.
If I were to have any criticisms, it would solely be that the film doesn't quite crescendo at the emotional, shocking extremes you are inclined to expect it will reach. That said, this is purely a limit beset by the true story the film is based on, and if anything, the small scale was refreshing in our contemporary blockbuster world. It's a minor nitpick, and one that I know won't be an issue on rewatch. Hustlers is an absorbing story told with visual flair, marked by being a challenging approach to the morality-tale, told with a measured pace and featuring an engrossing central performance. Much like the story it portrays, there's a lot more happening behind the glitzy curtain.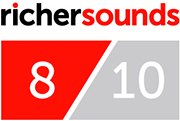 Author: Tom, Prestwich store