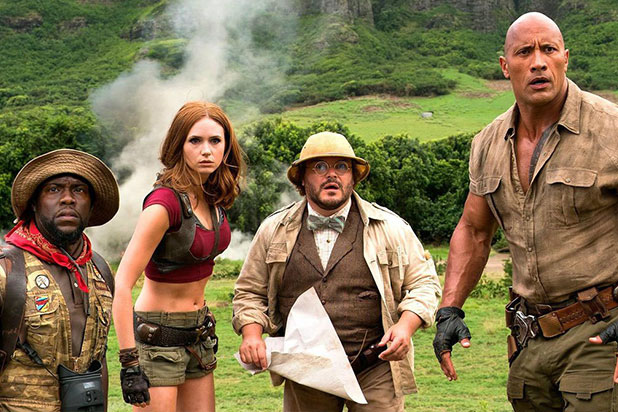 Now in college, Spencer Gilpin (Alex Wolff) is suffering the day-to-day anxieties of being a student, feeling lonely and helpless away from his friends. Desperate to escape, Spencer poorly rebuilds the Jumanji video game and gets trapped inside it, forcing Bethany (Madison Iseman), Fridge (Ser'Darius Blain) and Martha (Morgan Turner) to go back in and rescue him. But this time, no one can choose their character, the game has moved on to the next level, and some unexpected players have unwittingly entered Jumanji.
If I were to point to one of the 2010's best movie surprises, I would immediately mention 2017's threequel Jumanji: Welcome to the Jungle. A genuinely funny treat that was a respectful sequel to the classic original (and even a good movie about video games), Jake Kasdan's foray into the jungles of Jumanji surprised everyone and went on to make a well-deserved killing at the box office. As a result, a sequel was inevitable and, thankfully, Kasdan returns once again with the same winning cast for another adventure in this lively world. The terrain is different, the mission is new, and the cast has grown to include new characters both real and digital alike. However, much like Spencer's slapdash rebuild, the film itself also has a little less polish than before. It still retains much of the same wit and humour, and none of its bugs are game-breaking, but overall it's a less consistent experience, despite sticking to much of the same formula. It feels a bit like a remaster of an old video game chugging on newer hardware; all the elements are there, but perhaps it would have been better to evolve a little more, rather than attempt to recapture old magic while upping the ante.
Regardless, there is still so much effortless charm on show in Jumanji: The Next Level. Returning to the same cast of characters from the first film, both in reality and in the game, is an absolute pleasure. Spencer, Bethany, Fridge and Martha have each grown after the events of the first movie, and The Next Level brings a welcome warmth to their friendship that provides a nice contrast to how they all met. The film does a great job at establishing why Spencer would want to rebuild and re-enter the game, making the sequel springboard naturally from where the first film left off, rather than feeling tacked-on. It also makes some touching notes on how maintaining high school relationships becomes difficult when the group splits off to go to college or university.
Once in the game, we are treated to the reunion of Dwayne Johnson's 'Smolder Bravestone', Kevin Hart's 'Franklin Finbar', Karen Gillan's 'Ruby Roundhouse' and Jack Black's 'Shelly Oberon'. As per the first movie, the chemistry between this cast is outstanding. It is often said that, in film, the more the cast are enjoying themselves, the less that translates to fun for the audience. And yet, much like the last instalment, each actor manages the amazing feat of balancing a clear glee for each other's company and their performances while also bringing the audience along for the ride. Added to the real-life cast are new additions Danny DeVito, playing Spencer's grandfather Eddie, and Danny Glover, Eddie's former work partner Milo, who both bring an older charisma to the proceedings and even come with new in-game avatars. One I won't spoil, but one is the excellent Awkwafina as 'Ming Fleetfoot'. She fits seamlessly into this already brilliant cast, and the combination of her vocal and physical comedy is an unexpectedly irreplaceable addition to the roster.
It's a tad disappointing then that, from a narrative standpoint, the film doesn't do quite as much with the premise as it could have. With the game having been destroyed and rebuilt hastily by Spencer, the opportunity to play around with the video game trope of 'glitches' seems primed to add to the fun and humour. The only glitch in the game turns out to be that, this time, no one can select their characters before entering… and that's kind of it. Other changes to the formula include a new adventure and mission, but that simply feels like our heroes are playing the titular 'next level' of the game. A central feature of the film is its new focus on body swap comedy, even more so than before, which leads to some wonderful opportunities for the game-actors to try new personalities (Kevin Hart in particular gets to play against type), but that feels less like a glitch and more like a game mechanic (usually happening whenever the gang comes across pools of water that allow them to switch characters). Instead, we mainly get a repetitive series of jokes around how the grandparents don't know they're in a video game. This may just be a play on how the older generation simply don't understand most modern games at all, but to me it felt a bit uncharacteristic of real grandparents. No matter how unfamiliar with games Eddie and Milo are, their obliviousness is a tad overblown.
Nevertheless, even though elements of the film's ending are quite saccharine, I still found myself leaving with gleeful anticipation for the interestingly teased follow-up. These characters and the new additions are so inherently likeable that I would happily watch more adventures with this crew, and the hinted premise for the sequel has so much potential for some more character (and actor)-driven humour. In the end, it's great to see Jumanji: The Next Level approach the medium of video games in a positive light to deliver some sweet messages about inter-generational relationships, and despite it not fulfilling the potential of its premise, this is bound to be a crowd-pleaser for both young and old viewers alike.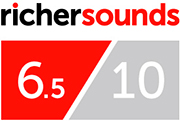 Author: Tom, Chelsea store