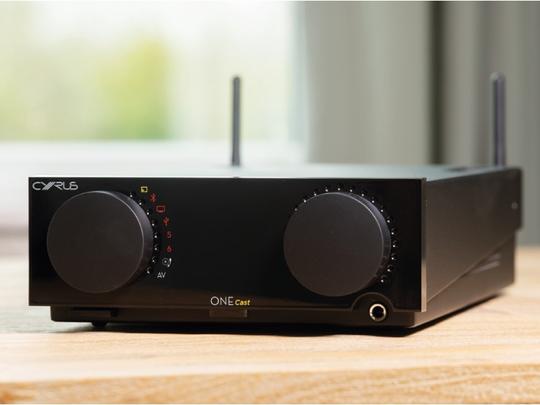 For music lovers everywhere there is a delicate balance to be had between a system which delivers the performance you want in the design you prefer. Some look to headphones to provide for their needs, but if you're looking to build a system for a smaller space then the Cyrus ONE Cast could be worthy of your consideration. Today we examine the ONE Cast to see if it can fulfil on the performance we expect in the unusual chassis size.
The Cyrus ONE Cast is a 'just add speakers' system which packs in everything one would need for their modern listening needs. The design is based on the popular Cyrus ONE and Cyrus ONE HD amplifiers but now layers streaming capabilities on top of an already class leading design. Under the hood is a hybrid D class amplifier delivering up to 100W into 6ohm speakers with 0.1%THD, a very respectable performance for an amplifier no bigger than a shoebox.
The size of the Cyrus will be the killer feature for some, the chassis is half width when compared to a full sized component, meaning it can squeeze into gaps others never could. This makes it great for modern living where space is at a premium. The front panel is dominated by two dials which control inputs and volume, each of these uses LEDs to indicate your selection and it makes for a sleek look. The only other feature of the front is a ¾ inch headphone jack for those late night listening sessions.
While this design will be familiar to those who have enjoyed the Cyrus ONE range before, round back things start to deviate. The first signal of change is the two aerials sticking up for the WiFi connectivity. Taking a closer look, there is now only a single set of speaker outputs thanks to the extra feature set and also an HDMI input for connectivity to a television. Otherwise, there are the usual optical, coaxial and USB inputs (32-bit/192kHz) for digital connectivity while unusually the only analogue input is a MM phono stage. This selection indicates that space was at a premium so only necessary inputs were considered and in honesty we struggle to think of something you might want to connect but can't.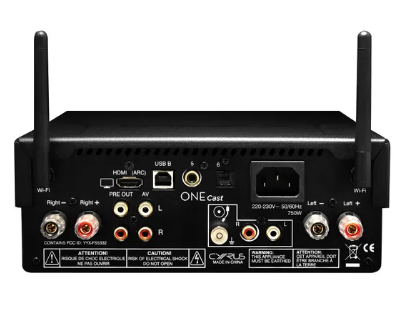 Of course the star of the show here is the new streaming module which Cyrus have included. This brings connectivity via both Apple's Airplay standard and the Google Chromecast ecosystem meaning that no matter what phone you have, you shouldn't have any problems here. There is also compatibility with Amazon Alexa devices which may seem strange at first but Cyrus is marketing the ONE Cast as a voice assistant ready device. Sitting down with a Google Home speaker we really saw the benefit of being able to speak our commands rather than picking up our phones. We think this would be great for any other household members maybe not so technically minded.
Using the Airplay and Chromecast functionality, there is access to an almost limitless supply of audio applications. Notable ones include, Spotify, Tidal, Apple Music and Amazon Music meaning whatever service you use, you shouldn't feel left out here. Even if you found yourself on a device using only Bluetooth, Cyrus has packed aptX technology in for a better listening experience.
Having run through the Cyrus's extensive list of features we sat down to have a listen. The Cyrus ONE Cast continues the premium build of the rest of the range and feels hefty in the hand as any good amplifier should. Having hooked up the ONE Cast to the KEF LS50s we were quite impressed with how easily the Cyrus could power the KEFs. There was no strain and we didn't find ourselves turning the volume up while bass was kept tightly under control as you would want in a small apartment.
Switching to something a little less restrained, we tried out the DALI Rubicon 2 speakers which are some of our favourite standmount speakers. The Cyrus did a great job drawing out the sort of performance which made us fall in love with these speakers when we first got them in. It's a mature presentation as you would expect from such a legendary audio company.
We can see the Cyrus ONE Cast being the perfect fit for those looking for an audio system but having to live within the confines of modern homes. This little system could fit nicely under the TV to replace a soundbar while also delivering all your musical needs whether that's over the airwaves or from a more traditional turntable. There really isn't much the ONE Cast can't do and it delivers the musical quality we've come to expect from Cyrus meaning there is little in the way of compromise. We can't recommend this fantastic bit of kit enough so why not pop down to Richer Sounds today for a demonstration?
Learn more about the Cyrus ONE Cast network stereo amplifier.
Author: Robert, Brighton store