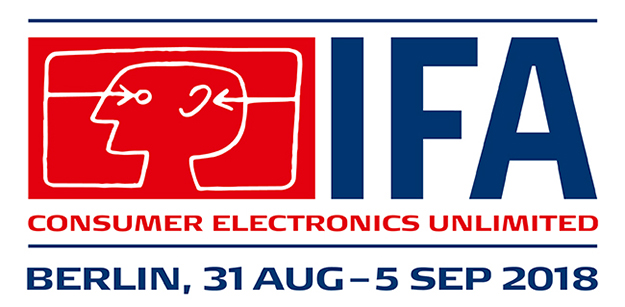 Internationale Funkausstellung Berlin, or IFA for short, is without a shadow of doubt, one of Europe's biggest and most exciting tech-shows. Over the past few decades, Germany's capital has seen many new gadgets, innovations and products being announced every September, this year being no exception. From 8K TVs to Smart home systems that just keep getting smarter, there have been hundreds of exciting new products introduced to the tech-loving public. Now, that IFA has ended we picked a few products that got our attention…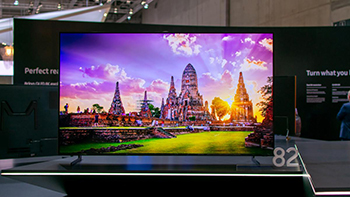 8K screens were all the rage at this year's exhibition, with Samsung introducing the Q900R – an 8K QLED TV that should be available to purchase this Autumn. With the discussion mostly focusing on the amount of content available in 8K, which is non-existent at the moment, Samsung claim their Quantum Processor 8K will bring upscaling to a whole new level, ensuring 4K and lower resolution content will look its finest on the 65", 75", 82" and 85" 8K screens.
Seeing that the Japanese market has already been gearing up for 8K broadcasts, Sharp used IFA as a platform to preview its 2nd generation of 8K TVs. Having launched LC70X500E earlier this year, it's certainly no rookie to the 8K market. Their AX1 series is set to launch in early 2019 in Europe. To ensure that you won't have to compromise your audio-visual experience in the slightest, they also brought a 22.2 channel 8K TV soundbar along.
Toshiba had shown an impressive concept, in form of a 65" 8K TV and announced their plans on bringing the 8K technology to a wider audience. South Korea manufacturer LG has also unveiled its take on the 8K screen, calling it the "World's first 8K OLED TV". However, they didn't specify when or if this 88" TV will hit the shelves of stores, estimating there won't be a market for 8K TVs until 2022.
While other manufacturers didn't seem overly eager to jump into the 8K market just yet, there's still a lot to look forward to with brands like Hisense previewing their 4K OLEDs. Despite Hisense's admission that the product is in its fine-tuning stage, they are likely to be priced affordably once available. Hisense also previewed two ULED TVs that are set to hit the market in 2019. While information given was sparse, the sets look quite promising, with the manufacturer focusing on improving colour reproduction.
Over the past few years, we've seen a rapid growth of the Smart market. Voice-activated Smart speakers, whose sole intention is to make our lives easier, were jumping out left, right and centre at this year's exhibition.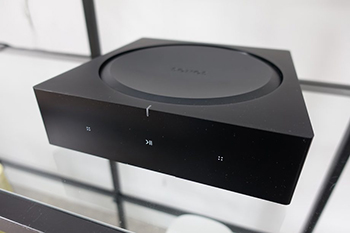 Multiroom streaming champions Sonos have introduced an updated version of the Connect Amp, calling it simply 'Amp'. Packing twice the power and connectivity of its predecessor, bringing the total power output to 125 Watts per channel, with the capability of hooking up four speakers, instead of two. Amp also features voice-control support and touch buttons, very similar to those on Beam and Play:5. Sonos Amp allows you to create your preferred multiroom set-up, utilising your favourite speakers.
harman/kardon brought a small army of Smart multiroom speakers to Berlin. Featuring Google Assistant, multiroom streaming capability and built-in Chromecast, Citation represents "The next generation of home speakers", according to the manufacturer. The brand-new Citation series consists of four Smart wireless speakers, a pair of Smart floorstanding speakers, two surround sound speakers a Smart TV soundbar and a subwoofer, allowing the user to create their preferable 5.1 surround sound multiroom system.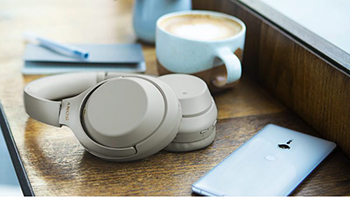 It's safe to say, that there have been a fair few exciting developments and additions to the ever-expanding world of headphones and earphones. Sony's WH-1000XM3 is building on its predecessors' success, but improving noise-cancelling with their very own X1 processor. What got us really excited, though, were the new Sony WF-SP900 truly wireless, waterproof in-ear headphones with 4GB of on-board storage, that allow swimming enthusiasts the freedom to listen to their favourite playlists while taking a dip.
JBL has rolled out the Everest 710GA headphones and a slightly more intimate set of wireless in-ears – the Everest 110GA. Both of these come with a built-in Google Assistant and the 710GA promise a rather impressive battery life of 25 hours per 2 hours of charging.
Another exciting development came from Audio-Technica – with the introduction of their first ever completely wireless headphones – the ATH-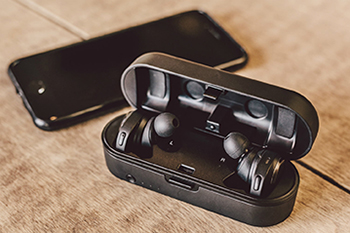 CKR7TW and ATH-SPORT7TW respectively. They offer six hours of playback time on a single charge, with additional nine hours of charge provided by the carry case, slightly less for the ATH-SPORT7TW, offering 3.5 hours of playback and additional 14 hrs via the carry case. Audio-Technica has also developed an app to help you manage calls and music playback.
The Berlin audience has been a witness to an incredible amount of exciting new tech introduced over these four days. The sheer amount of new products means we're not able to mention, or go into detail on the vast majority of them. However, we already look forward to bringing you more detailed, hands-on reviews of some of these as well as bringing them to a Richer Sounds near you in the not-so-distant future.
Call or pop into your local Richer Sounds store to talk to our expert staff about the latest products available now!