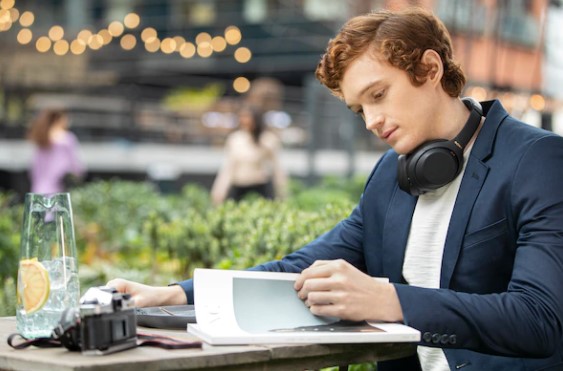 We're here again, Sony have put out a new set of headphones and just like before they've managed to improve on an already award-winning formula. Headphone aficionados may already be feeling a sense of deja vu, but I'm here to tell you it's very real. 
Let's break it down. The Sony WH-1000XM4s are Bluetooth headphones, the latest in a now long line of high quality models from the long-established audio equipment manufacturer.
 The new version has mostly stayed the same aesthetically as the previous XM3s, and I'm honestly fine with that. The design of the predecessor was already pretty sharp, and there's no point reinventing the wheel. You do get better cushioning on the new version, and a "Custom" button which I'll get to later, but otherwise Sony have stuck to the already premium feel and high comfort design made popular by the last models. 
The accessories are also very familiar, the necessary USB and stereo headphone cables, an airplane adapter, and a robust hard shell case to keep it all safely together. No, most of the changes you'll find here are under the hood, improving every part of the user experience. 
The Sony XM4s use Bluetooth 5.0, meaning a stronger connection with more bandwidth, more range and more power efficiency. They also support Bluetooth Multipoint, allowing you to pair two devices simultaneously and switch between them with ease. I found this to be supremely convenient going between my computer and phone depending on the tasks at hand. 
Also new is a motion sensor integrated into the left cup which allows the headphones to pause when removed, and power off after a period of inactivity, meaning you can just take them off when you're done safe in the knowledge that your battery won't be running dry. 
The "Custom" button allows you to either toggle a smart assistant of your choice, or control the Active Noise Cancelling, depending on your preference. This, alongside almost every other feature, can be adjust through the Sony Headphone App. This means you've got the option to tweak sound dynamics, noise cancelling performance and other characteristics on the fly. 
The XM4s also feature no less than five microphones, which allows them to not only take phone calls, but also cancel out your background noise for both you and the person on the other end of the line. In practise this means whatever else is happening around you, the person on the other end of the line can hear you clearly. 
Speaking of noise cancelling, Sony have once again managed to sharpen up their game, the last model was no slouch but this new set somehow manages to block out more background noise, even when the Active Noise Cancellation is off. This acoustic tuning also lends itself to how good these sound, which I guess I should talk about now. 
To put it simply, these headphones sound fantastic. In a welcome upgrade from the previous model the XM4s have a much more natural sound by default. This means clarity and detail are preserved, without compromising the surprising amount of bottom end these headphones are capable of putting out. 
Listening to Pink Floyd's "Money" I am surprised by the separation and soundstage. Every element is distinct and the immersive end result completely absorbs me. I jump to the new Architects single "Animals" wherein I find the headphones continue to deliver unparalleled precision, even with the heavier & weightier sound. Shifting from that to Daft Punk's "Give Life Back To Music" I find they keep up with the rhythm perfectly, whilst maintaining the crystal clarity I've been enjoying so much. 
To have this high quality performance, the insightful sound, the comfortable fit and all with 30 hours of battery life? It makes the Sony WH-1000XM4s a very solid value proposition, they have a lot to offer even the most casual user, but dig a little deeper and you'll find a wealth of personalisation and customisation options to really make them your personal headphones. 
Truly though, words can't do them justice. I'd highly recommend booking a demonstration with your local Richer Sounds (as soon as stores have reopened!), these have to be heard to be believed. 
Find out more about the Sony WH-1000XM4 headphones.
Author: Ben, Brighton store