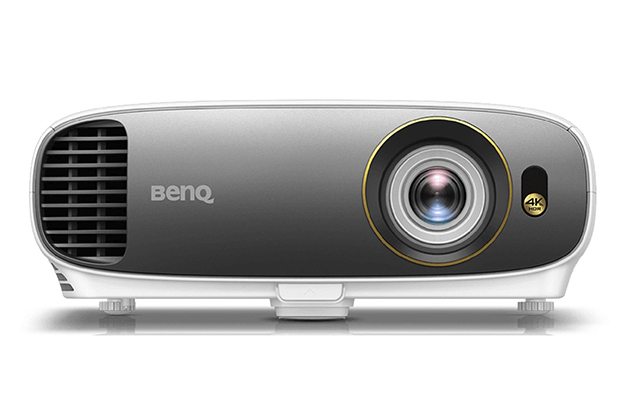 With all the buzz of new OLED and QLED TVs being recently released, it's easy to forget how affordable it is to have a true cinema-sized experience with a projector. BenQ have been a reliable name in home cinema for years so we have no qualms about testing out their new W1720 4K projector…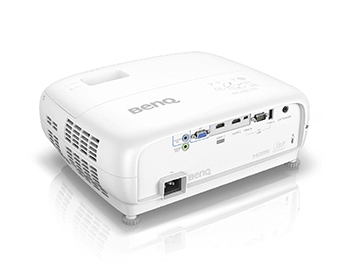 It comes equipped with 2 HDMI ports (1 HDMI v2.0 for 4K and 1 HDMI v1.4 for 1080p), a VGA for older computers and analogue audio out via a 3.5mm jack as well as a 12-volt trigger to sync up with an electric screen and a USB to power a streaming dongle. At only 4.2kg, this is a projector that can be easily mounted without worry of any installation headaches and the addition of keystone correction means there's some flexibility in terms of placement too.
We set up our test unit with a Panasonic DPUB820 4K Blu-ray player and decided to stick on current shop favourite Justice League. The W1720 is compatible with the HDR10 High Dynamic Range format (as well as HLG) so the dark opening scenes of a post-Superman world are displayed suitably grimy and dank. Close ups of Batman reveal all the tiny dimples and creases of his military-grade suit and when he convenes a meeting with his fellow heroes in the Batcave, the facial details of all them are astounding for a budget 4K projector such as this.
As Wonder Woman explains about villain Steppenwolf's plans to collect the "mother boxes", you're treated to a vividly striking recap of the last climactic battle with all manner of CGI flashes. It's worth pointing out that although the W1720 has a rating of 2000 lumens and contrast of 10000:1, the HDR10 picture is still pretty bright so you can get away with not having a completely blacked out room (though that's when you'll get the best image). When viewing in HDR, the W1720 automatically switches into this mode so although you can tweak it you won't be able to switch to any of its other picture presets, we don't think you'll want to though as it looks good without touching anything.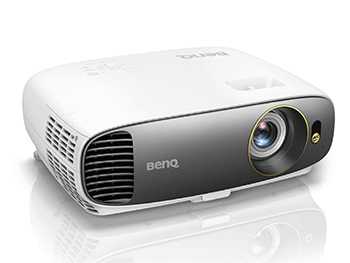 The optimised RGBRGB colour wheel produces 100% of the rec.709 colour scheme for natural, cinematic images, so even your 1080p content is going to look eye-catching. We tested out an HD stream of Marvel's Ant-Man and despite the drop in detail, the W1720 performed admirably. The drop in resolution also didn't harm the motion control much either which is good news as there aren't any options for changing it in the set up menu.
There isn't a massive amount of customisation that you can do in the settings but we found that "Cinema" is the best picture mode to stick with for non-HDR as it gives the most natural balance of colours. You can go brighter for when you want to use it in environments with more ambient light but avoid the "Bright" mode as you may find the saturation goes very green and yellow. Naturally, this will significantly shorten the life of the bulb so stick to "Cinema" for normal viewing. That being said, the W1720 has a few eco options to extend the amount of hours you can get from it though you will notice a drop in brightness and colour if you go to the extreme Lamp Save mode. This will also lessen the noise from the fan but is only a viable option in a dark room.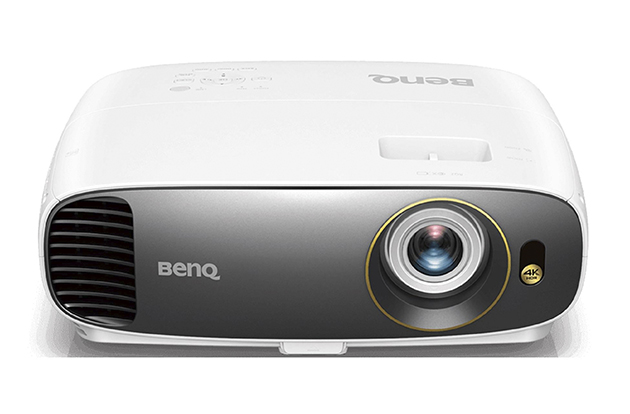 Buying an entry level 4K projector doesn't come without compromise and the BenQ W1720 is no exception. The throw ratio is 1:1.50 – 1.65 which means there's less flexibility in how far you can place it from your screen and keystone adjustment instead of lens shift means you can potentially lose out on pixels unless it's lined up right. That being said, you get an easy to use remote with a backlight and it's pretty much ready to go straight out of the box in terms of settings. The "rainbow effect" that some people can suffer from with DLP projectors is very minimal and we only barely noticed it when black and white credits were rolling.
All in all, we think the W1720 is a great piece of kit for the money so if you're thinking of getting into 4K cinema it's a great piece of kit. You can check it out at your local Richer Sounds now.
Find out more about the BenQ W1720.
Author: Steve, Bristol store