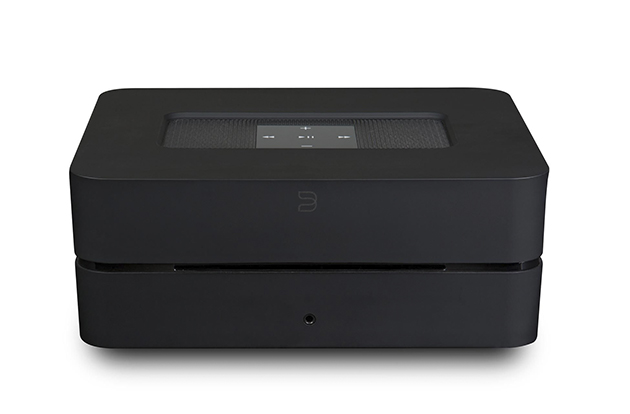 Do you have stacks of old CDs taking up space in your home? Want to create some extra room and make all that fantastic music accessible from your mobile device? Then the new Bluesound Vault 2i may be the device for you. Read on to find out if this all-in-one CD ripper, streamer and storage device is worth investing in…
The Bluesound Vault 2i is a media server with network player capabilities which also comes equipped with a CD ripper which promises bit-perfect reproduction. It arrives to plenty of anticipation at Richer Sounds, where one of the questions we are often asked in store is how best to digitise existing CDs. Finally, we have an option for these customers: a CD ripper to transfer your CDs to digital files including lossless FLAC and ALAC formats along with WAV, WMA and MP3. A great selection of formats mean you won't miss out on any details in your favourite CDs.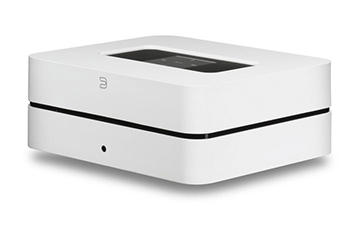 Once you've taken advantage of the digitising your CD library there are a couple of ways to use this device, most usefully as a standalone streamer using the BluOS software and mobile application. Getting hands-on with the app on our in-store iPad leaves us quite impressed. Although it is always difficult to be blown away by a piece of software, BluOS does everything we need it to with an intuitive interface and quick response time. Additionally, Bluesound has included Bluetooth 5.0 with aptX HD support in the Vault 2i. AptX HD means you can stream better-than-CD quality audio files over Bluetooth meaning no loss of quality. Bluesound have also included a Bluetooth receiver and transmitter in this device meaning you can take advantage of this high-quality device no matter where your music is.
Of course, the Vault 2i is primarily designed to be used as part of the multiroom package that Bluesound offers. Where the BluOS stands out from other suppliers is with it's support for 24bit 192khz Hi-res audio file playback. This goes for the Vault 2i too and makes it an excellent network streamer as well as a CD ripper. To make it even easier to access your music files Bluesound has included a whopping 2TB hard drive in the device, hence the name 'Vault'. It's worth noting as well that files ripped from CDs can be transferred to other devices such as PCs and mobile phones if you need. This is a key feature for us as it gives great flexibility to the user.
So, with all this in mind it's time to unbox the Vault 2i and see how it performs in person. The packaging is premium with all the cables you need included in the box, however it's worth upgrading these if you're using it as a streamer on a good quality hi-fi components system to minimise interference. The build of the unit itself is fantastic as we've come to expect from Bluesound. It comes in either black or white matte finishes. I prefer the clean white finish personally, it looks a bit like a sandwich with a contrasting colour strip dividing the two halves horizontally.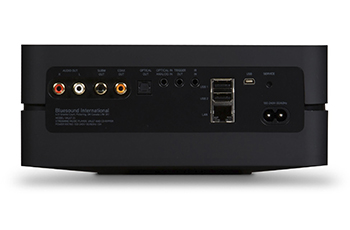 On the back of the unit is a selection of ports including Ethernet, two USB type A, an IR input and trigger output, a combi toslink optical/3.5mm input, an optical output, coaxial digital output, subwoofer output and a set of RCA outputs. If you can't plug something into this unit it must be a very rare port indeed with this selection. We want to try out the internal DAC (Digital Analogue Converter) in the Vault 2i so we use a simple set of RCA cables to hook it up to our Cambridge Audio CXA80 amp and Monitor Audio Silver 100 speakers.
After a very simple setup process using the BluOS app we are away. First, we test the Vault 2i's streaming abilities by playing some cuts from Fleetwood Mac's Rumours through Tidal. The track "Dreams" really showed off the quality of the DAC in this unit and by using a Hi-Res 24-bit file we were presented with details that we'd normally miss completely.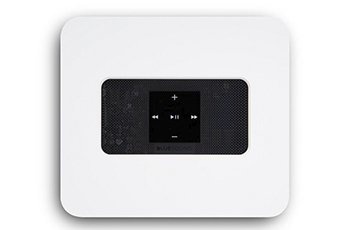 Next, we try out the CD ripper. After slipping in a CD of The Talking Heads live album Stop Making Sense, we find it downloads fairly quickly and again test it out on our amplifier. There is plenty of detail here and it sounds as good as we've ever heard it thanks to the impressive DAC in the Vault 2i. The main benefit here is having somewhere to store the larger lossless file types such as FLAC on the 2TB hard drive.
All in all we were mightily impressed with the capabilities of the Vault 2i. Having a product that can reduce a vast pile of CDs down to lossless audio files while retaining all the track info is something we've been crying out for. While it comes with a relatively high price point when you consider the ongoing costs of streaming services such as Quboz or Tidal we feel that it's still incredibly competitive.
Obviously, you will get most benefits from this unit if you purchase further Bluesound products but it's still a great product on it's own. If this sounds like something that might be right for you then contact your local Richer Sounds store today and arrange a demo.
Click here to learn more about the Bluesound Vault 2i
Author: Robert, Brighton store