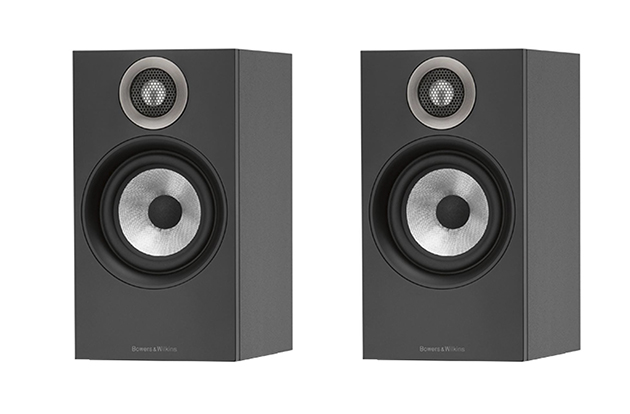 Bowers & Wilkins deliver another strong winner with the B&W 607 speakers.
As you may have guessed from our articles on the Bowers & Wilkins 606 and 603, we're pretty impressed with the newest brand to join our catalogue. Both the floorstanding 603 the larger standmount 606 got rave reviews from all our team at Richer Sounds Bristol so we're excited to see if B&W can go for a triple success. The 607 are the smaller of the standmounts that they offer and like their bigger brothers utilise a magnetic grille and the 25mm "Decoupled Double Dome" tweeter but the silver "Continuum" cone mid/bass driver is slightly smaller at 13cm. Like the other 6-series speakers the 607 have a rear-firing bass port and bi-wire terminals are on offer if you choose to use them.
Having a footprint of 165mm wide by 231mm deep means that they are pretty easy to place around your room and although they're not the smallest speakers, a 300mm height means there's still plenty of air in the cabinet for the 607 to move around. Just make sure they're placed away from the wall and you'll be rewarded with a clean bass response. The solid build quality and simple design aesthetics mean that they might not win prettiest speakers of the year but we're all about sound quality here so let's see if these B&Ws can impress where it counts.
We paired our demo units up with an Audiolab 6000A and matching CDT so that we can spin some discs of our favourite tunes and first up is "Hustler" by Australian Josef Salvat. Like their siblings you notice straight away the subtlety and light touch of the slick treble that dances away as the keys and vocals start up. The room ambience of the recording is laid out pretty well too which you might not expect considering the size of the 607. As the track builds up, patterns of drums and vocal harmonies overlay each other and the swell in dynamics is portrayed excellently by the bantamweight speakers giving rushes of emotion when loud and tenderness when quiet.
It's pretty stirring but we want something a little more upbeat to test so we switch to a CD of Tove Lo with her latest album Sunshine Kitty and the track "Stay Over". The contemporary RnB production means that the snappiness of the handclaps and synth drums are absolutely lapped up with zeal by the 607's mid and treble, but thankfully never with any true harshness. There's still some decent low end on offer and though it's not particularly deep it's very tight and energetic enough to add some zip to these kind of dance tunes. Smaller speakers get a bad rap for not having enough bass but providing it's as focussed as this you won't hear us complaining.
Lastly, "Novacaine" by Twin Atlantic treats us to a thoroughly enthusiastic rendition of modern rock which the 607 takes on with gusto. The pulsing rhythm is really well handled, providing plenty of excitement and fast timing between the mix of guitar, bass, drums and synth. All this combines to a really thick and chunky sounding soundstage that feels like you're being hit with a wall of sound like you were at the gig. Whether it's the light, softer side of music or the more full-on tracks like this, it's clear to see that the tweeter being decoupled from the front baffle really helps dampen any effect that the woofer on high frequencies by lessening resonation.
In comparison to the larger speakers that are out there you can see why some people get less excited about smaller speakers but when they are as rich and detailed as these 607s you can't help but tap your feet and nod along to the music. Sure, if you push the volume or have particularly bright acoustics in your room you may find the larger 606s to be more suitable but in small to medium-sized rooms these are still very entertaining. If you've got a discreet system in mind that you don't want to stand out amongst your furniture then these could very be the speakers for you. Nip into your local Richer Sounds and let us wow you with them!
Click here to learn more about the Bowers & Wilkins 607 speakers
Author: Steve, Bristol store