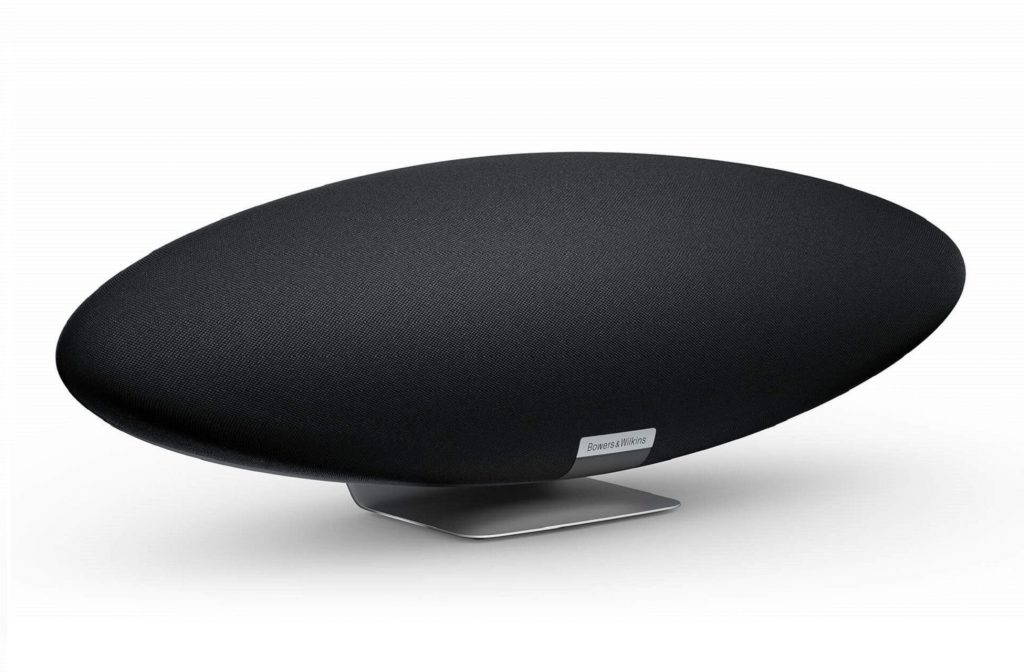 If you ask anyone about a wireless speaker unit, the Bowers & Wilkins Zeppelin will inevitably be brought up, and with good reason.
For those of you who have never had the pleasure of listening to one, it's a complete streaming speaker solution with a sound as good as it looks. As you may have noticed, its design is based on the famous airship of which it shares the name.
However, that's where the similarities end as there's no chance of the B&W flying away due to weighing a solid 6.5kg. The speaker itself doesn't lay on the worktop, but instead stands aloft on a beautiful central metal foot that has the option to be illuminated by the speaker above. The B&W Zeppelin comes in a choice of a dark Midnight Grey or a lighter Pearl Grey, ideal to help it blend into the background like the piece of art that it is.
Don't for a minute think that this is all show and no substance though, as the Zeppelin produces a sound equal to its looks. This is done by running a large 6" sub driver, two 3½" mid drivers and two 1" tweeters, all powered by a 240w amplifier.
Listening to Mike Posner – 'Cooler Than Me', you hear just how much drive this 6" sub has behind it. Plenty enough punch to fill the average size lounge, with a volume to match. Even with this large bass driver the treble isn't smothered over, instead they are as clear as you would expect from such a well-established brand as Bowers & Wilkins.
Trying something with a bit more vocal substance, you will hear how these excellent tweeters blend almost seamlessly with the mid-range drivers. This gives a smooth blend between the low and high levels, and brings in a softer, more easy listening tonal quality to the sound. This allows you to listen to the Zeppelin all day without it becoming tiresome.
If you want to hear just how much stereo imagery you can achieve, try listening to 'Flaming Lips' – Free Radicals. This track has a great start that flutters the audio from side to side as it builds into the main track. The Zeppelin handles the separation impressively well for such a small unit, throwing the audio out to produce a much larger sound stage than you would expect. If you closed your eyes, you could be convinced that you were listening to a full-size system.
Throwing something a little less known at it, AJR – 'Sober Up' shows us just how well the Zeppelin can handle elegant violin notes and soft vocals. You will notice the clarity of the individual sounds and the distinction between the layers. The Zeppelin is well equipped in supporting AptX, AAC and SBC codecs with the ability to play up to 24bit/ 96kHz files from the likes of Deezer, Qobuz and Tidal.
As you would hope, the Zeppelin comes with multiple ways to play your music. With analogue connections, Bluetooth 5, Apple Airplay 2, Spotify Connect and Bowers & Wilkins own music app, you're not short of choice. The app itself is very easy to use if you've ever used a multi room system, but even if you haven't it's a very user friendly program to navigate.
Through the app, you can control what is playing on the Zeppelin, adjust its volume, tweak the built-in equaliser to suit your preference, and even adjust how bright the light is underneath (or completely switch it off if you like). This app isn't a one device pony either, you can name the Zeppelin to suit the room it is in. You may wonder why, but once you learn that you can add multiple Zeppelins to your home and run them all through one app, you'll find it's handy to know that you are playing music in the right room.
It doesn't stop there either, if you have purchased any of the excellent Formation multi room range that B&W have produced, you can run these through the same app. This shows that B&W cares about its past customers just as much as its new ones, allowing you to control your entire house through just one app.
Should you not have your phone to hand, you'll be glad to know that the Zeppelin also has Alexa voice control built in. This means you can easily request a song or adjust the volume without having to lift a finger. You can also use the buttons on top to play or pause the music, adjust the volume, or use the multi-function button to toggle through current active streams if you prefer.
If all this sounds like the perfect system for you, ring your friendly local store today and chat to our knowledgeable and experienced team about the easiest way of getting your hands on your very own Bowers & Wilkins Zeppelin.
Author: Steve, Chester Store