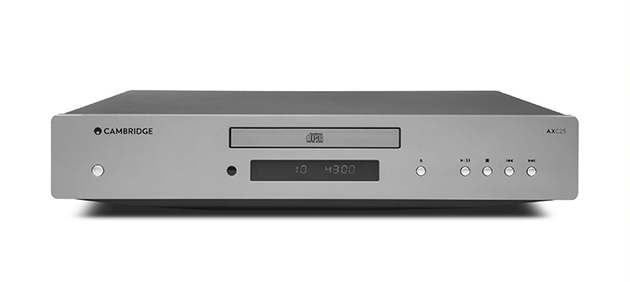 When it comes to replacing a classic, where do you start?
When Cambridge Audio came to refresh the Topaz series of entry level hi-fi components they started from scratch. Reimagining what could be packed into units at this price. Today we check out the two new CD players in the brand new AX series. Join us as we find out whether they live up to their venerable predecessors. The AX series from Cambridge comprises of two CD players, two amplifiers and two receivers. Today we check out the AXC25 and AXC35. Both share the same new Lunar Grey finish on the front panel, a nod to the exceptional Edge series, and a tapered central foot. Together they draw the eye to the front panel and give the AX series the appearance of floating on air.
When it comes to features, there's not much to choose between the models. Both include a new minimalist design language on the front with small silver buttons for playback control and a clean white LED display for track information. Round back there is simply a line output and power. These two units are near identical apart from the inclusion of a coaxial digital output on the AXC35. It's a clean new look and very much feels like a 2019 take on your traditional CD player.
Under the hood Cambridge have taken great care to minimise interference from one component to another by carefully spacing everything out. They've even used separate boards for power and output to keep the sound as clean as possible. This is the stage at which interference is easy to pick up so it's great to see the care taken to give as clean a sound as possible.
This care also extends to the DAC or digital-analogue convertor which turns that series of ones and zeros from your CD into the traditional analogue wave form. It's important to keep everything in the right place and neatly in time so the analogue wave sounds as natural as possible. Cambridge have use a WM8524 chip at the heart of this circuitry which is a great component at this price point. One thing to note: you don't have to use the internal DAC on the Cambridge AXC35. Unlike the AXC25, you can choose to bypass the internal DAC and send the digital signal from your CD player out to an external unit which can do an even better job. It's a great feature for those keen to tinker and improve their sound in future. A unit like the Cambridge Audio DAC Magic Plus would be a great upgrade here.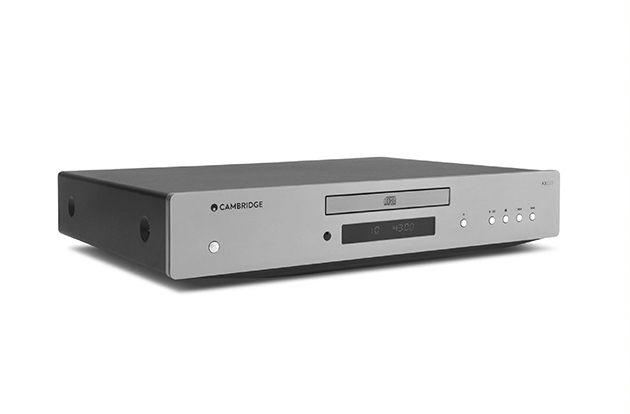 One feature which was sorely lacking on the Topaz series of CD players was gapless playback. While not essential with Rock and Pop tracks, which tend to operate as stand-alone pieces of material. For classical, dance and jazz however, the addition of gapless playback means no annoying jumps between tracks on an album which can really break up the 'live' experience. It's a very welcome addition to these two players.
So how does all this new technology sound? We sat down with the Cambridge AXC35, along with the matching AXA35 amplifier to have a listen. For speakers we used our reference pair of Monitor Audio Bronze 2 which have a nice combination with warmer sounding components to compliment the sound from the units (you can buy this whole package here). To start we settle down with the new Bloc Party live album Silent Alarm. The flow of the album is entirely uninterrupted by gaps in the playback, making for a pleasing overall experience. However, what we're really here for is the music and emotion of the 10-year anniversary tour. Things really get into gear with track #2; "Helicopter". The Cambridge does a great job of delivering a well-timed performance on a very excited track without getting too carried away. Every note is delivered just as it should be. When it comes to "So Here We Are", the AXC35 really clicks into gear. A much more mellow track that builds to a beautiful crescendo, the Cambridge doesn't miss a step and delivers the emotion in lead singer Kele's voice as it cracks with the lyrics.
You can tell Cambridge Audio have really taken their time to produce a beautiful piece of equipment here. Every detail is refined so as to squeeze every last drop of performance from your favourite CD, whether that's an excitable punk rock album or a soaring classical performance. To find out if the AXC25 or AXC35 could be the right option for you, why not pop into your local Richer Sounds store today and organise a demonstration?
Learn more about the Cambridge Audio AXC25 & AXC35 CD players.
Author: Robert, Brighton store