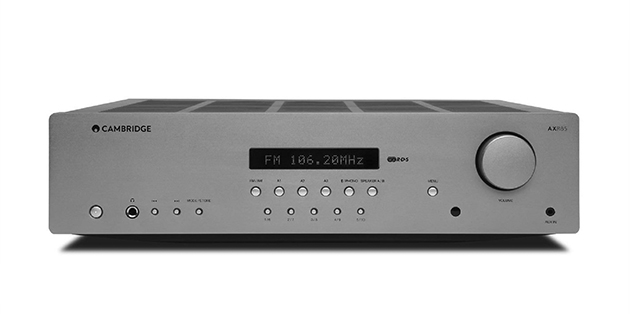 Cambridge Audio delivers yet another stunning effort for hi-fi enthusiasts of all types and budgets with the AXR85.
Cambridge Audio have been very busy of late with the release of the flagship Edge range earlier this year, their first wireless earbuds this month and also a complete overhaul of its entry level products! Their Edge NQ streamer, Melomania 1 true wireless earbuds and AXA35 amplifier have all already received 5-star rave reviews from What Hi-Fi? amongst others so it's with great eagerness and enthusiasm that we get to play with the company's latest stereo receiver; the AXR85.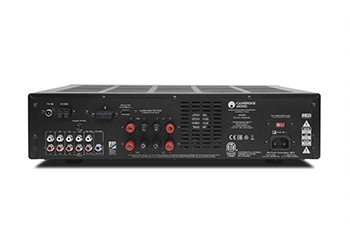 Designed as a meatier and punchier amplifier with several additions to sweeten the deal, the AXR85 looks a hot prospect for anyone looking for a one-box-does-it-all product. As the model name suggests, 85 watts per channel are on offer with the capability to drive 2 pairs of speakers should you have a large open space or an adjacent room to fill with sound. Four line-level RCA inputs plus a phono stage for turntables give plenty of options for analogue sources whilst a 3.5mm auxiliary jack input on the front enables quick connection for portable devices. The addition of a built-in Bluetooth receiver means that phones, tablets and most laptops can swiftly connect too without the need of cables limiting their movement. Lastly, FM and AM tuners mean you can save up to 30 of your favourite radio stations.
These incoming AX separates have seen a new aesthetic too, keeping the front foot from the company's existing CX range that gives the chassis a "floating" design but with a new "lunar grey" finish to the front panels. It's a subtle but nice change and moves the company away from the traditional, if a little dull, black finish that so many units have. The front panel features an LCD screen with buttons below to toggle between inputs, speakers A and B, tone controls and radio presets.
In order to kick things off, we decided to connect up a matching AXC35 CD player and some 5-star reviewed DALI OBERON 5 floorstanding speakers. First up is Royal Blood's debut album with the track "Out of the Black" and the first thing we notice is the amount of weight behind the sound of the British rockers. Drums are thick and chunky and with the distorted bass guitar fuzzed to the max the overall effect is a wall of sound that really gets the blood pumping. This is definitely an amplifier for those who like their volume! The AXR85 isn't all power though, switch to "Science Fiction" by Christine and the Queens and you'll see how nuanced the Cambridge can be. Despite the various layers of keys and odd effects switching from left to right channels, the AXR85 manages a very able performance with a smoothly controlled sense of scale and soundstage. In fact, this receiver has so much of a handle on the dynamics and tone that we found ourselves wanting to turn it up more and more as it's very hard to get it to turn brash or harsh on the top end.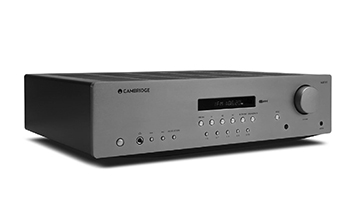 With Bluetooth built in, the world is your oyster and a swift pairing means we're streaming from Tidal in no time at all. The Hidden Orchestra, though not everyone's cup of tea, is a great example of how little is lost in terms of detail and focus when using the wireless option. Instruments sound natural and in the room with you whilst the cohesiveness of the ethereal sounds still remain. Lastly, looking to see how the Cambridge deals with subtler music we decide to go hook up a Project Essential III A turntable and listen to Melody Gardot and her track "Morning Sun". Her soft, purring vocals are made tender and heartfelt from the AXR85's presentation but as the track goes on the receiver is the perfect foil to the increase in dynamics and instrumentation. Again, the Cambridge does a fantastic job of keeping everything under control whilst letting the soundstage breath and have a spaciousness that's perfect for such music.
It seems like Cambridge have raised the bar again with their new AX range and the value for money has proven to be absolutely top notch. If you want a bit of everything from your hi-fi but are on a limited budget, the AXR85 surely has to be one to listen to with your own ears. As ever, if it sounds like the piece of the puzzle that you're looking for why not make an appointment at your local Richer Sounds for a demo?
Click here to learn more about the Cambridge Audio AXR85
Author: Steve, Bristol store