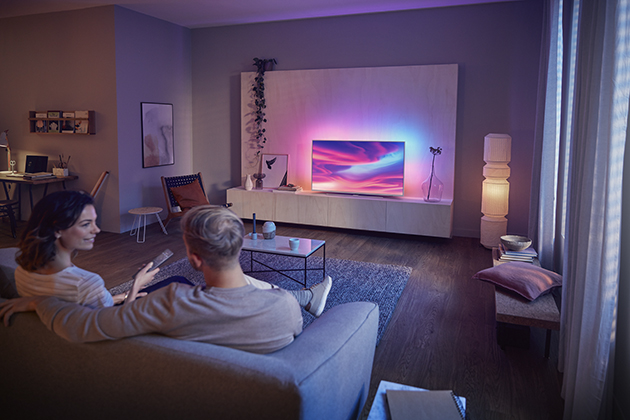 Electronics giant, Philips, have eschewed the traditional naming system for its latest TV range, with its latest sets dubbed Performance Series, claiming it's "the one to watch". But will it be numero uno in the competitive mid-range TV category, or will Philips just be making up the numbers? Join us for a closer look…
Whilst we'd normally start TV reviews by getting straight into the nitty gritty of performance, it's virtually impossible to talk about recent Philips sets without pointing out the inclusion of a feature that is very much exclusive to them – Ambilight. The TV kitted out with a three-sided Ambilight system, with bulbs along the left, right and top sides of the rear of the TV. These bulbs show colours that correspond to any light that's being displayed on the TV at the time (although this can be tweaked to show fixed colours, too) making watching movies or TV shows hugely immersive.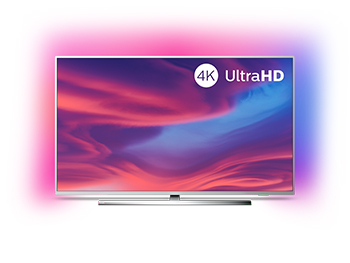 It's no surprise that a company so famed for its lightbulbs and lighting technology would try to include them inside other products, but Ambilight is no shoe-horned gimmick – it really does work, and it helps to make Philips TV's stand out from the crowd in a good way. Back around the front of The TV, we're looking at a 4K direct-lit LED panel that ticks all the boxes when it comes to modern playback options, and also looks fantastic in its stylish silver finish. Both Dolby Vision and HDR10+ active HDR formats are supported, as is HLG, the HDR format used by the BBC and Sky. It can even process Dolby Atmos soundtracks, so is ideal for use with a compatible soundbar or home cinema setup.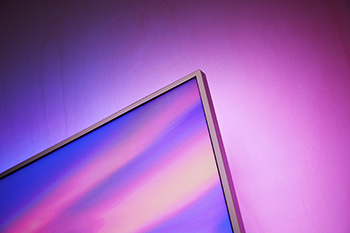 Philips have opted to use Google's Android operating system again after successfully implementing it in its 2018 models. Android gives access to a huge range of Smart apps, Google Voice Assistant voice control and also has the added benefit of being able to wirelessly connect to any compatible Philips Hue lightbulbs in the same room as the TV – another big benefit of that Ambilight setup!
So, that's what the Philips offers from its spec list, but how is performance? We fired it up and went through its straightforward setup process, and were up and running properly in no time. Image quality straight out of the box was solid, but we'd always recommend having a play around with the settings based on your own room and preferences, and screen definitely benefited from a bit of further tinkering.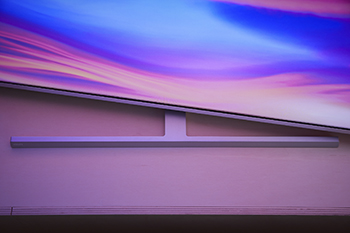 With a Cambridge CXUHD Blu-ray transport plugged in via HDMI, the TV impressed with its superb HDR performance from the 4K Blu-ray release of The Matrix (come on… you didn't think we'd pass up a chance to watch 'The One' on 'the one to watch, did you?). Colour reproduction was great, particularly for an LED backlit screen, with the now 20 year-old film looking as stunning as ever. Backlight performance was also solid, with the darker scenes avoiding the washed out greys that can sometimes befall LED screens. Switching to the in-built Freeview tuner gave equally stellar performance at this level, with the BBC One HD feed showing crisp, well-defined images that maintained the same natural colour balance as the 4K HDR footage. Sound quality (as far as TV's go) was good too, with the built-in stereo speakers making dialogue easy to hear, but with a reasonable amount of bass to shake things up during livelier scenes. Of course, a good home cinema system or soundbar setup would be bring huge gains, but otherwise this is up there with the best for TV sound.
After hours of playtime and a range of different material for testing, the set continued to impress. It's a fairly brave and ambitious thing to refer to a product 'the one', particularly if it's not your range-topping model – but in this case, Philips bravado is well-placed. It is a set that brings solid all-round performance and a great feature list together in a stylish package. If all of this sounds like it'd be up your street, the Philips may very well be 'the one to watch'! Why not pop in to your local Richer Sound store today and see this amazing TV for yourself?
Click here to learn more about the Philips Performance Series
Author: Chris, Liverpool store