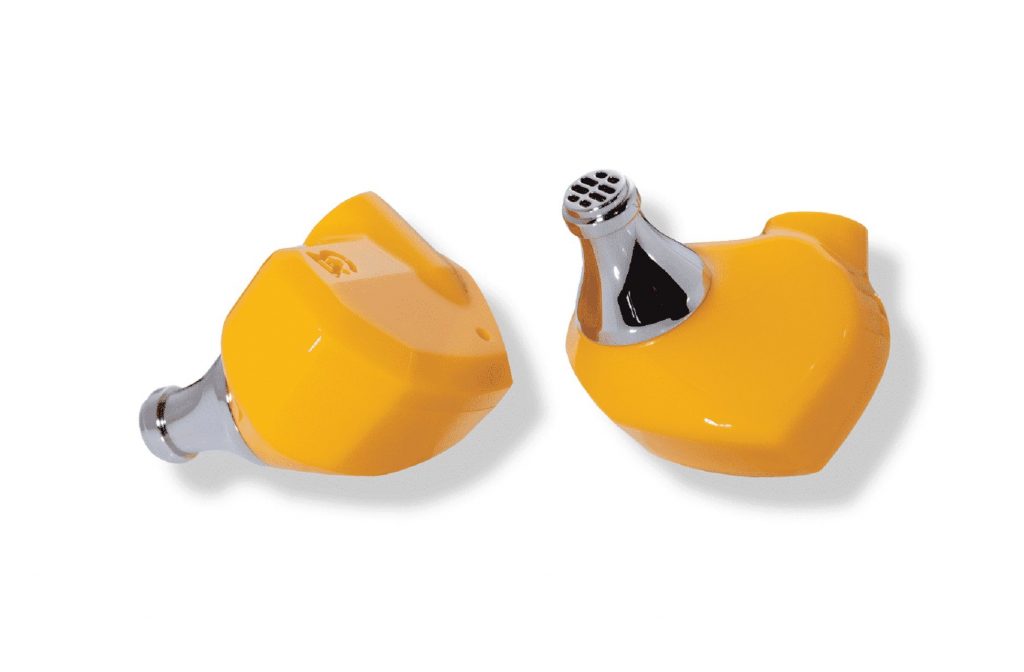 If you follow the surprisingly deep and weirdly aggressive, divisive but always impassioned realm of hi-fi headphones, one manufacturer seems to always come out tops for their legendary in-ear monitors (IEMS) – Campfire Audio.
Having made some serious waves with custom fit headphones such as their Equinox and Solstice – as well as their multi-award winning Solaris (all at a steeper price point), the new Campfire Audio Honeydew is one of their newest entries to the more accessible end of the 'pro' IEM market.
Campfire have made their name through mastering the craft of single driver IEMs, to keep the sound more integrated and 'together'. However, out of their new line-up, including the equally colourful but marginally cheaper Satsumas, the Honeydew includes a dynamic driver – but more on that later.
They arrive in the same 'French Paper Company' (which is made in the USA) packaging you will find on the higher-end models, and a Portuguese-made carry case with a plush faux-fur lining. Included are a great range of silicone tips and even some Final Audio Type-E ones if you're feeling fancy (which you should be at this point). For those who dread looking at their in-ear headphones after use as well – there's a cleaning pick included.
Out of the box, the Honeydew's build quality is immediately apparent. Every aspect of the main headphone is 3D printed, with tough ABS casing and a stainless steel spout shows that these are ready for the road (according to Campfire, great for drummers and bassists specifically) but if you're looking for a warmer side of reference sound, these will be great for home use, or even on the go with an amp/DAC like the Audioquest Dragonfly Cobalt to do them justice.
If you've been looking for a pro-grade IEM but have been put off by the somewhat brighter sound they can command, such as the Shure SE425's, then these may well be the headphones for you.
The Honeydews, like many pro IEMs come with a detachable cable for use – but they aren't skimping on quality here. The Smoky Lite version of their more flagship cable offers up a tangle-free, noticeably robust yet lightweight connection to your source that feels reassuringly premium.
The cable is silver-plated to smooth out surface errors on the copper and helps to offer a cleaner sound. The terminations are plated with Beryllium, as seen in some of Focal Audio's speakers, headphones etc, for lower signal resistance. They cable also transmits minimal noise when moving around, keeping you more in touch with the music.
As these are marketed as a professional set, you have no in-line mic, voice assistant or noise-cancelling as you might find on the AUSOUND AU-Flex ANC but they more than pay dividends on raw sound quality.
Just to touch on the noise cancelling – as these are made for musicians, the noise isolation, albeit not active cancelling, is still excellent and will stand up to background noise without eliminating it totally.
Enough of simply gazing wistfully however – the sound. Even out of the box, it's clear there is plenty of bass even in a small package. The 10mm dynamic driver keeps everything structured and accurate as well as ensuring the bass is tight and responsive instead of 'wobbing' as some bassier headphones are wont to do.
On some lower male vocals, such as in metal music, this slightly bass heavy approach definitely colours the vocal presentation a little – as the sub-bass starts to creep into the midrange register. However, on less vocally led arrangements such as Chemical Brothers and 65Daysofstatic, these truly shine, and show why they're targeted at musicians.
The frequency presents less like a normal 'V' dip – more of a 'U' bell curve. The midrange gets a little corruption from the bass, but there is plenty of sweetness in the upper register – so they turn their hand extremely well to a lot of RnB music, specifically female-led material from artists like Ella Mai.
If you're looking for something to enjoy classical music, these will add gravitas to the likes of Mahler and Bach, but lack the slightly delicate touch needed for your Chopin piano pieces – in which case, it's worth trialling out the Beyerdynamic Xelento – just don't be angry when you can't unhear them! Or of course, there's always the option to progress through to the Holocenes in Campfire's range…
Overall, Campfire have released another belting set of IEM's – at home with pro-musicians, they'll be happy and home with you or on the move even if not purpose-built for this.
Learn more about the Campfire Audio Honeydew headphones.
Author: Steve, Cardiff store