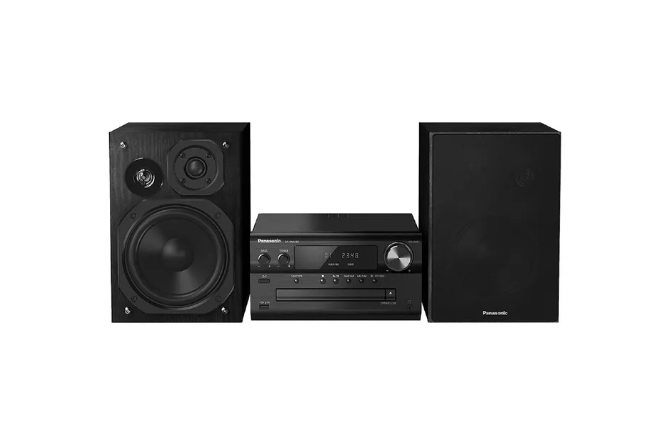 One of the most popular categories at Richer Sounds is the Hi-Fi mini system – a system which envelops a CD player, radio and amplifier in one small chassis. While there has been a recent surge in popularity for smart speakers, this has seen manufacturers prioritise new connectivity options on their new mini systems to keep them current. Enter the Panasonic SCPMX82BK! Join us as we sit down to find out how Panasonic have adapted for modern music trends.
Panasonic have packed an awful lot into the SCPMX82 considering it's small size even compared to competing mini HiFi systems. There is the traditional CD player, FM/DAB+ tuner and auxiliary input but also a host of more modern connectivity. There are two USB inputs for both playback and charging of mobile devices while there's also Bluetooth built right in for those of a more wireless disposition. It's a compelling selection at this price point and should enable most people to find the right option for them.
The unit itself also comes with a pair of speakers included in the price, these are designed from the ground up to work well with the LincsD amplifier under the hood of the unit itself. The speakers are a three way design which allows more focus on the challenging midrange of your favourite music. The design is a clever one and we also appreciated the simplicity of the cabinet which won't look out of place anywhere, although we may choose to keep the grilles on for a clean look.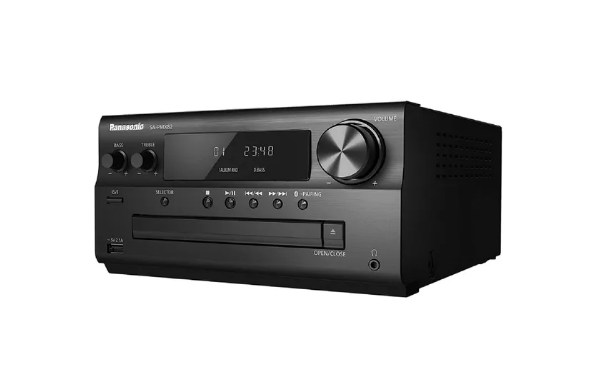 After plugging everything in we start by spinning up a few CDs and are met with a pleasant sound with plenty of crispness and dynamism for this price point. The bass isn't overpowering as you'd expect from a set of small speakers like these but it's there when needed. Switching to the Bluetooth input from our phone we certainly see a small drop off in quality, as is to be expected from a wireless connection, but not as much as anticipated meaning it remains a viable connection. We can certainly see many people mostly using the Bluetooth due to its effortless nature.
The integrated tuner is reasonable for the budget and by including DAB+ it provides a more eclectic range of music genres. We also try a HiRes FLAC file by utilising the on board USB DAC via a memory stick. There is a small improvement to the fidelity but not a huge step up over CD playback. However, what it does mean is the user is not tied to using CDs for the best quality playback. The inclusion of all these extra inputs certainly provides a reasonable amount of choice for the modern consumer.
When playing back your favourite track you can always adjust the sound profile using the treble and bass adjustments on the front of the unit. There is also a range of four preset sound modes which help to accentuate the music you're listening to. We did find ourselves playing around with the treble and bass during our tests and we can't think of another device which provides this option at this price point. If you're someone who likes to fiddle with the audio settings this is certainly the unit for you.
All in all, we were mightly impressed with this mini system and speakers. We think you would be very hard pressed to find more quality or connectivity options even at a higher price point. If you're in the market for a new music system and want to keep things simple and streamlined then this is certainly worth your consideration thanks to the excellent audio quality. To see for yourself what this Panasonic has to offer, why not pop into your local Richer Sounds today?
Learn more about the Panasonic SCPMX82BK.
Author: Robert, Brighton store