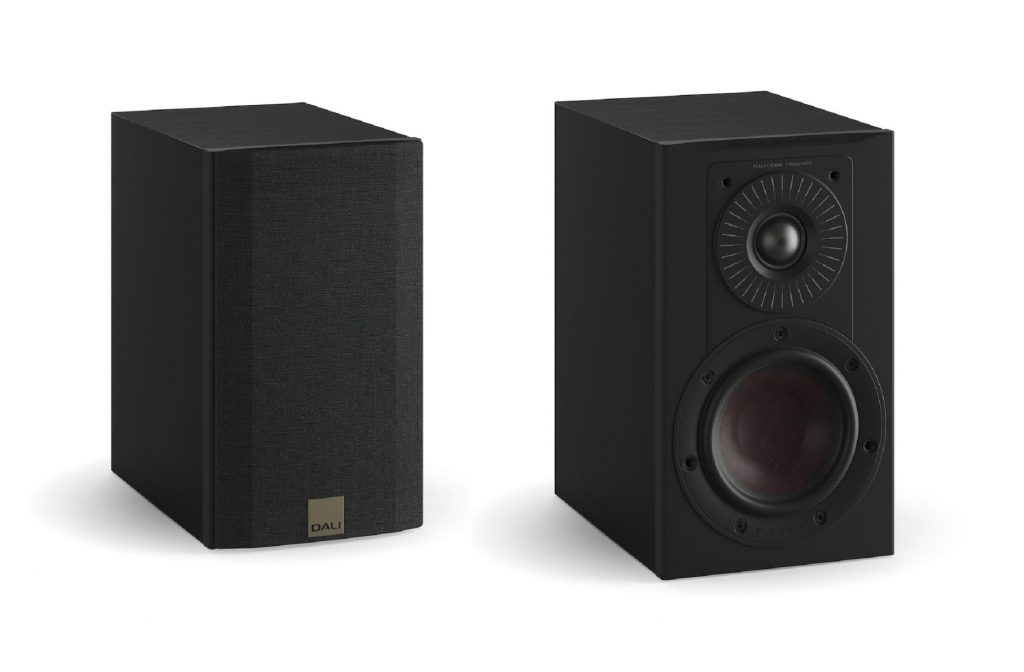 Bookshelf speakers to rival the best in class.
Cleaner lines and an angled front give the Dali Opticon 1 Mk2 a distinct new look. True to its Scandinavian heritage it looks fresh and adaptable to many room styles, it comes in satin white, tobacco oak and satin black. The revisions in design includes the nicely textured removable grilles. On the rear of the speaker, space has been found to house an angled port, this gives more breathing room for a speaker that may well find itself up against a wall. The upward facing inputs are also a clever addition meaning banana plugs will no loner add unnecessary depth to the speaker by sticking out.
Under the hood this speaker is happy to receive plenty of power despite its size. Rated to 100w and with a 4ohm resistance it's no surprise that these can really kick it when required. Dropping to an impressive 62Hz for its size and delivering highs of 26,500Hz you will find these offer a great range even as a small system on their own. As AV speakers the detail on the high end will really pull out the space in the soundstage, the lows filling in natural depth that may allow you to drop your sub crossover even lower.
Installed onto Atacama Moseco speaker stands I roll out my usual demo tracks. I am immediately impressed. Brothers in Arms by Club for Five – a cover but a great range tester because of its production – manages to lift the hair on my arms with a gripping portrayal of deep baritone. The vocal clarity is totally encompassing and the room is filled as though four floor standers were at full chat. The highs of the choral backing are sweet and clear without becoming piercing and are well separated. The background thump of the drum is so percussive I am checking the Rel subs in the room are not somehow joining in! It may be the Class D amplifier in the EVO75 firing the speakers but they sound remarkably analogue. The signature red wood-fibre cones and soft dome tweeter no doubt a factor in the smooth sound. Listening to classical pieces like Arrival of the Birds it is rousing without becoming too brash and aggressive. The big difference I notice is the addition of the Callisto range tweeter technology, usually Dalis can be a little relaxed at the top end, something I actually quite like but here I find they sing sweet enough to balance out the soft dome and wood fibre properties. Smile by Wolf Alice shows of this balance nicely, its pacey bass line always tight and supportive of the vocals without overshadowing. It is still maintaining the softer finish to bass than the likes of Monitor Audio but that is part of what gives Dali its signature sound, for long periods of listening I find them very unfatiguing regardless of the content.
If you need a streamlined system with minimal footprint with no concession on sound quality these could be a dream match. They will sync with your living space and suit a multifaceted daily use of AV or music with ease. The Dali range continues to impress with each update and these are no exception.
Learn more about the Dali Opticon 1 Mk2 speakers.
Author: Joe, Bath store