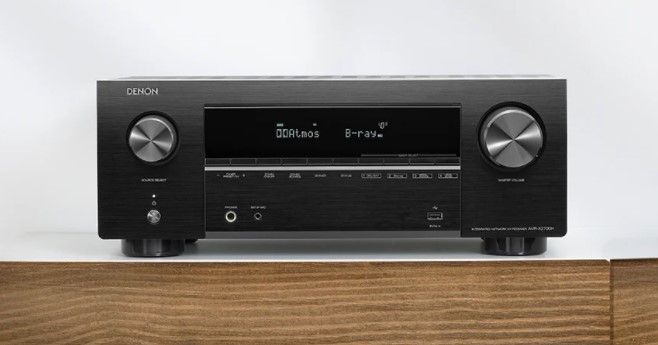 Are you in the market for a TV sound upgrade? If so then today's review will be of great interest. We're looking at the new Denon AVR-X2700H with support for 3D sound. This audio visual receiver comes from one of the most successful audio companies around and follows a long line of award winners. Can the new version live up to it's predecessors? Join us as we find out.
The Denon AVR-X2700H is a 7.2 channel audio visual receiver, meaning it can support seven speakers plus two subwoofers for all your home theatre needs. It also includes 6 HDMI inputs and 2 outputs for routing all your set tops boxes and games consoles through to a TV or projector. This is great for minimising cable clutter and makes usage a doddle.
You have many options when it comes to placement of those seven speaker channels. Some options include a traditional 5.1 with 2 up-firing speakers for 3D sound, or an extra pair of surround speakers behind the listening position for an even more immersive experience. There's even the option to power a pair of speakers in another room. All this adds up to an incredibly flexible and productive unit.
Under the hood we find an advanced digital signal processor delivering 150Wp/c to your speakers. This is the perfect amount for most living room setups and should produce a full bodied performance in those situations. Home theatre is not the only audio this unit is capable of though, the X2700H also incorporates a range of analog connections for all your music needs. This includes a dedicated turntable input and the ability to playback from a USB storage device. It's an impressive array of options for one unit to manage.
The home theatre capability is really where the X2700H excels though with support for the two main 3D audio formats. This means whether you're watching The Mandalorian on Disney+ with Dolby Atmos soundtrack or Atomic Blonde on Blu Ray with it's DTS:X sound you're always getting the best possible sound from your home theatre. It's something I always rate when a device has cross platform support as it means you don't have to worry about getting the best when buying content.
One of the big changes this year is the inclusion of support for both 8K at 60Hz and 4K at 120Hz (through an update) which arrives just in time for the new Playstation 5 and Xbox Series X/S. If you're even considering buying one of these in the coming years then having support for these higher frame rates is essential from an AVR. There's also support for 4:4:4 pure colour subsampling, BT.2020 colour and dynamic HDR formats such as Dolby Vision.
Most importantly for gamers is variable refresh rate (VRR) and auto low latency mode (ALLM) which switch automatically to game mode of compatible TVs and allow consoles to vary frames per second without encountering frame tearing for peak performance. All these features add up to mean the Denon line of receivers and the X2700H is particular are some of the best placed to take advantage as more TVs arrives supporting the new range of game consoles.
Once we're done reading up on all the specs we sit down to set the unit up. In the box you get a setup mic with a cardboard tripod for measuring the room, plus a remote and aerials for the FM/AM tuners. There's also a helpful addition of stickers to mark which cable is which when plugging everything in. It's a nice little touch which shows Denon's experience in making these types of products.
The setup process is made much easier by the on screen prompts once you hook it up to your TV or projector. These take you through the process of wiring all your speakers into place and calibrating their output to your room with the included Audyssey mic and software. It doesn't take more than 30 mins to do well and makes a significant difference to the quality of sound from this AV receiver. Another helpful feature of this receiver is the layout of speaker terminals, which run along the bottom of the unit so as not to be too cramped and hard to access. Speaking from experience this makes life so much easier, especially if you aren't using banana plugs on your cables.
Once everything is setup with our unit, and the Monitor Audio Mass 5.1 we chose to plug into it, we sit down to enjoy some content finally. Starting with the Mandalorian on Disney+, with Dolby Atmos thanks to the handy eARC feature on the Denon, we're immediately impressed by the atmospherics of this system. Spaceships past impressively with some scenes while in others birds flutter above our heads thanks to our in-ceiling speakers and the Denon's support for 3D sound.
Altogether we think this is a great refresh from Denon, bringing a few new features to one of the most popular models in it's class. It really brings the X2700H into 2020 and updates it for many years to come thanks to the HDMI 2.1 support. If you're considering a new sound system, why not get in touch with your local branch and see if this Denon may be a good option for you.
Learn more about the Denon AVR-X2700H.
Author: Robert, Brighton store
Read more of our Denon product reviews.