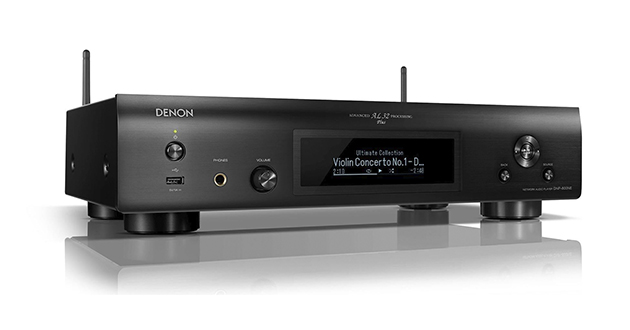 Denon shines with a great network streamer that will be a great fit with any hi-fi system.
Until recently, if you wanted to play music through your hi-fi system you were reliant on some form of physical media, be it a CD, record or perhaps a now ancient iPod dock. With the rise of streaming services like Spotify there is increased demand for wireless solutions with the ability to connect directly to the internet with control via a smartphone or tablet. Denon are the latest company to jump on board with their new DNP800NE network streamer. Join us as we find out whether it's worth parting with your hard-earned money…
The DNP800NE forms part of Denon's new 800 series range of hi-fi components. This includes an integrated amplifier and CD player but today we focus on the network streamer component. The 800NE connects via either Ethernet or Wi-Fi to the internet and acts as a source through which you can play all your digital files. It allows you to stream from services such as Spotify, Deezer, Tidal, Amazon music and TuneIn radio to name a few. It's a great selection and most people should find their service of choice available. If you're an Apple user there is also Airplay 2 compatibility meaning any audio played through your device can be streamed across too. Denon have also included Bluetooth and a USB port on the front for a thumb drive as another form of playback.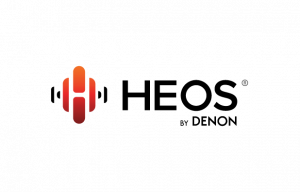 Smart home owners are also catered for here with voice control via Google Assistant and Alexa. This is enabled through Denon's own HEOS multiroom system which allows the DNP800NE to connect to other HEOS enabled speakers or systems in your home. You can have your hi-fi playing in one room and your soundbar under your TV outputting the same thing next door, all controlled via your phone. It's a system we're big fans of thanks to the work Denon have put into improving it over the years.
When it comes to wireless streaming the only downside can be below optimal quality files from some services. Thankfully, services like Tidal offer up to and beyond CD quality playback. The Denon is fully up to the task here with support for gapless playback up to 192/24 bit audio files. This can come in the form of FLAC, WAV, ALAC or DSD 2.8 so however you store your music files you should find support here. While file quality is one thing, another is the ability to squeeze out every last drop of performance. A lot of this burden falls off the Digital Analogue Converter (or DAC) within any given unit. Denon have chosen the PCM 1795 Burr Brown chip for the job and while that may go over a layperson's head, suffice to say it's a good quality chip for this level. The more impressive thing is the Advanced AL32 processing which Denon has developed across the 800 series to deliver smoother audio wave curves using clever algorithms.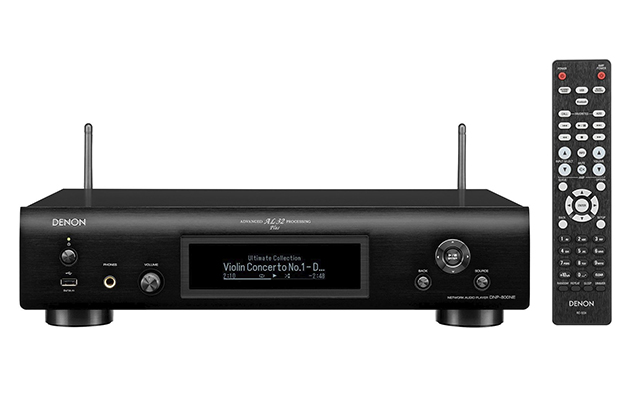 All this information on the spec sheet makes us extra excited to have a play with this new Denon unit, so once we got it into store, we couldn't wait to get our hands on it. The unit is finished in a black brushed metal for a classic yet stylish look. The front of the unit is dominated by a good-sized OLED display for playback information, while to the left is the power button, USB port and headphone jack plus volume control. To the right is playback controls and buttons to help navigate the menu system if you haven't got your phone to hand. On the back are two aerial connection points plus analogue audio outputs of the fixed and variable variety. There is also an ethernet port and Toslink optical port for connection to an external DAC. The choice of analogue outputs means you can connect this device directly to a power amplifier if you so choose. For our tests we plug everything in and get setup over ethernet before connecting the unit to the matching PMA800 amplifier.
We pair this setup with our reference Monitor Audio Silver 50 speakers to test things out. To start we put on the album Dance Music by Mastersystem, a supergroup formed of two sets of brothers from Scottish bands Editors and Frightened Rabbit. It's an album with a lot going on which can catch some systems out. When listening to the opening track "Proper Home" we're happy to report that the Denon was able to give the song the scale it deserves. Each instrument was clearly separate from others and nothing sounded jumbled or rushed, even in busy parts of the track.
While a large part of the sound of any system will always be dictated by the speakers and amplifier, it's just as key to make sure your source is up to scratch. If the signal your amplifier receives isn't up to much, then there's only so much that can be done with it. We were very pleased with the usability and sound quality from ours tests. Switching between albums was quick and easy while presentation was certainly a step up from streamers at lower price points. If you're looking for a great digital source to drive your hi-fi then you could do a lot worse than the DNP800NE. Why not contact your local Richer Sounds today for a demonstration?
Learn more about the Denon DNP800NE network streamer.
Author: Robert, Brighton store