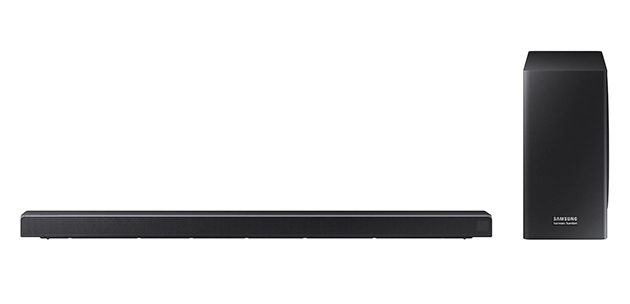 The Samsung HWQ70R delivers cinema-like performance from a compact package that fits in almost any space.
Like 4K or UHD in the TV industry, the buzzword in AV circles of recent years has been 'Dolby Atmos'. Much discussion has been centred on the object-based audio format so it's no surprise to see more and more ranges of soundbars starting to incorporate the technology as a feature. Samsung, in conjunction with their audio subsidiary Harman Kardon, have released three models for 2019 that are all compatible with Dolby Atmos and the equivalent DTS:X soundtracks. In the test room today is the first of those models; the HWQ70R.
Featuring 8 custom designed speaker drivers in a 3.1.2 channel configuration, the HWQ70R doesn't rely on any sound processing to create immersive sound. The front left and right channels utilise a mid-range driver and tweeter whilst the centre, height left and
right channels just use the former. Those all-important height channels utilise Samsung's Acoustic Beam Technology and are angled at 19 degrees to push effects above you. The separate wireless subwoofer has its 8" driver mounted on the side of the cabinet and funnels air to a rear port combining with the bar for 330 watts of amplification.
The supplied remote gives you options for adjusting volume, tone, the gain of the subwoofer and sound presets as well as toggling between sources and there's buttons on the right hand side of the bar for volume, source control and power too. As with any Samsung networked product, this bar is compatible with the Samsung SmartThings app via Wi-Fi which gives you control via smartphones and tablets, allowing you to play your own content from NAS drives or stream from online services. Compatibility with Amazon Alexa means voice control is also on the cards too so however you want your content it's easy to access.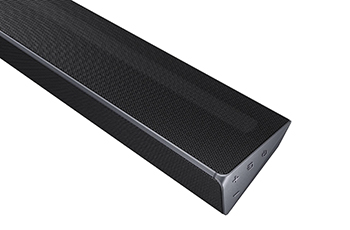 Although there's only 1 HDMI input, it is enabled for 4K UHD content and supports the HDR10, HD10+ and Dolby Vision High Dynamic Range colour formats. The HDMI output up to your screen is capable of enhanced Audio Return Channel (eARC) so you can run lossless audio back to the soundbar for sources plugged directly into the TV. There's also an optical connection which is presumably for those who may temporarily be using an older TV but no other physical inputs, just the Wi-Fi and Bluetooth.
Without further ado we hook up a 4K Blu-ray disc of Guardians of the Galaxy 2 and settle back to watch Peter Quill and his misfit gang as they try to escape a swarm of enemy drones in space. The dedicated centre channel soon shows its worth as the frantic soundtrack of zaps and whooshes which would threaten to overpower the dialogue on lesser audio systems is separated out and lets us hear all the quips and one-liners. Whilst the centre channel does its job the soundstage that the HWQ70R presents is large and spacious thanks to the wide dispersion of the front facing tweeters and the upward facing height drivers make it all the more immersive with asteroids bouncing off their spaceship. Like all upward firing bars the height effect is still relatively front orientated but in terms of making the room sound bigger and taller, it's top notch.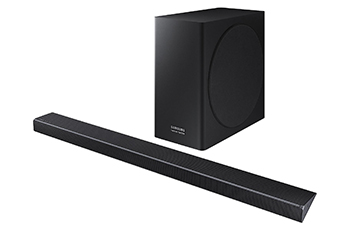 Samsung's Adaptive Sound mode analyses audio on the fly to optimise whatever you're playing so as we switch over to Spotify to play "Go" by the Chemical Brothers, the HWQ70R automatically outputs more out of the front left & right speakers than the other channels but you can always switch to Standard mode if you just want left and right (plus the sub) on their own. Either way, you get great stereo separation of the staccato bassline and the driving rhythm shows that the integration between bar and sub is excellent. Tonally, the jaunty synth melody shines through without being jangly or harsh and it's a very well balanced all round sound.
So, once again it seems like Samsung have hit upon a winning formula for amazing wireless sound. If this sounds like the next great addition to your home entertainment system why not give your local Richer Sounds a call and arrange a demo?
Click here to learn more about the Samsung HWQ70R
Author: Robert, Brighton store