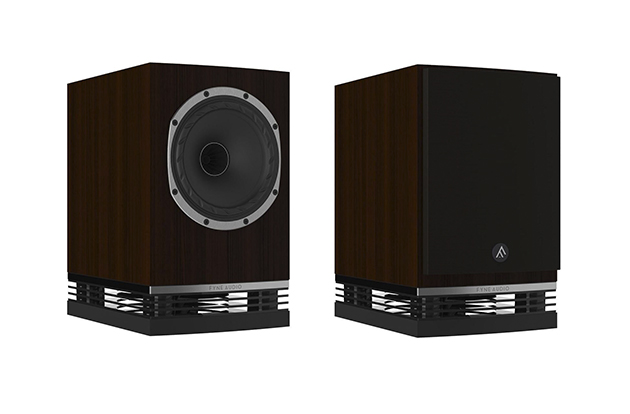 Fyne Audio comes through with yet another cracking standmount speaker in the F500.
Most new audio companies start with a single unit which stands them out from the crowd. But then again, most new audio companies don't come with decades of experience in the audio industry like Fyne Audio does. With over 100 years of experience behind them, Fyne Audio aren't like other companies. Today we look at their new F500 premium standmount speaker, so join us as we find out what all that experience adds up to.
Fyne Audio are a new loudspeaker company based in Scotland. With many decades working together already under the belt of many of its staff, we couldn't wait to see what they could turn out. Now we have the new premium F500 range, starting with the aforementioned standmount speaker, but there are a pair of floorstanding speakers (F501 and F502) and a centre speaker for those interested in home cinema.
The F500 range brings several key features and some exciting new technologies to the party to set these speakers apart. They have included their innovative Isoflare point source drive unit for maximum combination of the high and low ends of the sound. By placing the tweeter in the middle of the mid-range driver allows for easier positioning and improves integration of the output.
To compliment this advanced tweeter technology, Fyne have implemented their BassTrax port system. Essentially, by placing the port of the speaker facing down through the bottom of the speaker it aims to get greater dispersion of bottom-end through the room. There are metal grilles, much like a heat sink on a computer, hiding this port away but the effect amounts to less fussy placement and greater weight in the bass of your favourite tracks. On the inside Fyne has used low loss laminated core inductors to clean up the signal path. All this adds up to the potential for great sound, so lets find out.

The F500 standmount speakers come in one fairly hefty box. Once we've broken in we get a glimpse of the real wood veneer. These speakers have a great weight in the hand for such small units. The metal grilles at the bottom are also a nice touch, adding a touch of class to an all wooden design. Each speaker stands at 325mm tall with a 150mm multifibre mid/bass driver surrounding a 25mm titanium dome. Each speaker looks impressive, especially if you like an industrial design, but if not there are plain black speaker grilles in the box to hide the fronts away.
To see what these speakers can do we sit down in our demo room with the F500s connected to a Roksan K3 integrated amplifier. Streaming through our demonstration Yamaha WXC50 and Chord Qutest DAC we fire up some Queen. We want to see what these speakers can do with a rhythmic bass line and challenging vocals.
We start with "Another One Bites The Dust" and we're happily impressed. These F500 speakers really kick out a good bottom end for such small units. The sound of the bass guitar provides a constant rhythm to keep the track moving and the F500s don't miss a beat.
On the vocal side of things, we were left with a smile on our face thanks to those nicely refined tweeter components and rigid titanium diaphragm. The attention paid to this side of things has really paid off and creates a beautifully clean sound. To test just how flexible these speakers are we start moving things around and are happy to report that they truly aren't fussy.
So Fyne Audio has put together a excellent pair of standmount speakers, full of character and drive which really left a smile on our faces. For the size and at the reasonable price point we were blown away. We had to check at first we hadn't accidentally fired up a pair of floorstanders by accident. They would be an excellent choice for those looking for a smaller speaker which packs a punch. To find out if they're the right option for you, pop down to your local Richer Sounds today and have a listen for yourself.
Click here to learn more about the Fyne Audio F500 speakers
Author: Robert, Brighton store