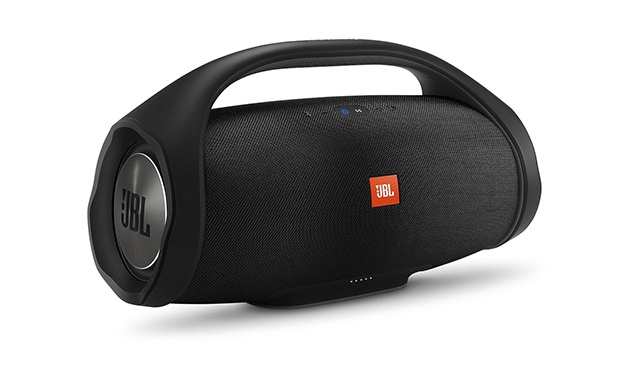 JBL's latest wireless speaker aims to add some real "boom" to your listening experience…
Portable audio seems to go hand-in-hand with minute little speakers that can fit in a bag or throw in your suitcase. Whilst these units are great for practicality they aren't quite enough to fill a room with sound, or power your next house party. The JBL Boombox is a huge portable Bluetooth speaker that has a massive power output offering a fantastic level of sound, but still retains plenty detail, and is more than enough to keep an entire house dancing!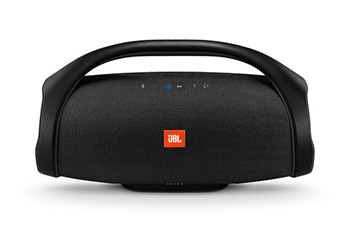 The iconic "boom box" style music system was a big deal during the 80s & 90s and has slowly been pushed to the side to make way for more and more personal audio experience. It's clear JBL have taken a lot of inspiration from that era whilst designing this product. Weighing in at 11.6 lbs – this is by no means a speaker you'd take on holiday, but with IPX7 waterproofing it's not going to do any harm if it sees a bit of water splashed on it! JBL has used the same technology from their small rugged speakers in the new Boombox, meaning it can take a hit or two, and even tolerate being completely submerged or have a drink spilled on top of it!
Inside there are two passive radiators as well as dual 20mm tweeters and two 4inch subwoofers underneath the speaker grill, which when combined offer an incredible audio experience from a portable speaker! There's not much in the way of control up front as its all handled by your smartphone; other than a power button, play, pause and volume control,  there's not much else. You can also hit the connect+ button to pair with other JBL speakers in a stereo fashion. With a huge 20,000MAH battery and a 24-hour battery life, the JBL also supports charging via USB should any of your gadgets start to run low. It's easy to mistake the JBL for just another Bluetooth speaker and I can safely say it really does set itself apart from the rest.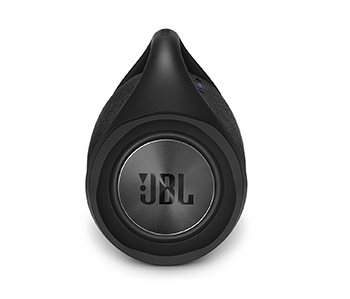 We had a quick volume test to see what it was capable of and really can't imagine a scenario where the user would require any more! It's truly mind-blowing what this "portable" speaker offers! Even at those high volumes, it retains incredible crisp detail and little to no distortion meaning it's still an enjoyable music experience. The two 4-inch subwoofers really do pack a punch as well, those of you who love a bit of bass will really get on well with this product. If you're looking for a room (or house) filling portable speaker the JBL Boombox should be on top of your list!
If your interested in what the Boombox can offer, or wish to check out any of our wide range of Bluetooth speakers then why not pop into your nearest Richer Sounds store for a full demonstration!
Click here to learn more about the JBL Boombox
Author: Garrett, Plymouth store