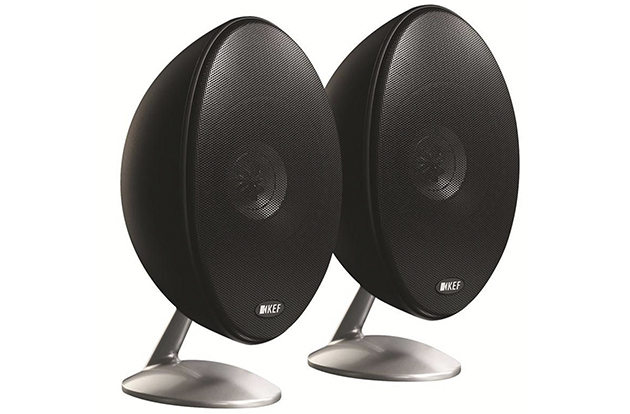 KEF updates their unique and award-winning 'egg' speakers with the E301 speakers.
KEF have long been a major player in both the hi-fi and AV market, with the brand's infamous 'egg' speakers filling home cinemas around the world for the past few years. The new E301 Speaker boasts a 4.25" Uni-Q driver, which was originally developed for the Award winning Q Series speaker. Offering an incredibly wide sound stage, the Uni-Q driver array technology takes the E301 speakers one step above its competition.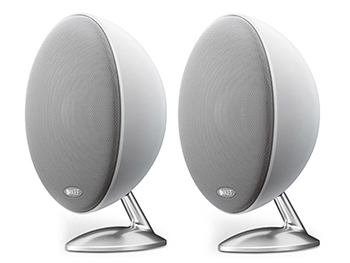 Located behind the concave speaker grille, you will find the tweeter at the centre of the mid-range driver to prevent any distortion in sound. KEF have also taken as much inspiration from their previous award-winning Egg system as they can. The E301 speakers feature incredibly accurate detail at the lower volumes but when driven a little harder can easily keep up with most bookshelf rivals. Taking the overall aesthetics into consideration the E301 speakers will sit nicely in most homes, their sleek design means they aren't too obtrusive and blend in nicely in any modern home.
Whilst the overall size of the E301 speakers may look a little underwhelming, they offer a surprising amount from such a small package, though I would personally recommend pairing them with a dedicated active subwoofer to get the right amount of low-end heft. The E301 speakers are commonly sold as a full 5.1 system aptly named the E305 speaker package which features five of the E301 speakers and active subwoofer. Those of you looking for a smaller desktop set up should give two of the E301 speakers some serious consideration. But for those of you looking to build a more dedicated cinema set up I would strongly recommend the full 5.1 set up.
If you're interested in hearing any of the KEF speakers or would like to chat about home cinema in general then please feel free to pop in to your nearest Richer Sounds store for a full demonstration.
Author: Dave, Bath store