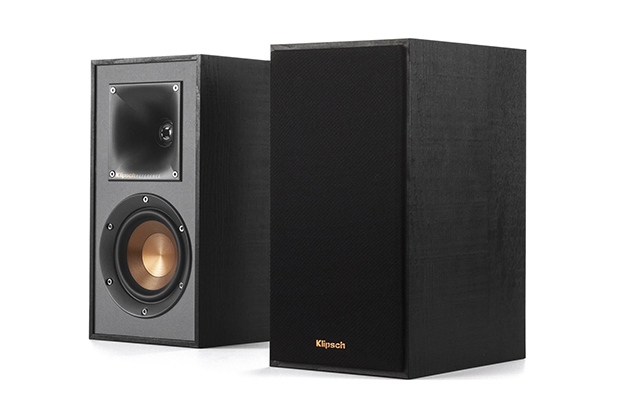 American speaker manufacturer Klipsch have been around for over 70 years and are easily recognisable from their "horn-loaded" driver designs. Whether it's their extensive hi-fi range or their home cinema products, the distinctive hallmark features on all of them and serves as a fantastic unique selling point for the company.
Under the microscope today is a pair of R41PM speakers, the powered version of the company's entry level passive hi-fi standmount models. Packed with a 2 x 35 watt amplifier, these active speakers are designed to give you a fuss-free option of premium sound without the clutter.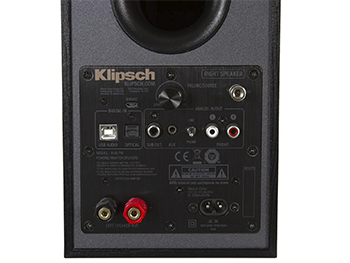 Available inputs are pretty varied too with digital audio via optical, USB-B and AptX Bluetooth as well as analogue signals through a 3.5mm aux jack or a pair of RCA phonos. Not only that, but an inbuilt phono stage to pre-amp turntables can be toggled from a switch on the back of the master speaker. A pair of speaker terminals power the second "slave" speaker and there's even a pre-out for an active subwoofer. An LED on the front of the master speaker indicates which input is selected and also indicates when the volume or the subwoofer level is changed.
The aforementioned Tractix horn-loader houses a 1" aluminium tweeter and the mid and bass ranges are covered by a 4" Injection Molded Graphite woofer for tight bass response. Detachable fabric grilles sit neatly on the front of the cabinet via magnets so if you're not a fan of the copper coloured main driver you can have a most discreet look. Some speaker wire is included in the box along with a remote, some rubber feet and a USB A to B cable so you're more or less ready to plug and play.
Sounds like Klipsch have pretty much covered most eventualities so it's a big thumbs up on the practicality front which is a good start. To test out the capabilities of the R41PM we decided to connect up a laptop via the USB connection first of all and see what they're about. Playing a CD-quality WAV file of "Anything You Want – Not That" by Belleruche shows us that the spritely treble that we expected to hear from the horn loader is definitely there in abundance. The snappiness of the guitar and drums sits in a very spacious soundstage that feels like we're in a room much bigger than our demo room.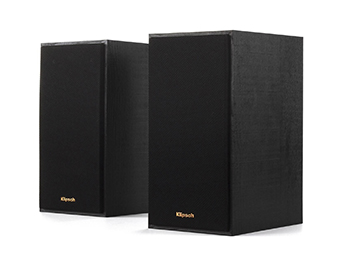 Because of this airiness at the top of the frequencies the midrange is given plenty of space to give us clean vocals and the bass, although not very deep, is attacking and solid. This is not unexpected considering the main woofer is only 4" big so a good entry-level subwoofer such as a Cambridge Audio Minx X201 will be enough to add some warmth for those that find the Klipsch's lacking. Switching over to the analogue input and testing out a Project Essential III A via the Klipsch's phono stage produces a slightly warmer tone and we're soon singing away to the Fleetwood Mac song "Little Lies". The studio production of vocal harmonies is another great way to show off the reach of the R41PM with the scale of dynamics pushed beyond what we thought the speakers might manage. A move to playing the same track through AptX Bluetooth causes the speakers to lose a tiny bit of cohesiveness but it's still perfectly acceptable listening for those occasions when you want a quick streaming session.
Those looking for a simple way to play their music without compromising too much on sound quality will do well to add the R41PM to their shopping list. An extensive input list plus an exciting presentation and great build quality mean that you get a lot for your money. At reasonably high levels its tonal character may come across a little brash so if your room is on the larger side the option of a subwoofer will be very welcome. Why not audition them at your local Richer Sounds store and see for yourself?
Click here to learn more about the Klipsch R41PM
Author: Steve, Bristol store