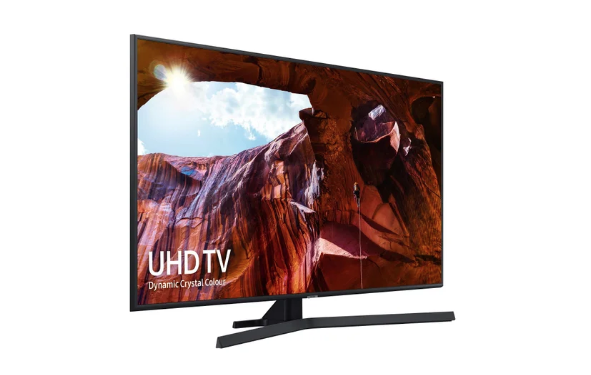 It seems that TVs nowadays are slowly getting bigger and bigger to accommodate the subsequent improvement in image and lighting data. But what happens if you want the most up to date TV but don't have the ability or desire to go big? That's when you turn to the Samsung UE43RU7400, a 43 inch TV that'll do practically everything…
Now, I say practically because as funny as the question "Will it make me a coffee?" is, what this TV lacks in barista skills it quickly makes up for with its built-in Airplay 2 capability. What this means for all us Apple aficionados out there is that finally you'll be able to share and stream content from your Apple devices (iPhone, iPad, Mac) as effortlessly as cradling your phone whilst you watch funny dog videos.
It also features compatibility with Amazon Alexa and Google Assistant so if you've already taken steps into the brave new world of voice activation and own devices with those softwares you can tell them to control volume, change channel, turn the TV on and a multitude of other commands with merely the sound of your voice.
Now what would a TV be without visuals, why it would be a radio, and who uses a radio nowadays!? Boasting everything we've  come to expect from a 4K HDR TV, the Samsung can accept HDR10, HDR10+ and HLG, it has a 10bit panel (8bit+2frc) and a PQI of 1900. Now that the Tech spec is written down let me just say that this TV looks and performs exactly how I'd want and expect it to.
Motion handling is no issue with a smooth and judder free experience with everything from football to end credits looking sharp and concise with nice contrast without sacrificing colour ability. This means that with this TV set up correctly (please don't turn brightness up to 100%), you're going to get an amazing image for what I think would now be considered a small TV.
Connection wise, it has them! The TV features 3 HDMIS (HDCP2.2) and component/composite in for all your visuals, 2 USBs for viewing downloaded files, and optical out for sound. It also has RF in so you can plug an aerial into it and utilise Samsung's TV plus. Wi-Fi and wired connections are available so you can get the smart side of the TV up and running as well as Bluetooth out for any Bluetooth speakers or Headphones you may want to connect up.
For me the Samsung UE43ru7410 is as solid a TV as you can get for the size, but obviously your choice could be different depending on your viewing habits and what you want from your TV.
With that in mind I'd suggest anyone with an inkling to get a new small TV should pop into their local Richer Sounds store or give them a ring for some free helpful advice.
Learn more about the Samsung UE43RU7400.
Author: Hal, Plymouth store