More and more people are moving towards smaller, more compact systems and soundbars for their home cinema needs, leaving big bulky AV systems by the wayside. But what about the much lauded Dolby Atmos and DTS:X technologies? Surely a soundbar can't begin to rival that… or can it?
Of course I'm being slightly facetious as Dolby Atmos capable soundbars have existed for a good few years at this point. But like most things as years progress they inevitably get better, and of course more affordable. It's at this point in the blog that I bring up the new SL8YG offering from LG that's not only capable of Dolby Atmos but DTS:X as well. It does this by not only having forward facing speakers but also having two upward firing speakers that bounce sound off the ceiling. What this means is that you can get the effect of a 3D sound with down-firing speakers without the physical need for actual ceiling mounted speakers. Adding to that 3D sound is of course the wireless subwoofer that lends itself to be placed wherever you desire (as long as there's power nearby).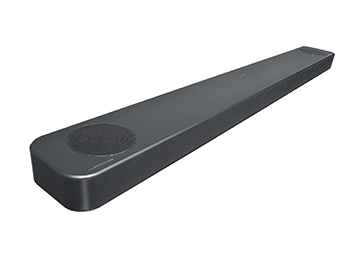 It's all about atmospherics in the home cinema game so on top of those upwards firing speakers you can also add rears in the form of LGs SPK8 speakers that connect wirelessly with only a power cable and wireless receiver needed. Sometimes though it's all about what the bar can deliver on its own, and by utilizing Meridian Technology in addition to their own, LG has crafted a precise soundbar that handles detail as well as you could hope.
With all this talk of sound let's actually talk about what it sounds like.
I'll start by levelling with you on one factor; this bar needs to be in the right environment to fully utilise all it has to offer. Walking into your local store and listening to it on a big open floor is going to sound good, but you're pretty much going to lose any of the bar's ability to project downwards facing sound. That being said, the bar's design makes it absolutely ideal for small and mid-sized rooms where a traditional surround sound system would likely be too overpowering!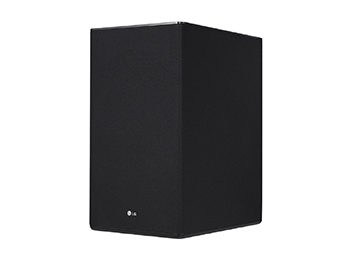 Set up correctly though this bar definitely gives you the impression that you're sitting in a small cinema , with sounds coming from above when they're intended to. I'm always a sucker for rain and when I used the Dolby Atmos demo disc you could really hear the sound coming from above you. It did of course have sweet spots and it seemed to be that if you moved more than around 3 metres away the sound stopped coming from above and the soundstage changed to one of a normal soundbar, so you'll need to be sure to have a play around to find the ideal spot in your specific room.
Finally, it comes with Google Assistant and ChromeCast built in, as well as supporting 24/96 audio formats. It has 1 HDMI in and 1 HDMI OUT with 4K passthrough and of course an optical in. My personal favourite party trick with LG soundbars is the fact that if you have an LG TV with WebOS then you can wirelessly connect the TV to the soundbar, making the already simple connection process even easier.
If you're after that big screen experience but space is at a premium, this soundbar might just be the perfect fit for you. Why not give your nearest Richer Sounds store a ring and schedule a demo?
Click here to learn more about the LG SL8YG soundbar
Author: Hal, Plymouth store