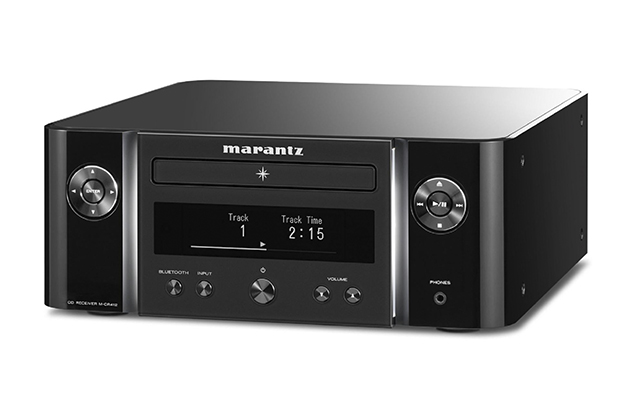 While the rise of standalone Smart speakers seems to be unstoppable, there is still a market for those wanting a small system with a better sound. The once widespread mini system is still the perfect option for many people with either a CD collection or a more tuned ear than a Smart speaker will satisfy. Joining this club is the new Marantz MCR412 mini system.
Marantz has created the MCR412 as a jack of all trades; it can play CDs, tune into DAB and FM radio, connect wirelessly to your devices and playback from a USB device. This means it can appeal to people who perhaps have had hi-fi separates in the past, in a way that a smart speaker never can sonically. The difference is night and day thanks to the MCR412's secret weapon: a devastatingly powerful amplifier under the hood.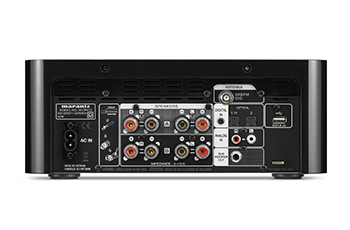 As we get our hands on the unit itself, we're suitably impressed with the overall build quality. It feels reassuringly sturdy for a relatively small device. On the front of the device we find a central dot-matrix screen surrounded with the trademark Marantz styling. This unit even includes accent lighting to further exaggerate the premium feel. It's a nice touch and makes turning on the unit that much more of an event. To the left is a selection pad while on the right is your playback controls and a headphone jack. Underneath the central screen is the Bluetooth on/off switch, an input switch, the power button and up down volume controls. The only other notable feature on the front of the unit is the CD drive squeezed in above the screen. It's relatively uncluttered and presents a nice accent to your living room or wherever you choose to place it. Round back, we have four pairs of binding posts for connection to your speakers, a radio antenna connection, two toslink optical connectors, a USB type A port, an analogue input and a subwoofer output. It's a reasonably selection for a unit of this size and shouldn't limit the user for options.
There are even a few unique features for this Marantz product. One is the wake function on the optical input which turns the MCR412 on when it detects an audio signal. This is great for anyone using the unit with a TV as you can get to the action quicker. Another is the independent volume controls for each set of speakers you're running. It's something I personally haven't come across before in a device and makes running music throughout your home that much easier. For instance, you might want your music in the kitchen to be louder than in the living room because of all the noise of cooking.
Speaking of speakers, the MCR412 can output up to 60W into 2 channels at 6 ohms and 30w into 4 channels. This should be plenty for your average bookshelf speaker. While a true separates system for similar money will provide a cleaner sound, this is by no means a slight on this unit as most users will more than happily give up some sound quality for a smaller device. We think it's a fair trade-off and we appreciate the extra power under the hood none the less.
To test out the MCR412 we decided to hook it up to our Q Acoustics 3020is. We think these would be a great match sonically and the aesthetics of the speakers sit nicely with the MCR412, both have black finishes with silver accenting.
When it comes to sound, we pop in a CD of Whatever People Say I Am… by Arctic Monkeys. This album has a great energy even after many plays and plenty of years past and we want to see how the Marantz handles it. We skip to "Fake Tales of San Francisco", as there are plenty of crashing cymbals and funky bass guitar to reproduce and the Marantz does a great job of presenting everything with plenty of clarity and separation. It seems at ease driving the 3020is, so we switch things up before the next track, swapping in a pair of Monitor Audio Silver 50. These are a big step up from the Q Acoustics with a more insightful sound, so we are keen to see how the Marantz handles it.
Switching to track "Mardy Bum" we immediately hear the difference in detail. The Marantz gives these speakers enough power to really sing and we're equally impressed by the strong sense of timing on display here. This stems from the amplifier being at ease rather than struggling to keep up. Alex Turner's voice cracks and each intake of breath feels present, cracked and emotional, taking us back to a time in the early 00's when he wasn't yet a global superstar.
Safe to say we were enthralled by the performance of this little mini system. Not much different in size to a shoe box but it delivered a performance better than some separate systems and drove some of our favourite stand mound speakers with ease.  The ability to run two sets of speakers is a nice bonus if you want to add audio to a second room and it all makes for a very flexible piece of kit. To see if it might fill your sound needs why not pop into your local Richer Sounds today and try it for yourself.
Learn more about the Marantz MCR412 mini hi-fi system.
Author: Robert, Brighton store