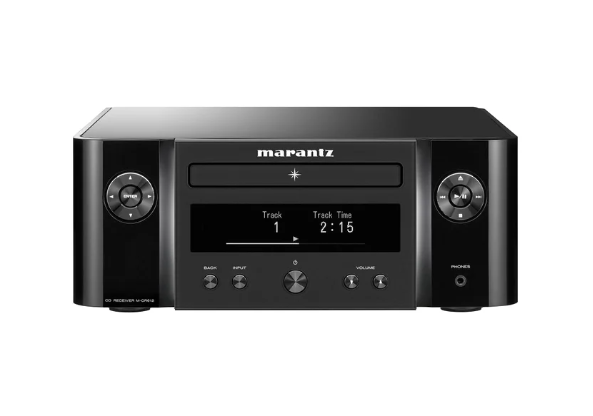 These days, for a mini system to tick all the boxes it's no longer enough to have an amplifier, CD player and tuner all in one box. The emergence of the smart connected home means that practicality and features are getting way ahead of what a traditional system was capable of. That's why brands are including network connectivity to open up a whole host of services and synchronicity with your other devices.
Marantz themselves are no stranger to this already as previous versions of their Melody mini system have included the above standard options along with Apple Airplay, Bluetooth and Internet Radio too. However as they are part of Sound United LLC, the parent company that owns (amongst others) Denon, the Marantz Melody X MCR612 streaming mini system sees Marantz adding HEOS multiroom streaming software. This coupled with Amazon Alexa, Google Home and Apple Siri compatibility for voice control means the Melody X becomes a very attractive proposition for those wanting more out of their smaller equipment. Changing volume, skipping tracks or switching over to a particular station are all easy but significant commands that you can issue verbally providing you have an Amazon Echo Dot.
The Melody X boasts a spec sheet of 4 digital amplifiers which produces 60 watts per channel into 6 ohms. This can either be configured as 2 pairs of speakers at 30 watts per channel or the full 60 watts into 1 pair to power more hungry speakers. A useful feature is that this digital amplification gives separate volume control if you do use two pairs. This means that there's quite a lot of flexibility when pairing speakers with the Marantz, whichever configuration you use. Connections for external devices include 2 digital optical inputs, 1 digital coaxial input, one pair of RCA phonos, USB and a pre-out should you wish to attach a subwoofer too. There's even the option of outputting an analogue phono connection onto another system you may have, so even though this is billed as an all-in-one system there's still plenty of expansion should you desire it.
Hooking some Dali Oberon 5 floorstanding speakers up, we chose to start off with the CD player and Billie Eilish's track "When I Was Older" is our first port of call. The eerie vocals of the intro are soon joined by the pulsating bass line and snappy drum loop which just goes to show off the Melody X's talent for high frequency attack. Eilish's voice is front and centre the whole time and never crowded by the rest of the track giving a focussed and detailed sound. If you push the volume there's a slight edge to the sound though so make sure you don't pair the Marantz with speakers that are overly bright.
Changing over to Spotify Connect via the HEOS app, we change tack with the summer lullaby "Smile" by David Gilmour. The floating guitar is natural and warm but each strum is clear and tactile. As the middle section kicks in, the Melody X handles the swell of dynamics well for a mini system and fills the room with a multi-layered atmospheric ensemble. As things quiet down towards the end, the soft brushes of the percussion sit nicely under the guitar bringing the track to a close. Overall, the sound is detailed, punchy and precise.
We don't need to go over the virtues of HEOS multiroom here as that's been covered in previous blogs, suffice to say however the flexibility that this gives you means that expanding your system in the future won't be a problem. Whether it's internet radio, services such as Spotify, Deezer and Amazon Music or files from a USB, the clear and generously-sized LCD screen on the unit's front makes it easy to see what's playing. The familiar Denon remote that comes with all their devices is easy to use, as are the buttons on the Melody X itself so however you choose to use it, controlling the system is easy and straight forward.
Available in gloss black or gold/silver finishes, the Marantz Melody X is available to demo in store now so come and check it out to see if it's the missing piece of your hi-fi system.
Click to learn more about the Marantz Melody X M-CR612 streaming mini system.
Author: Steve, Bristol store