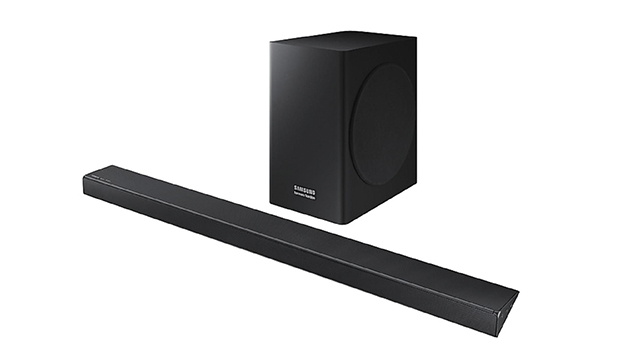 Samsung delivers a simple way to get cinema-style surround sound in any space.
For those with limited room but a desire for cinema quality surround sound, options can seem limited. A number of soundbars offer a surround sound "effect", but few give the option of wireless speakers for that true surround experience. Samsung has answered the call and made the new Samsung HWQ60R soundbar for excellent traditional sound with the option to add the SWA9000S as wireless rear speakers.
The HWQ60R is a new soundbar and wireless subwoofer option for 2019 from Samsung. To improve the sound of their new bars Samsung has recruited Harman Kardon to tune their sound to perfection, aiming to give you hi-fi quality audio from a soundbar. This is backed up by 360 watts of power driving 8 speakers in a 5.1 system for surround sound from the Q60R all on its own. Certainly, on paper that's an impressive array of speakers backed up by a lot of power!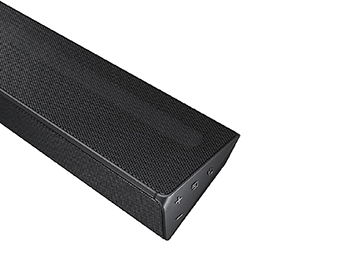 The separate subwoofer helps by allowing increased bass and allowing the speakers on the soundbar to be more finely tuned. Equipped with a 6.5-inch driver, the sub helps to provide the bottom end. By focussing on the lower frequencies, the sub frees up the soundbar to improve high and mid frequency performance, adding up to a very well-rounded sound with the punch required when needed.
Some of the key technologies Samsung has chosen to include are Adaptive Sound which tailors the sound to what you're watching. For example, boosting vocal range during dialogue heavy sequences. There is also 'Game Mode Pro' for extended bass to draw users even more into their favourite games. It's good to see companies trying to respond to consumer feedback about drowned out dialogue on modern TVs and lack of punch during heavy gaming sessions.
When we get our hands on the new Q60R we set about connecting it to our matching Samsung television. Setup is relatively simple with the TV offering all the on-screen controls necessary. The bar itself sit at a little over 1m long and sports tapered edges to reduce its profile. It's a smart look and sits nicely under our demo TV. We use HDMI to connect to the TV through the Audio Return Channel (ARC) and switch to Line of Duty through BBC iPlayer. Without giving away any spoilers we were certainly satisfied with the dialogue range of offer here. Nothing seemed drowned out and we never felt ourselves straining to catch what people were saying. When the action livened up a bit the sub really showed its worth with plenty of kick to every impact.
We change to Bluetooth to try some music next, starting with some of the new Foals album Everything Not Saved Will Be Lost Pt. 1. Music performance is certainly impressive for a bar of this size. There is plenty of clarity and space in the performance and we were left thinking that for most people this would quite happily suit their needs. If space is at a premium and dedicated hi-fi isn't an option, then this is an excellent choice.
We wanted to put the wireless surround kit through it's paces, so switched to Casino Royale on Blu-ray for the soundtrack and crowd scenes of the opening scene. We connect the SWA9000S speakers with no problem. The wireless hub which the speakers operate from has a handy indicator light to show everything is working smoothly. Adding the surround speakers really improved the surround experience for us thanks to the physical presence of the speakers behind us. It drew us into the scene far more and is certainly something we'd recommend as an additional extra.
All in all, we were decidedly impressed with what this new bar can do. Music performance was good but it was as a TV speakers where the Q60R really excelled, especially with the additional rear speakers. To try out this bar for yourself why not contact your local Richer Sounds store today for a demonstration?
Click here to learn more about the Samsung HWQ60R soundbar and here to learn about the SWA9000S wireless speakers
Author: Robert, Brighton store