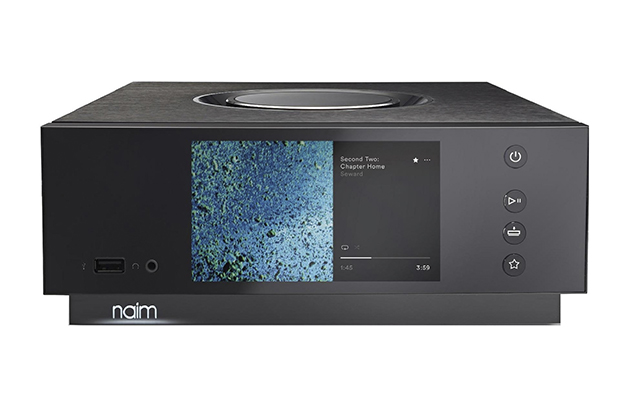 As the saying goes, you can't have your cake and eat it too… but what if you could? That's the question the Uniti Atom from Naim aims to answer. Can you really have a 'just add speakers' device which gets the best from your favourite speakers as well as your music? Join us as we find out…
The Naim Uniti Atom covers all your streaming and amplification needs. Simply plug in your speakers at the back and connect to power and the network and you're away. Control comes via the Naim app or the handy included remote control. The app is one of the best on the market for wireless control and multiroom thanks to constant improvements and a smooth interface. The Atom itself is a small black box with a 5-inch full colour LCD screen on the front with a large illuminated dial on the top for volume control, much the same as appears on the Naim's Mu-so range of speakers. Alongside the full colour display are a power button, input selector, play/pause and favourites. There's also a handy headphone jack and USB A port for quick connections.
Covering both sides of the Atom are two heat sinks which also double up as aerials for the included Wi-Fi and Bluetooth connectivity. Meanwhile on the rear we have power, speaker connections, ethernet, USB A, HDMI, two S-PDIF optical and one coaxial input. There's also a regular line input and pre outs for connection to a matching power amplifier. It's a great selection for such a compact device and really doesn't miss anything out.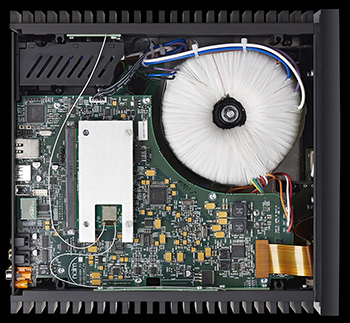 Under the hood is equally impressive with a class A/B power amplifier outputting a healthy 40 watts per channel continuously. This is provided by a hefty toroidal transformer for maintaining a stable current to all the components; nothing has been left to chance here. Naim has also chosen to use a clever 40-bit Sharp DSP processor to maximise the quality of all digital inputs prior to amplification. This minimises jitter from electrical components and up samples inferior signals to get the best possible sound from any source. It's a great feature and we love to see thought put towards sources like Spotify which are incredibly popular but not normally considered audiophile quality. Speaking of Spotify, the Naim has a great selection of wireless connections including Spotify Connect, Tidal, Internet Radio, UPnP, Airplay 2, Chromecast and aptX HD Bluetooth. It's a very compelling list and we struggle to think of anything this little unit can't do, especially when you consider it's also a Roon endpoint too.
To control all this, you need to fire up the Naim app which is quick and easy to use. We use this regularly in store with the Naim Mu-so speakers and it's so responsive, we have no issues here. The header gives you all your source options including HDMI meaning you can easily connection the Atom to your TV and control the volume with your TV remote. It's just one more tick for a box that can meet all your sound needs. When we setup our demo unit to have a listen, we were struck immediately with the build quality. The screen is bright and colourful, plus thanks to a proximity sensor it comes to life when you get close. The dial on top is our favourite feature though, it's incredibly tactile and satisfying to whack the volume up and we think it's a fantastic.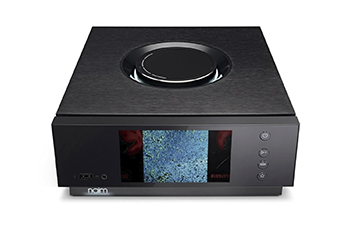 We've run the Naim in for a few weeks to get it warmed up and are now ready to let her sing. So to start with we hook up a pair of Dali Rubicon 2 standmount speakers. They're a premium standmount and one of our favourites at the price point. Plenty of punch, but they can take some driving to liven up. First we try out "Billie Jean" by Michael Jackson and we're suitably enthralled with the performance. The bassline hurries on with no sluggishness to a quick beat. Meanwhile, the top end is insightful and open with plenty of space to the performance thanks to the ease with which the Naim sets about its task.
We wanted to try something a little meatier with the Atom so we hooked up some Monitor Audio Gold 200 speakers for a listen. These are a new favourite of ours, but they definitely need a firm hand to keep them under control. We listen to the track "Doomsday" by local Brighton band Architects which can be a challenge for some speakers. It has a habit of all becoming too much for lesser amplifiers but here the Uniti Atom glides through with no problems. There is plenty of bottom end but it's tight and controlled and distinct from the vocals of singer Sam Carter.
I'm sure you can tell just how blown away we've been with the Naim Uniti Atom. It's a cracking all-in-one piece of kit which makes running difficult speakers look easy. Not only is it a great amplifier though, it's also a fantastically easy unit to use, with a great app and connectivity. We'd struggle to find someone we couldn't recommend this unit to, from the biggest audiophile to the man off the street. It simply does a wonderful selection of things extremely well. For a taste of what this unit can do, why not contact your local Richer Sounds store today for a demo?
Learn more about the Naim Uniti Atom.
Author: Robert, Brighton store