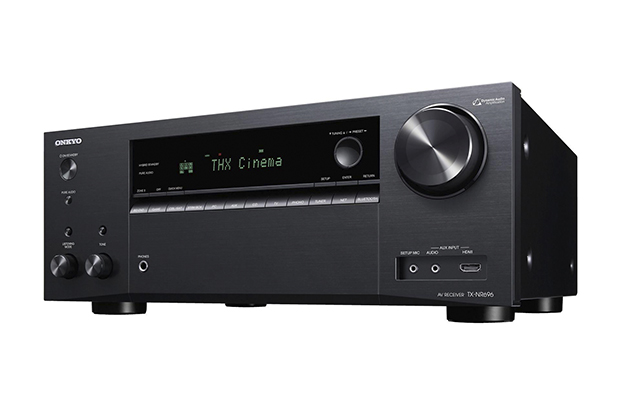 Onkyo produces a winning update with the TXNR696.
There are some things in the AV world that just fill you with a warm, happy feeling and a great big AV receiver is certainly one of them. The reassuring weightiness of these breeze block-sized behemoths gets us all tingly anticipating the booms and crashes zipping around the room. Onkyo have steadfastly produced generation after generation of AV receivers for years now and they've always maintained a good reputation for big and burly sound characteristics to enhance your home cinema experience.
Replacing the outgoing TXNR686 is no easy task; at the time of writing it currently holds an average review of 4.8 out of 5 on our website and has been one of the go to receivers for the past year. However, nothing stands still for long in this industry so the TXNR696 takes the best of the TXNR686 and adds some cherries on top to improve on the popular 2018 model.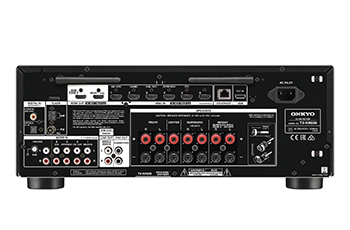 THX Certification carries over from last year and power output is quoted at a whopping 175 watts (up from the 165 watts of last year) at 6 ohm impedance with 1 channel driven. New dual-transistor amp output stages for the front channels deliver instantaneous current and a strengthened power-supply both contribute to deliver better dynamics, scale and impact. The same 7 in:2 out HDMI configuration returns with HDCP2.2 compatibility for 4K UHD content and High Dynamic Range formats HDR10, Dolby Vision and HLG are all carried over from last year too. The speaker configuration remains as 5.2.2 but those who can't accommodate those extra speakers will be pleased to hear that Dolby Atmos Height Virtualisation and DTS Virtual:X modes will be available via a future firmware update.
All the normal streaming services of Spotify, Amazon Music, Tidal and Deezer are available as well as internet radio via TuneIn. The "Works With Sonos" and Chromecast compatibility return and are now boosted by the presence of Apple Airplay 2. This means that if you have an Apple HomePod you'll be able to control the TXNR696 via Siri once the future firmware update is released. If you've got some older equipment to connect up, be mindful as Onkyo have removed the composite and component video input/output on the rear panel and reduced the digital audio connections to down to 1 optical and 1 coaxial. However, we're pleased to see the moving magnet phono stage has been kept and there's now an analogue preout for your front left and right speakers to be driven off of a dedicated stereo hi-fi amplifier.
We hooked up our trusty Monitor Audio Bronze 5 5.1 speaker package with the Monitor Audio C380 ceiling speakers in our demo room to see exactly what the TXNR696 was made of. After a brief few button presses we're through the microphone set up and ready to go with a salvo of action from a 4K Blu-ray disc of Guardians of the Galaxy 2. Peter Quill and the gang face off against Ego and the various spaceships and laser blasts zip around the room almost singeing the hairs on the back of your neck! The climactic battle that sees the planet implode highlights perfectly the power that the Onkyo has at its disposal and certainly gives you bang for your buck. It's not just the 'oomph' of the TXNR696 that shines though, as the scraping of grit and pebbles as the heroes scrap are clear despite the amount of action on screen.
Switching to the direct stereo mode for music supplies us with a much more focused sound than any of the processor modes available and although the transparency of the toroidal transformers found in hi-fi amplifiers is evident it's still a pleasing and warm delivery of Meiko's new album In Your Dreams. The floaty ukulele and mixed with subtle synths make for a textured and rich sound without feeling too soft and insubstantial. The addition of DTS PlayFi, Onkyo's FlareConnect and Works With Sonos mean you won't be short of options in terms of expanding this system into the realms of multiroom. Whilst the latter will appeal to the masses out there who already own pieces of Sonos, the other options mean you can mix and match with other brands to truly pick your favourite audio components to get your best sound.
As expected then, Onkyo have ticked all the boxes and then some for this new 2019 AV receiver. It's got more bells and whistles than a troop of Morris dancers and isn't going to cost you a lung either. If it sounds like the AV system hub that you've been looking for then contact your local Richer Sounds and see if you can get it in the demo room, you won't be disappointed.
Learn more about the Onkyo TXNR696.
Author: Steve, Bristol store