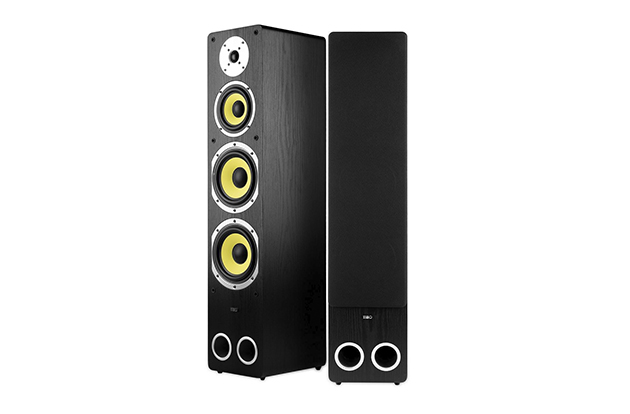 TIBO delivers big hi-fi performance at an easy-to-swallow price point with the Edge 450 floorstanding speakers.
TIBO may not be the first brand that springs to mind when one thinks of traditional passive hi-fi speakers but this plucky UK brand have been present in Richer Sounds stores for a few years now. Whether it's their range of active speakers that we often pair with turntables or the smart streaming products you're always guaranteed some great value for money.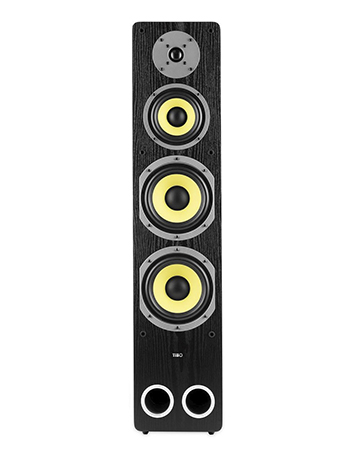 Under the microscope today are the floorstanding Edge 450 speakers, a no-nonsense pair of passive speakers for those looking for big sound on a budget. Available in black or white wood veneer, the Edge 450 are comprised of the rather striking yellow and black twin bass drivers and midrange driver whilst a soft-dome tweeter handles the high frequencies. The addition of two front-facing bass ports at bottom of the cabinet mean that these speakers are unfussy about placement near walls and fabric grilles can be attached if you prefer a plainer look. The design of these speakers mean that there's a pleasing rounded curve at the top and bottom which you wouldn't really expect from a budget pair of noise-makers.
With a rated sensitivity of 92db you won't need stacks of power to get these floorstanders singing so we decided to hook them up to the newly released (and What Hi-Fi? 5-star reviewed) Cambridge Audio AXA35 to see what they could achieve. The forwardness of the Cambridge proves to be a good foil to the smooth bassy nature of the TIBOs, with the resulting sound dishing out plenty of oomph without straying into the dull muddiness that too much low-end can give you. Spinning a disc of Gorillaz's  track "Feel Good Inc." treats us to a warm presentation that although slightly soft is very listenable. This lack of harshness means that you can turn up the TIBOs and really enjoy that punchiness that those twin bass drivers give you.
This isn't to say that there isn't enough bite to the top-end but more that the attack some might wish for has been rolled off to achieve a smoother, more compromising sound. This means that you're less likely to have problems system matching against equipment you already own too but make that, if you are buying a matching amplifier you go for one that won't exacerbate the lack of snappiness in the high frequencies.
Buoyed with confidence of this early promise we switched to the soulful "He Won't Go" by Adele and although there's a noticeable drop in spaciousness in comparison to speakers that cost a little extra, we still get more than we have a right to expect at such a budget. As is customary at this level, the sense of scale and dynamics is a bit limited (as is shown by the strings in the middle section) but in comparison to buying some bookshelf speakers and stands at the same price the depth and low-end punch is certainly to be admired.
There are always compromises to be made when money is a bit tight but the reward of value for money isn't usually this high. If you are a buying your first system or simply can't dedicate a lot of money to some speakers these TIBOs should really be at the front of the queue when you go for a demo. Don't just take our word for it though, why not give them a whirl in your local Richer Sounds?
Learn more about the TIBO Edge 450 speakers.
Author: Steve, Bristol