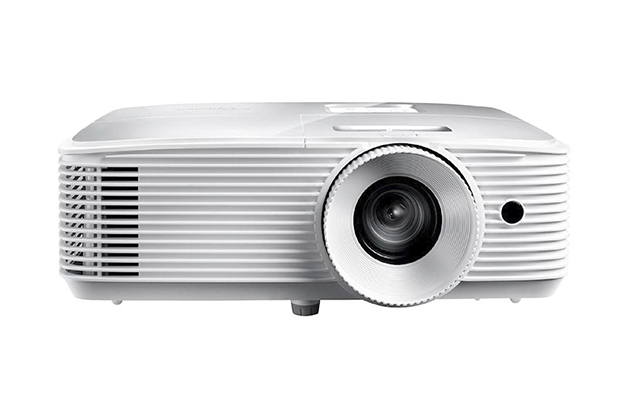 Big screen gaming is the dream of every gaming console owner. For those with the space there is now an affordable option for a huge image with HDR support. Optoma has released a new projector aimed squarely at the gaming market. We sat down with their newest projector, the Optoma HD29H, to see if it satisfied our itchy trigger finger…
The dream of "the big screen" for gamers is normally hampered by either the high cost of a larger TV or the lack of response time and low refresh rates of affordable projectors. Optoma has set out to fix these issues and hit a competitive price point at the same time. For a similar price of a good 49-inch television, you're able to get a much bigger screen with the Optoma HD29H.
To start with, the spec sheet makes for impressive reading. While it doesn't offer 4K as you'd expect at this level, it does offer 1080p HDR support. Arguably, this will get extremely close to the quality of 4K without the cost. The inclusion of support for HDR in particular is an added bonus and not something you normally see at this price point. With the right content, you can obtain brighter whites and deeper blacks while making images pop and come to life.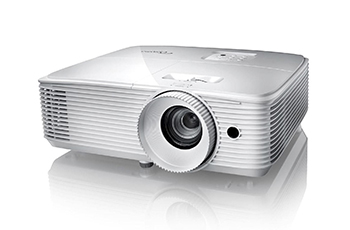 On the gaming side of things, we have a 120hz refresh rate for excellent motion in the heat of action and a response time of only 8.4ms, better than most TVs on the market. This should make for lightning quick reactions whether on the racetrack or under enemy fire. Simply connect the HD29H up to the latest consoles and you're good to go.
Once we pop open the modest brown box, the HD29H itself is sleek and modern looking. It's certainly lightweight, weighing in at only 2.5kg, ideal if you plan on bringing it out to have friends' round for the big game and a session of FIFA. Setup is easy enough on a table in our demo room. Although there is key stoning for image correction off angle, there is no lens shift so this may not be suitable for those with less than ideal setups. We're pleased to see a backlit remote, which is not as common as we'd wish, so you should have no issues, even in the dark.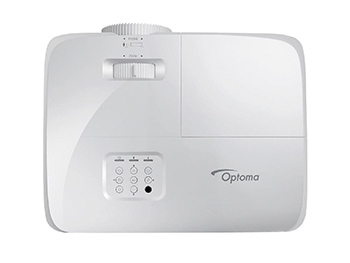 To test, we bring in one of our colleague's Xbox One X for ideal test conditions. Outputting 1080p HDR content onto our projection screen looks absolutely fantastic. HDR makes all the difference here, and it is definitely a step up from a standard 1080p projection. Colours spring to life and dazzle the eye with the level of detail on show. Testing out Forza 7, we're suitably impressed with the rain bouncing off our car as we circle the track and notice the sun dazzling off the reflection from our windows. Next, we switch to a movie on Blu-ray, this time with no HDR. While there is a step down, the HD29H still looks impressively bright even in slightly lighter conditions. This makes it ideal for a Saturday afternoon gaming session when lighting conditions may not be entirely suitable.
All in all, we loved the HD29H. We thought it brought something very different to the table and moved the category onwards from just simply standard 1080p. The inclusion of HDR here is the real defining characteristic. While the content may not be as readily available as we would like, it's a great feature to have going forward if you can't splash out on a 4K projector just yet. To see what we are raving about why not contact your local Richer Sounds store today for a demonstration?
Click to find out more about the Optoma HD29H Projector.
Author: Robert, Brighton store