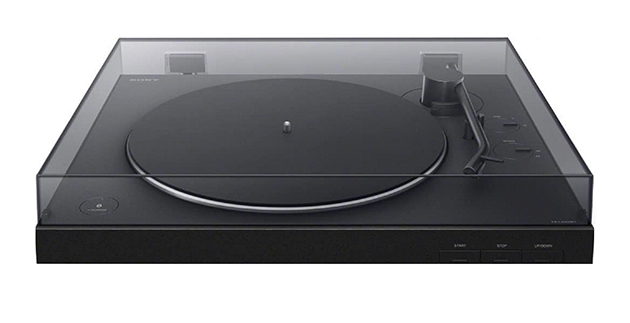 Interested in a new turntable but don't want to commit to a whole hi-fi setup just yet? Then Sony may have the deck for you with the Sony PSLX310BT.
With the launch of the Sony PSLX310BT, Sony have set out to create a entry level turntable with modern connectivity that won't sound out of place in a decent hi-fi system. The deck is fully automatic for ease of use, meaning you can simply press start and the deck will take care of itself, making life a breeze for those getting into vinyl for the first time and afraid of damaging their cherished records.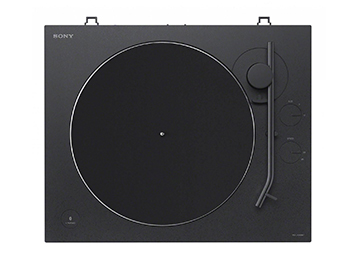 The standout feature of this deck is of course the inclusion of Bluetooth connectivity and we have to say for a lot of people nowadays, this will be a killer feature. While it's true that a traditional wired connection will likely always provide the absolute best sound (depending on a variety of factors, of course), there is certainly a big market for vinyl lovers looking to utilise their existing Bluetooth speakers or soundbars with a record player. Simply press the pair button the top of the Sony and on your speaker and you'll be listening in minutes.
Bluetooth can even come in handy for those with space considerations. Rather than having to run wires all around the room, this turntable enables you to stream wirelessly from wherever suits you. There really are plenty of options here and we can imagine it being the perfect fit for quite a few people. The Bluetooth itself is even aptX so quality is of a reasonable standard.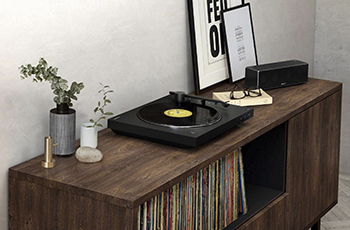 Of course, none of these features would be of much use if the deck itself wasn't up to the challenge. Thankfully, Sony have spent plenty of time on improving the sound of this deck with a newly designed aluminium tonearm which is lightweight and sturdy. This ensures as little distortion creeps into the sound as possible. The high-spec components don't stop there though, with an aluminium platter coming included for use with the belt driven motor. Aluminium provides a consistent speed thanks to the weight of the material which creates "flywheel" effect. Setup of the Sony is nice and easy with no adjustment to the tonearm to put new users off. Simply put together the dust cover and run the belt around the motor under the platter. Speed change is as simple as turning a dial thanks to the switches on top of the unit. Sony has even included a hideaway for the 45rpm adapter under the tonearm on the right.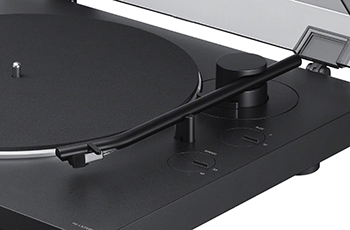 We want to test the Bluetooth connection first so connect it to a Yamaha MusicCast 50 wireless speaker, as this is exactly the sort of speaker we can imagine being used with the PSLX310BT. Connection is seamless with a simple press of the Bluetooth button and a chime from our Yamaha speaker. We slip a copy of Amo by Bring Me The Horizon on to see how it sounds. Amo is a great album to test thanks to a wide range of tracks on the album. Olly Sykes' vocals bring out the mid-range in most speakers and these come through nice and clearly while the top end is crisp and snappy despite the Bluetooth connection. This deck is a step up from some portable briefcase types and even from most entry level models priced below it.
Overall, we were quite impressed by the improved sound and build quality from this new Sony deck. It's a definite step forward with quality components that will certainly work with most decent separate systems without being a weak point. This while still providing plenty of functionality for those with only Bluetooth speakers to play with.
To have a listen for yourself and see if this could be a good starting point for your vinyl journey, why not drop in to your local Richer Sounds and arrange a demonstration?
Find out more about the Sony PSLX310BT Bluetooth turntable.
Author: Robert, Brighton store