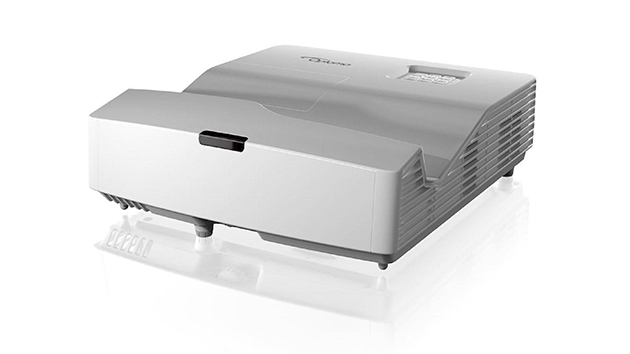 Optoma's latest offering makes it easy to add a projector to your life even if space is at a premium.
Having a projector is slowly becoming more and more popular as people start to realise that you can have a big cinema feeling without having to spend tens of thousands to get it. One of the downsides to this though can be the throw distance required for the projector being longer than what many people have at their disposal. Luckily for them, and for you, the new Optoma HD31UST (Ultra Short Throw) allows you to project a large image without the need for a wealth of space.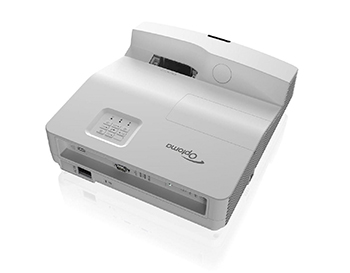 Having a throw ratio of 0.25:1 means that you can get really close and still maintain a large image with an example of this being able to get a projection of 100 inches when having the projector placed less than half a metre away. This means you could go into any room and place the projector on a table or box and get a big image with little to no fuss. On top of this, you can also ceiling mount the projector in front or behind your screen as well as being able to table mount it behind said screen.
Image-wise the unit is no slouch either, boasting around 3400ANSI Lumens, a contrast ratio of 28000:1 and Rec.709 colour gamut. In layman's terms, this means that the unit will perform even in bright rooms so there's no need to black out the room you're using. Of course, if you can make the room dark then that's always going to better. Where the image is concerned, you're looking at colour precision, resolution frame rate and display specifications all guaranteed to meet one of the highest HD video standards thanks to being Rec.709 certified.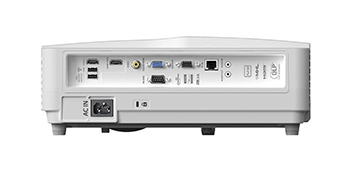 While it's not a 4K UHD projector, for watching normal TV, playing video games and watching HD films, the quality is more than adequate, giving a richly detailed image and also having the ability to use picture correction via subtle filters that allow you to project the display on to existing non white walls or even wallpaper. For audio, it won't win any awards but having 16w speakers not dissimilar to a standard slim TV does mean that you can get away with not utilising an additional sound system (though we would highly recommend you do so. It is perfect for when you want to have an impromptu Mario Kart tournament in your work's warehouse! When it comes to lamp life, you're looking at around 4000 hours on Bright mode but if you're more energy conservative you can get around 12000 hours whilst still getting a nice image via the Dynamic mode that varies the brightness depending on what the unit is playing.
Now, of course at the price this unit comes in at you could pick up a modern 4K UHD TV at around the 55-inch mark but if what you're looking for is a nice HD projector that you can set up easily in a small room then the Optoma HD31UST is just what you need. Why not call or visit your local Richer Sounds and arrange a demonstration today?
Click here to learn more about the Optoma HD31UST
Author: Hal, Plymouth store