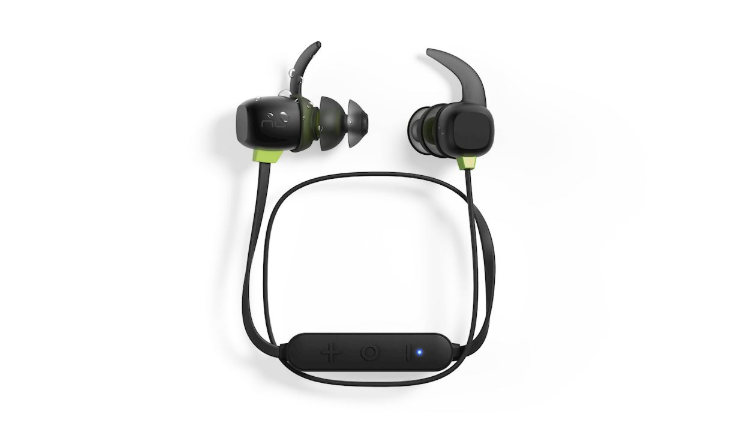 Keep the music playing even during the most intense of workouts with these wireless Bluetooth in-ear headphones from Optoma.
If, like me, you are partial to the odd jog or gym visit then you will probably have experience of getting tangled up in endless wires, accidentally tearing the ear buds out of your ears or just not quite being able to make your headphones feel comfortable as you move. Enter the Optoma Nuforce BE Sport 4!
Using Bluetooth to connect to your smart phone you can workout without the connection cable getting in the way. The headphones have a ten-metre range from the source of music meaning you don't need to keep your phone attached to you in the gym if you prefer to put it down or store it away. A ten-hour rechargeable battery life is plenty to get you through the most hardcore of sessions!
Straight out of the box the buds feel robust and weighty. Included with the headphones are SpinFit TwinBlade ear tips, and you definitely need to fit these as they will ensure the ear pieces sit snuggly, regardless of the activity you are doing.
Allow me to offer a little tip for set-up; the illustrated instructions would suggest you turn the headphones on and then connect to your chosen device. As the button to connect via Bluetooth is also the same one which turns the headphones off, this can cause a little confusion. So my advice is to turn the headphones on by holding down the on button at the same time as you look for the device from your phone/Bluetooth enabled device and it will work like a dream!
Battery life is ten hours on a full charge which will see you through most of your daily commute as well as the most intense workouts! Speaking of workouts the headphones are resistant to sweat and water (IPX5 rated) making them an ideal gym buddy. The revolutionary ear tips come in green, yellow and grey (all included with the headphones), allowing you to customise according to your style. Also included are three sizes of ear buds and a handy carry case to keep everything neatly together.
Now to the actual review! I found these headphones very comfortable – and once you've worked out how to fit the TwinBlade ear tips they won't be budging no matter how vigorous your exercise session! I tried various genres of music and found the sound to be consistently clear, punchy and dynamic. They also pack a decent punch with the bass as well – ideal for those difficult runs where extra motivation is required! Optoma are using graphene coated drivers which are lighter than the traditional ones, allowing for better conductivity and requiring less power. I kept the headphones in and found they remained comfortable for the whole duration, so there's no concern that they will start to pinch after an extended amount of time. Finally if you aren't listening to the headphones but want to keep them round your neck the magnetised ear pieces will ensure the neckband stays where you left it.
Techradar gave these beauties a 5 star review, calling them "practically flawless wireless earbuds". I think this is fair! I'd say the BE Sport 4s are a great option for anyone looking for comfortable and robust headphones, with excellent sound quality and perfect for the active lifestyle. If this sounds like you then give your local store a call to get yourself a pair!
Click to find out more about the Optoma Nuforce BE Sport 4 headphones.