Here in TV land, it's time for exciting news as we start to hear about new ranges coming through. Panasonic have announced their midrange models for 2018 and aim to capitalise on the increase of 4K UHD content available with the affordable FX650 and FX700 models.
The FX650 is available in 43", 49" and 55" whereas the FX700 features 49", 55", 65" sizes. The two ranges are aimed to meet the demand for consumers looking at maximising their value for money without moving up to the premium flagship OLED screens.
Starting with the FX650, the three models are 4K UHD resolution with High Dynamic Range (HDR) compatibility for HDR10 and HLG formats. To get the most out of its picture, Panasonic's HDR Auto Brightness Enhancer means that brightness is adjusted to give you the best 4K HDR experience based on the ambient lighting in your room. A standard HD Freeview tuner is included as well as 3 HDMIs, 2 USBs and a newly updated My Home Screen v.3 Smart Hub. This includes Freeview Play for catch-up services as well as Netflix, Amazon and other streaming services, plus you can also stream your own content to it via the Swipe and Share Panasonic app available for most phones and tablets. My Home Screen allows you to save your favourite channels, inputs and apps as easy to access icons that are just a button click away.
Where the FX700 goes a step further over the FX650 is by upping the ante in all areas concerning the picture quality. The picture is lit using local dimming, allowing the different zones of LED backlighting to more accurately control contrast to achieve brighter whites and deeper blacks. It also features the HDR10+ format to control colours on a scene-by-scene basis, adapting to the different images on screen. Studio Master Colour is onboard for a wider colour spectrum, creating more natural shades and hues and the motion is bumped up from 1300hz on the FX650 range to 1600hz on the FX700.
All this amounts to an improved performance on our 4K Blu-ray disc of Thor: Ragnarok with the industrial wasteland planet of Sakaar providing us with loads of grit, dirt and grime.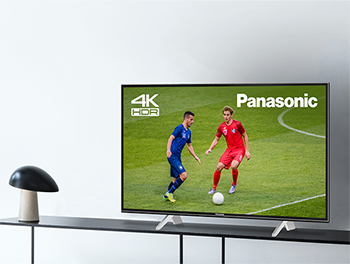 The extra capability of the FX700 allows for slightly more detail in the shadows but also more vibrancy in the brighter scenes. The war paint on Chris Hemsworth's face seems more realistic and textured and the skin tones and colour balance are more finely tuned to our liking. Panasonic's knack for natural colours has evidently carried over from previous years. They're not overly saturated and bright but nor are they too shy when it comes to vividness and punch. As Thor and Hulk leap around in the gladiatorial arena, it's good to see that the increased motion rating is doing its job too. Typically with Panasonic, you'll find that setting the motion options to minimum gives the best mix of realism and smoothness without getting the dreaded "soap opera" affect of being overly processed and hyper real.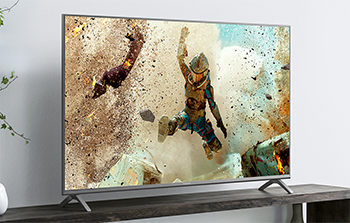 Both models feature the clever switchable feet design of last year allowing you to mount them at the end of the TV for greater stability or closer to the centre to fit on smaller spaces. This time though their design is more discrete and they take up less space, making them more practical and easier to fit on to your desired TV furniture. They're also available on all the sizes as opposed to only the larger ones from last year. The 700 model is still the more aesthetically pleasing over the 650 with a thinner bezel with a nicer finish. There's also all new Amazon Alexa compatibility (working with an existing Alexa speaker) as well as Google Home meaning you can use voice commands into the remote control's inbuilt microphone for a slick and simple TV experience. It's not something you have to utilise but it does make your smart content a lot easier to access, plus you get to feel like Tony Stark from the Marvel superhero films by lazily issuing commands to your tech!
So there we have it, Panasonic continue to provide excellent features whilst also maintaining usability. If you're in the market for a new TV, come in to your nearest Richer Sounds and check out if the new FX650 and FX700 ranges are the ones for you.
Author: Steve, Bristol store