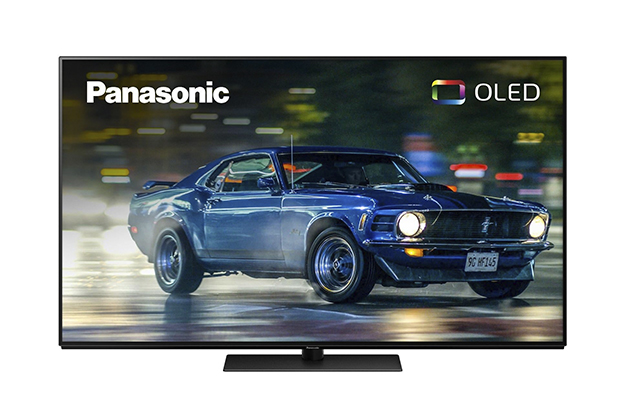 While 4K HDR televisions have become the norm in the last few years, there is still space for new models to dazzle. Whether that's with the latest screen technology, the best HDR support or, in the case of the GZ950 from Panasonic – both! Join us as we look at this exciting new model in Panasonic's 2019 TV line-up…
The GZ950 is the entry point of Panasonic's flagship OLED range of TVs. This is a screen technology that aims to provide the truest blacks possible by eliminating the backlight that traditionally turns blacks to grey on LED screens. Available in 55″ and 65″ sizes, each pixel on the GZ950 is self-illuminating and therefore can deliver the truest colour accuracy and black levels on the market. If movie nights are your ideal evening in, then this is the technology for you!
To maximise this fabulous screen tech you need the right source and this is where Panasonic has broken the mould this year. Traditionally, HDR has fallen into two camps, those who support the Dolby Vision format and those who sign up to HDR10+. Both these High Dynamic Range formats deliver dynamic metadata to provide scene by scene adjustments to the final image. Panasonic has chosen to provide support for both formats on the GZ950, meaning owners can get the best HDR format no matter what they watch, whether that's Dolby Vision on Netflix original content or HDR10+ on Amazon Prime Video. There's even support for HLG, which the BBC uses for its iPlayer 4K broadcasts.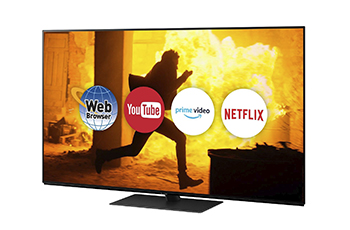 Of course, 4K HDR-enabled content isn't the standard just yet and that's where Panasonic's HCX PRO image processor works it's magic. This powerful chip delivers upscaled content from regular TV channels in 4K and with sharp, defined edges to objects on screen. One of the usual downsides of upscaled content can be a fuzzy edge to people and objects on screen as the processing chip struggles to keep up with the change in colours. However, the HCX PRO chip is one of the best on the market when it comes to razor sharp definition and does a stellar job here.
To see what all this state-of-the-art technology can do, we wanted to get a GZ950 in front of our eyes. We were very excited in store as previous years' Panasonics have always been something to look forward to. Once we had the TV out of the box and the stand on, setup was fairly straightforward. Simply tap in a few network details and Freeview information and you're away.
To really test things out we also plugged in a matching Dolby Atmos enabled soundbar and Atmos-compatible 4K Blu-ray player. There's even 2-way Bluetooth for those wanting to listen via wireless headphones. We started with the new season of Stranger Things on Netflix. Providing both Dolby Atmos sound and Dolby Vision HDR we thought this would be a great test (plus, we can't tear our eyes away!) It's some of the best cinematography for showing off OLED technology thanks to the deep rich blacks of the moody scenes and the colourful 80's fashion on display. Frankly, we had to peel ourselves away it was so compelling. You can't help being drawn into the world which the GZ950 really makes real. Panasonic have even included a 'Netflix calibrated mode' to get the picture just as the producer intended.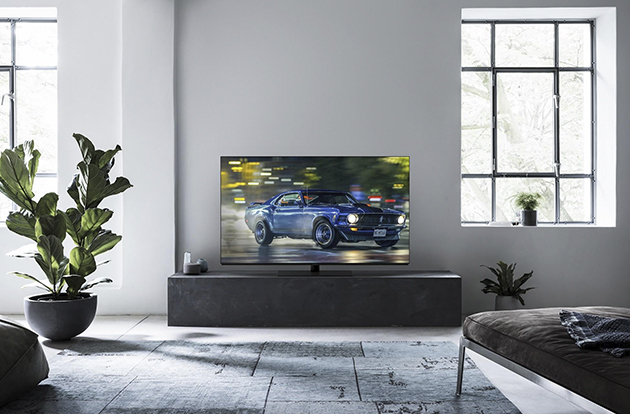 We then switched to some of the BBC's coverage of Wimbledon. Both in 4K HDR on iPlayer and through our in store satellite feed. Both looked great with special mention to the 4K feed. It wasn't as different as you'd imagine thanks to the excellent upscaling from the HCX PRO processor. It did a great job handling the ball in motion and the range of bright colour on display. Everything looked crisp and detailed.
To summarise, the GZ950 has to be one of our favourite TV's of the year, thanks in large part to the OLED screen which is the star of the show as well as the HCX PRO processor which delivers a fantastic image whatever the source. We also love the inclusion of all the most popular HDR formats as we hate missing out on great content. Hopefully we will see this become more universal in future. To see it is to believe so don't just take our word for it, pop into your local Richer Sounds today and see for yourself.
Learn more about the Panasonic GZ950 TV range.
Author: Robert, Brighton store