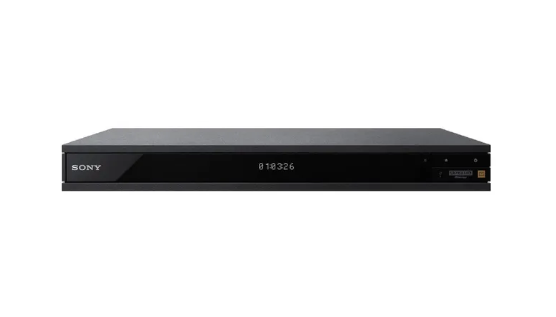 When it comes to creating the home cinema experience you want, it's easy to prioritise parts such as the sound system and the TV/projector, however, it's worth investing in a great Blu-Ray player as a source for all those great movies. One such device would be the new Sony XBP-X1100ES UHD Blu-ray player. The question is, does it have what it takes to muscle it's way into our living rooms? Join us to find out.
The X1100ES is Sony's attempt to force it's way into the high end Blu-ray market with a device which marries outstanding audio quality with the video playback we've come to expect. This means it's been designed from the ground up to make no compromises when it comes to audio quality. There has been special effort made on both the software and hardware side to squeeze every drop of performance from your discs or streamed content.
The player itself does not immediately catch the eye but it's build quality is evident as soon as you pick it up, it has a weightiness which bodes well for our tests. The main body of the unit is an anodised metal finish with a transparent plastic front lip to hide the drawer mechanism. On the back is a selection of ports including dual HDMI outputs, both coax and toslink optical digital audio outputs and a pure analogue audio output. The second HDMI can be used to send audio to your AV receiver while directing the main video feed directly to your TV/projector. This can be helpful for complicated home cinema setups.
The other noticeable choice on the X1100ES is the inclusion of a selection of installer friendly feature such as IP control over cat 5 cable or WiFi, RS232 control and an IR in port on the rear of the device. These all add up to a hassle free install and make it a system manager's dream. There's also compatibility with home automation services such as Control 4, Creston and Savant for those with larger systems.
On the software side of things there is support for the most popular HDR formats in Dolby Vision and HDR10 plus Dolby Atmos and DTS:X audio codecs as well. It certainly ticks all the boxes for us in terms of the latest and greatest standards and Sony has a good track record of keeping devices like this up to date with updates over time. There is even a converter built in to downscale HDR content to SDR which is quite handy if using a projector which generally don't support it.

Don't let this fool you into thinking this player is only for home cinema use though, Sony have also taken great care to cater for the music lover too with HiRes support and DXEE HX upscaling of lower quality files for better sound quality. These features are enabled by playback from USB or using a DLNA server in the home.
When we've connected the Sony X1100ES to our demo room system we find setup very easy with only a few normal steps to follow. To test out it's video playback capabilities we pop in a few 4K Blu-rays which immediately look excellent when connected to our Samsung Q950 TV, colours pop and motion is smooth and crisp.
Switching over to a 4K non-HDR projector we were pleasantly surprised at the difference the downscaling has on the overall picture quality. It meant a more even toned image which meant we believe it's perfect for a dual output system where the projector doesn't support HDR.
Next we switched to some music from our NAS drive music server in store, we played back Queen in 24-bit/192kHz which sounded incredible. The sound was nuanced with plenty of punch and excellent timing. We can certainly see this device being used in place of a dedicated streamer for those with the right setup.
To summarise, we found the Sony UDP-X1100ES to be a mightily impressive performer and a Blu-ray player we can recommend wholeheartedly. For those with a fantastic system looking to upgrade their source but not wanting to splash out on a number of devices, this could be the perfect option. To see for yourself, why not pop into your local Richer Sounds store today?
Learn more about the Sony UBP-X1100ES UHD Blu-ray Player.
Author: Robert, Brighton store